(Last Updated On: January 19, 2021)
Macrame is a sophisticated technique of weaving rope together to make beautiful art. The process involves a lot of patience and intricate handwork. According to Artbuzzar's founder Avni Mehta, each macrame artwork could take up to 2 weeks to complete. 
So, how does Avni find the time to create macrame art and also run a full-time art business?
We got in touch with the entrepreneur and artist to learn more about tall about her new business – ArtBuzzar and how she juggles both business and art at the same time. She has
When did you start Artbuzzar and what inspired you to do it?
" In April 2020, I was supposed to complete my PGDM course and start with my new job as a Business Analyst from May. But things didn't exactly go as per the plan. The lockdown had completely changed everything. With online exams in April, at least I had something to do, something to study. But once the exams were over, there was a void. I'd lost my job, there was nowhere to go, and basically nothing to do. So just to pass some time, I thought of combining my love for Harry Potter with some art." 
"Finally, on 28th May 2020, I started Artbuzzar. Slowly, I started posting my macrame work as well. I never thought that a page that I started off for leisure, would eventually turn into a small business. It's the best thing that happened to me in 2020." 
You make beautiful macrame artwork. How did you learn the art? Is it difficult to master?
" Thank you so much for the compliment.
Actually, it all started with me wanting a hammock installed in my home!
I'd already done a lot of research on those hammock swings. And that was the first time when I came across Macrame.
Macrame is nothing but the art of making beautiful knots.
So, when I first learnt the term, I immediately googled it and came across some beautiful macrame work. I wanted to make them, but during my masters, I never really had the time. However, I made use of the lockdown to pick up this skill. Honestly, it was one of the easiest skills for me to grasp.
Sometimes, the bigger projects are a little time consuming and it can get a little monotonous, but when you see your beautiful piece coming together, that moment is worth everything!"  – Avni
Tell us a little about the products you make. Also, do you make all the products you sell?
" Currently, I'm offering macrame products like Car/ Desk Charms, Earrings, Plant hangers, Coasters, Bookmarks, Key Chains etc. I'm also offering dreamcatchers which have been my bestsellers till now. Each and every piece that I'm offering right now is handmade and I enjoy making them so much! 
My mother and grandmother have joined in too! All the products are carefully curated with love, laughter and joy and these are exactly the qualities that I want my brand to represent. "
What are the challenges you face in this field?
"Well, yes, there are a few challenges, just like any other business! The products are handmade and that requires a lot of time as compared to the machine-made products.
Since the products are handmade and not mass-produced, the costs also tend to be higher as compared to the latter. It is a little tedious to explain that to customers who want to pay less for the product. I guess that's one of the challenges you face when you offer handmade products. "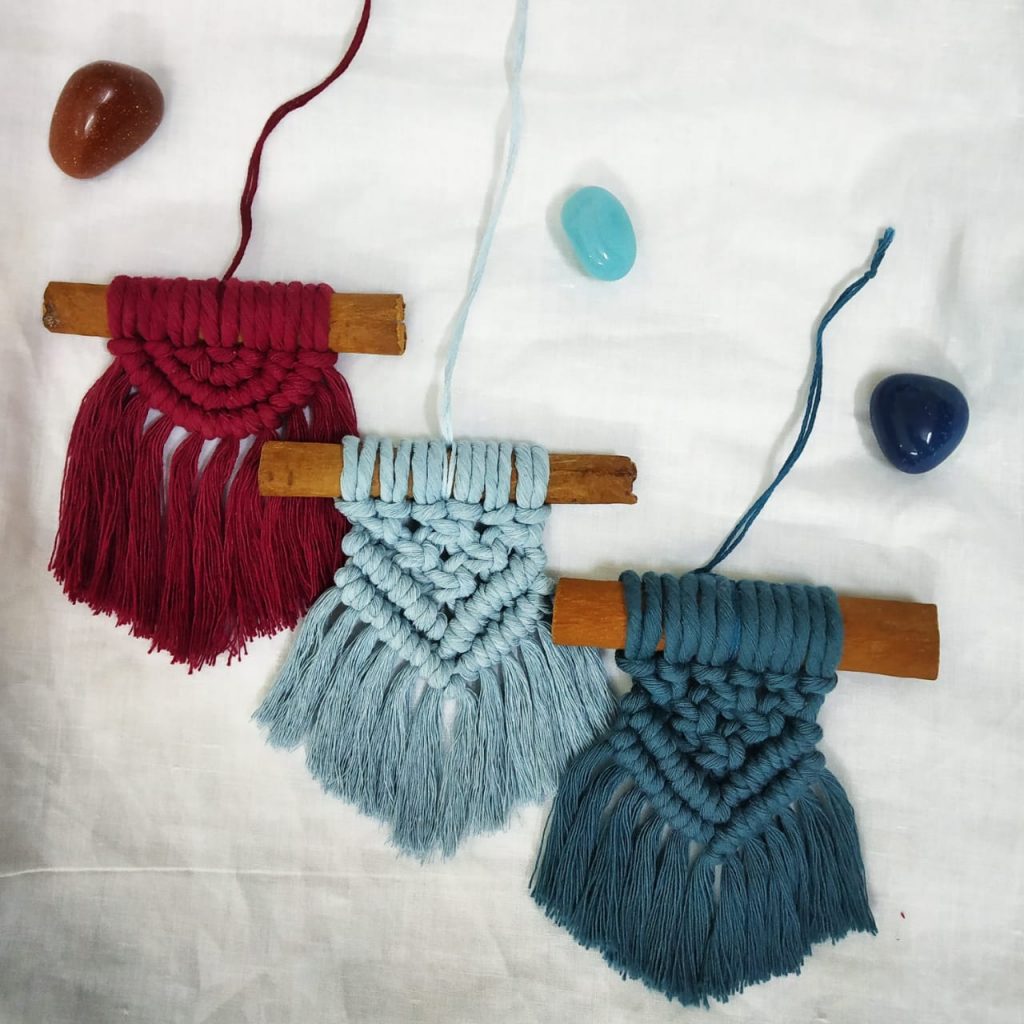 What do you love most about being an entrepreneur?
Honestly, the simple yet empowering fact that I am my own boss! Of course, I'm answerable to my customers, but unlike my corporate job, there's no daily reporting that I have to do here.
I can create art with unlimited creativity; and do macrame or make dream catchers or maybe try my hand at a new skill. I love being my own boss and creating beautiful things which are always showered with so much love and appreciation by my lovely followers. 
How do you use Instamojo? How have we helped you so far?
I first heard about Instamojo through an online flea market I was a part of – the Unseen 4.0. So far, I use Instamojo to collect payments for the products I sell.

Using the platform has helped me manage my payments much better, and once I get more products ready, I would like to set it up on the Instamojo online store. 
Other than that, the Instamojo team helped us a lot throughout the online flea. The team has been kind enough to give me this opportunity where not only do I get a chance to share my story, but it also gives my small business a platform to grow! 
Looking to set up an art business?
Just like Avni, there are several artists who use Instamojo to sell their work. Since we know it is not easy to juggle focussing on your art and run a full-time business, let us help make it a little easier for you.
Interested in knowing more about setting up a macrame business? Check out our webinar with professional macrame artists like Avni to find a little extra inspiration!
---