(Last Updated On: May 5, 2023)
It takes entrepreneurs an average of 240 minutes (about 4 hours) in a working day to pack, and send a shipment to customers. With Instamojo's mojoXpress, it takes just 1 minute. 
Which is why using mojoXpress has enabled entrepreneurs to reduce shipping time by almost 99%. As we celebrate 1 year of mojoXpress, here's a look at some interesting stats:
Helped over 500+ businesses ship to their customers across the country. 

Successfully enabled over 10,000 shipments all over India. 

Over 20,000 businesses use the mojoXpress shipping calculator to explain shipping costs to customers. 

Before, mojoXpress allowed shipping to 12,000 pin codes. Now, entrepreneurs can ship to over 26,000 pin codes in India! 
mojoXpress, Instamojo's shipping product, is uniquely designed to help thousands of MSMEs solve their last-mile delivery problem. 
Why use mojoXpress over other eCommerce shipping partners?
In the past, many business owners have found it difficult to find a suitable logistics partner for their business. The main challenges being: 
High costs of shipping 

Delivery to limited PIN codes

Reliability of delivery partners and logistics fulfillment 
Businesses would rely on convenient and known shipping partners like India Post, however, while these were helpful for single product shipments., issues arose when: 
Businesses could not set a particular number for the shipment of products. 

Products had to be shipped out in bulk to different customers. 
mojoXpress allows you to ship more and spend less – both money and time! 
mojoXpress provides merchants with the reliability and trust of the Instamojo platform that completes a critical component of the sales cycle – Product Delivery.  
No Minimum Commitment:  mojoXpress helps support businesses of all sizes and requirements. With mojoXpress, there is no minimum commitment to the number of shipments that need to be shipped whether it is 100 packages a day or 1 package in a month. 
Doorstep Pickup (Flexible Pickup): MSME businesses ship light and heavy products to different parts of the country. Most times, business owners carry the packages to the local hub to get it delivered. With mojoXpress, delivery representatives ensure packages are picked up from your address and successfully delivered. Moreover, you can update the pickup/delivery address every time you send a courier. 
Easy Reconciliation: mojoXpress reduces the hassle of managing accounting books for reconciliation at the end of the month by providing automated systems which directly deduct the charges from the payouts, thus avoiding any accounting mishaps. Our shipping and payout reports provide complete information about the delivery details and charges incurred.
Send Packages on the go: What if you receive an order when you are away from your computer? Luckily, mojoXpress is available on the Instamojo eCommerce app. You can enable shipping, manage your orders, send packages to customers and track the shipment – all directly from the app. 
Calculate your shipping price before you ship: mojoXpress' shipping calculator helps you get an estimate of the costs you will incur for each shipment. This will help you plan better for all your sales and deliveries. 
How does mojoXpress pricing work?
mojoXpress has the most competitive prices for shipments. In case you're wondering how much a delivery may cost, below is the estimated rate card for products less 500 gms.  
Within City – 30 (1 Day)

Metro to Metro – 45 (2 Days)

Rest of India – 50 (3 Days)

The North-East States/Jammu Kashmir/Kerala – 65 (4 days)
How can you set up mojoXpress shipping process for your business?
For starters, you should have an Instamojo account.  
Log in to your Instamojo dashboard and click on the mojoXpress shipping in your App Store. 
Set up your shipping profile by adding the pickup location for shipping partners to come to pick up your package. 
Once you receive customer payment, you can choose to ship with mojoXpress. 
Schedule pickup based on the weight of the package. Post that, schedule a date for picking up your package.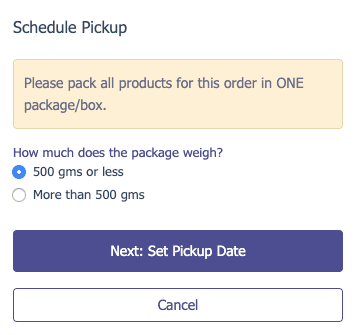 You can also check out our video guide below to help you set up mojoXpress easily.
Your customer will be able to track their package once they receive an SMS notification with a tracking link. 
The way forward with mojoXpress: 
We're tackling a major challenge for MSMEs and allowing innovation time for businesses. mojoXpress is just one small step towards enabling MSMEs to grow. 
If your business is still using local postal services to ship your products, it is time to make a switch to mojoXpress. 
Check out how Bakarmax, an artist from West Bengal, uses mojoXpress to easily ship his comic strips to customers all over the country. 
*
Prices are in INR and exclusive of taxes. Prices may vary based on the volumetric weight and location. Use our shipping calculator to get exact values.
---