(Last Updated On: May 22, 2023)
In this age, you can have easy access to the tools and resources needed to start an eCommerce business.
It's possible to build and run a profitable, long-term business with the help of eCommerce. Whether you're a physical store owner who wants to take business online or you want to start a small online business from home, this blog is for you.
Knowing the best way to start is crucial for building your business. And taking the first step might feel overwhelming. But like any other thing, you can succeed by going through it one step at a time. That's exactly what you'll learn in this blog — how to start an eCommerce business in India with 8 easy steps.
Why start an eCommerce business?
We could list down a whole bunch of reasons why you should start an online business in India. The scope ranges from better profits to more customer engagement. But we'll just stick to the top 3 reasons you should start an eCommerce business in 2022.
1. Wider exposure for your business
You have the scope of getting anyone as your customer, regardless of their geographic location, as long as they have an internet connection.
The pandemic accelerated the growth of eCommerce industry — more shoppers are coming online. A survey by Engine found that people are spending on average 10-30% more online as a result of the pandemic.
2. 24/7 shop
You can make money while you sleep, literally. By automating business processes, you will have minimal work to do. You can focus on marketing and scaling your business.
3. You can start with little to no money
If the one thing that's holding you back from starting your own eCommerce business is the concern about starting capital, that's wrong! With all its advantages and technical details, it might seem expensive, when in reality, it's cheaper than you think.
You can even get a free online store.
Now let's look at what you need to start an eCommerce business in India and what you need to grow online.
How to start an eCommerce business in India: 8 steps from 0 to launch
We'll walk you through the steps you can start taking today and start a successful online business from scratch, just like many others.
Determine niche & products
Conduct market research
Create a business plan
Sourcing products
Find business name and logo
Create an eCommerce website
Prepare for launch
Get your first customer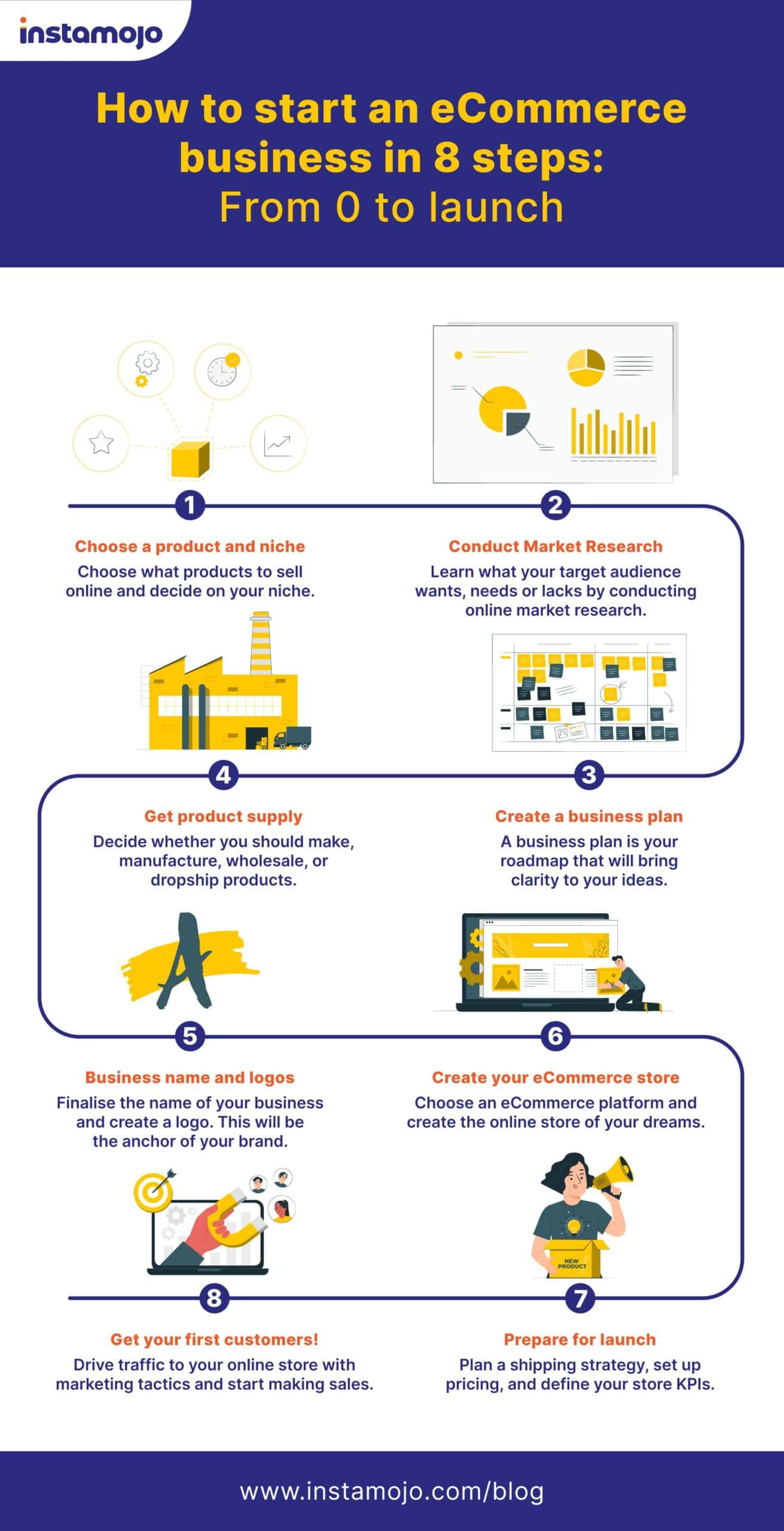 Step 1: Determine niche & products
Choosing the right products is crucial for the success of your business. But how do you determine if your products will be profitable enough? Consider these three points before selecting a product to sell:
Does the product solve a problem?
How constant is the product demand?
Is the market too saturated?
In the following sections, you will read more about doing market research.
For an eCommerce business to thrive, you need to focus not just on the products, but the niche as well. In simple words, niche is the category of products you sell and helps define your target audience.
For example, if you decide to sell kitchenware, 'coffee mugs' is a niche. You can further divide it into sub-niches. The more you niche down, the better chances your brand has to stand out.
Here are some resources to help you in finding a business idea and choosing a product:
Different kinds of products to sell online
Wondering what to sell online? You can sell three main types of products online – physical, digital, and services.
Physical goods
Material goods that you either need to source or manufacture are physical products. They are the most common form of products bought and sold online. You can sell anything from art and clothes to grocery and plants. Here's a list of blog posts you can use to know more about starting an eCommerce business selling physical products:
Digital products:
These include ebooks, templates, graphics and other such virtual products. Here are a few blogs to help you start an eCommerce business selling digital products:
Step 2: Conduct market research
To determine if your business idea has enough scope to succeed and grow, you need to conduct market research. We know that the term makes it seem complicated and technical. Here's how you can conduct a market research in easy ways:
Google search:
Search for related products and find keywords. Check the different variants of product names and descriptions. For example, if you want to sell 'macrame items' online, you need to find out what they search to get those products. They search for 'wall hangings'.
Competitor research:
Which brands are well-known in your niche? What is their business model and marketing approach? And how does your product differ from theirs?
Define your target audience:
You need to know who you're selling to before you start selling. Define your ideal buyer and their pain points. Find out how
Step 3: Create a business plan
Creating a business plan will give you clarity. Here's what you can put into a business plan:
Branding
Execution plan
Market
Marketing and sales
Finance and funding
These blogs will help you put together a business plan:
Step 4: Sourcing products
You have three main ways to get hold of products to start your eCommerce business. Each way has its pros and cons.
1. Make your own products:
This is most common when selling digital products. For physical products, you need to source raw materials and bear the costs of manufacturing. The advantage is that, your products would be unique and stand out from competition.
2. Wholesale:
You can buy products in bulk by partnering with a manufacturer or supplier. Some of the top wholesale distributors in India are Indiamart, Shopclues, and TradeIndia. Here's a resource to learn more about finding a wholesale supplier for your business.
3. Find a dropshipper:
Dropshipping is a business model which allows you to sell without keeping an inventory of products. Since you don't have to do shipping and order managing, your can run a business with little investment. The cons is that you have lesser authority.
Step 5: Find business name and logo
Choosing a brand name is an exciting and important part of your business. You need to find a name for your brand. Here are some points to keep in mind when selecting a name for your eCommerce business:
Easy to remember
Makes sense and piques interest
Check for available domain names
Your logo is part of your brand's identity — it's one of the first things people recognise and remember. Check out these blogs to find a suitable business name and create a logo:
Step 6: Create an eCommerce website
If you have found a product and a business name, the initial stage of starting an online business is done! The next step is to get your plans to become reality.
For that, you need to set up a storefront where you can do business. You need an eCommerce store where you can not only sell products, but also run your whole business — from customer acquisition to shipping and fulfilment.
The easiest way to create an eCommerce store is through an eCommerce platform. You can get your own customised online store and start selling instantly. Since it's a huge part of your business, you need to choose an eCommerce platform carefully.
Here's a list of blogs to help you start an eCommerce website on Instamojo:
Step 7: Prepare for launch
Once your online store is ready, you can start to prepare the launch of your online business. Before your online store goes live, you need to take care of a few things.
To sell products online, you need to have good quality product photographs ready, along with proper product descriptions.
Learning about the basics of SEO and applying it on your eCommerce store is important to get your store found on search results. So, you need to take care of your eCommerce website's SEO before launch.
Shipping is an essential part of eCommerce businesses as it determines its success and also accounts for significant cost.
Step 8: Get your first customer
Once your store is live, get ready to bring in your first customer. That's where digital marketing and social media comes into play. Marketing your business simply means putting it out there before the right people. We'll share some basic marketing tactics you can do get your initial customers:
For social media:
Take the first step
Starting your eCommerce business is expanding the idea you have in mind, supporting it with research, and setting it up. And remember, business can't be taught. You need to take the first step and figure out the rest on the way.
There are a a few technical sides involved in setting up an online business. But, you have numerous options that can help you create an eCommerce website and run the business efficiently.
Sign up on Instamojo and unlock the best eCommerce experience — features that make you profit and helps you run your business easily.
---
Start your own eCommerce store