(Last Updated On: May 23, 2023)
You've got a great idea for an eCommerce business, and you want to make it a reality. But, before you can get started, you'll need a winning eCommerce business plan that helps you convert your idea into a profitable online store.
And this needs to be a solid documented plan that covers every aspect of your business from sourcing to marketing and shipping. Let's get started!
What is an eCommerce business plan?
An eCommerce business plan outlines and documents the goals, objectives, and operational strategies for launching and running an online business.
It includes market analysis, target audience identification, product or service offerings, marketing and sales strategies, financial projections, and other key elements necessary for the success of a business.
"The best business plans are straightforward documents that spell out the who, what, where, why, and how much."
The plan serves as a roadmap to guide the business owner in effectively managing and growing their online enterprise, from concept to execution and conversion.
Why you need an eCommerce business plan 
Because it will make your life better and your business goals clearer. If you don't have a strategy, you could miss out on some crucial points that could leave the foundation of your business weak.
Also, if you want to raise funds for your online business, a good business plan may seal the deal for you. Keep in mind easy ways to raise funding for your small business when you are designing an online store business plan. You also have to assert how your business is unique in your online store business plan.
Setting up a 'lean' business plan
When it comes to creating a business plan for your eCommerce store, it's always best to make a lean strategy – meaning more muscle, less fat – a solid plan that has no frills and is practical in nature.
The lean strategy or lean startup plan is basically a continuous form of planning, executing, analyzing and revising which effectively helps improve a business' strength and weed out the weaknesses.
Here's a blog to learn more about creating a lean and agile online business.
5 aspects of the perfect business plan for your eCommerce business
To create an eCommerce business plan, we will have to start with the basics. And this starts with not your product or brand, but the market and target audience.
1. Make a Summary
One of the first things about a lean strategy is to summarise. Note that it's different from elaborating. In this step, you should essentially jot down highlights of your business plan that includes everything. Here is an ideal list to maintain:
Online store business name idea, founder details, your product or service offerings,
Target market research
Plan of execution – operations, management, accessibility
Marketing and Sales
Financial analysis – cost, investment, income and revenue projections.
Risk analysis
Funding
A good business plan is anything that is 5-10 pages long that has graphics and highlighted headers. Your executive summary should be more like a condensed list of what the rest of the plan is going to be.
2. Research your target audience and market
It is highly likely that there are many alternatives tp the same product or service you sell. And they would be much better placed. So before you start, do thorough research on your competitors and know more about their products, branding and marketing strategies.
This research will assist you in distinguishing your brand from the competition and cultivating a distinct identity in the market.
You need to also understand more about your target audience. Find out what their pain points are, where they spend time online, and how you can build trust with them. Here's an example of a buyer persona: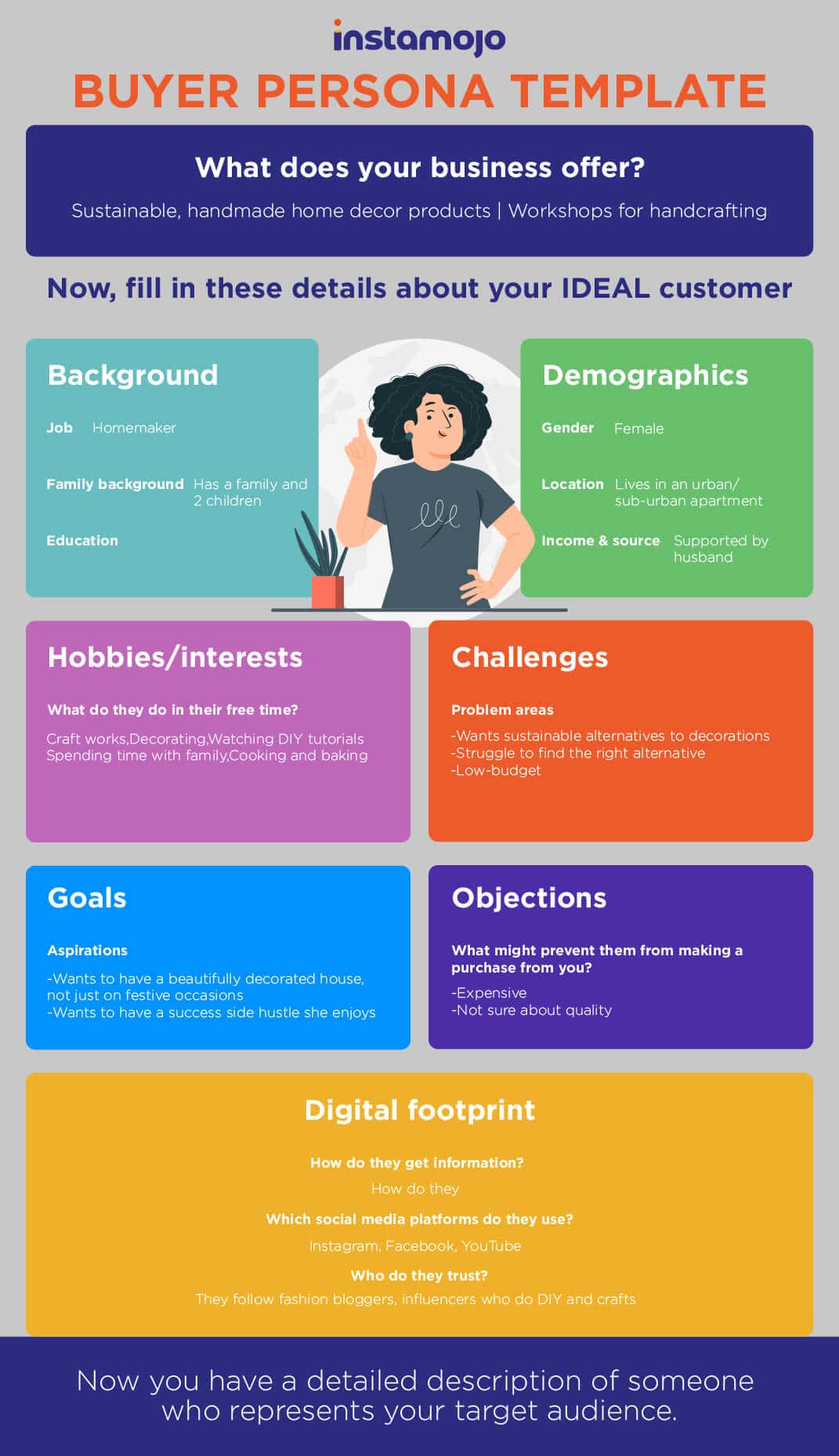 3. Products and sourcing
You need to document details about your product and outline its features as well as the unique selling proportion (USP). Make sure you give lots of detail on it.
An eCommerce business plan also needs to outline details of sourcing: where and how you acquire the products you intend to sell. Document about supplier, manufatures or distributors involved in the process.
A well-defined product sourcing plan ensures a consistent supply of inventory, minimizes costs, and supports the overall success of your eCommerce business.
4. Marketing plan
You need to create a marketing stratgey in your eCommerce business plan as early as possible. Here's what a marketing plan should consist of:
Channels: Which channels are you going to start marketing? There are many options including SEO, social media, paid ads, and influencer marketing.
Budget: What are you will to spend in marketing?
Goals: Set what goals you plan to achieve: impressions, store visits, and coversions.
5. Maintain a strategy
Make it look like an action plan – operational and functional. How can you figure out if its operational even before you start an online business? The best way to do it is to read through your plan and see if the plan can be applied to any other business! Ask questions like:
Is it specific?
Does it fill a real gap in the market?
Is it doable and feasible?
Conclude your business plan with a request for funds. Re-check and reassess your business plan from time to time. While your plan would largely remain the same, your strategy could change.
Get regular feedback about your business plan. Hire a professional to design one for you, if you aren't too sure about making it yourself.
If you want to make your online store business plan yourself, try online tools like enloop.com and bizplan.com.
Once your business is up and running, re-visit your plan, your actions and the results. Every month, compare what worked and throw away ideas that didn't work.
What does an online store need?
To start an online business, you will need:
A website to sell your products on.
A payments processor to collect money online.
A marketing plan to spread the word about your business
Funds to run all the above.
Don't know where to start with all that? Try the Instamojo experience!
Sign up to start selling instantly on your very own, customized Instamojo store. You can not just sell products but also collect payments safely with Instamojo. What's more? All the store links of Instamojo are especially SEO optimized to help boost your marketing needs.
Get a free eCommerce business plan template
Idealy, your eCommerce business plan should evolve and transform as you build your business. But it should also lay a solid foundation so that your business goals are aligned and you have a thorough idea of what you need to do at each stage.
That's why we created a customizable eCommerce business plan template. With this worksheet, you can map out what you would want your business to be like. Download your free business plan template here.
---