(Last Updated On: December 13, 2022)
The benefits of taking your business on social media are endless, especially on Instagram. But what exactly do you post? Consistently putting out content is important for your brand's Instagram strategy.
If you find yourself wondering what to post on Instagram for your business, this post is for you.
You'll get 25 different types of Instagram posts you can use to promote your business on the popular social media platform and attract customers.
View this post on Instagram
25 Instagram post ideas to grow your small business
1. Take followers behind the scene
People love behind-the-scenes content because it makes them feel related to you. Your business seems more transparent and trustworthy. Also, you do not need to put in a lot of effort to "polish" the post; it can be in raw format.
Shoot a small video on your product photography session, when you make a product, packaging scenes, or anything related to your business.
View this post on Instagram
2. An inspirational quote
Occasionally sharing something inspiring related to the niche of your business. Create a quote template with your brand fonts and colours. For this, you can use a simple graphic design tool like Canva. Don't forget to include your handle or website's URL at the bottom because posts like this gets shared often.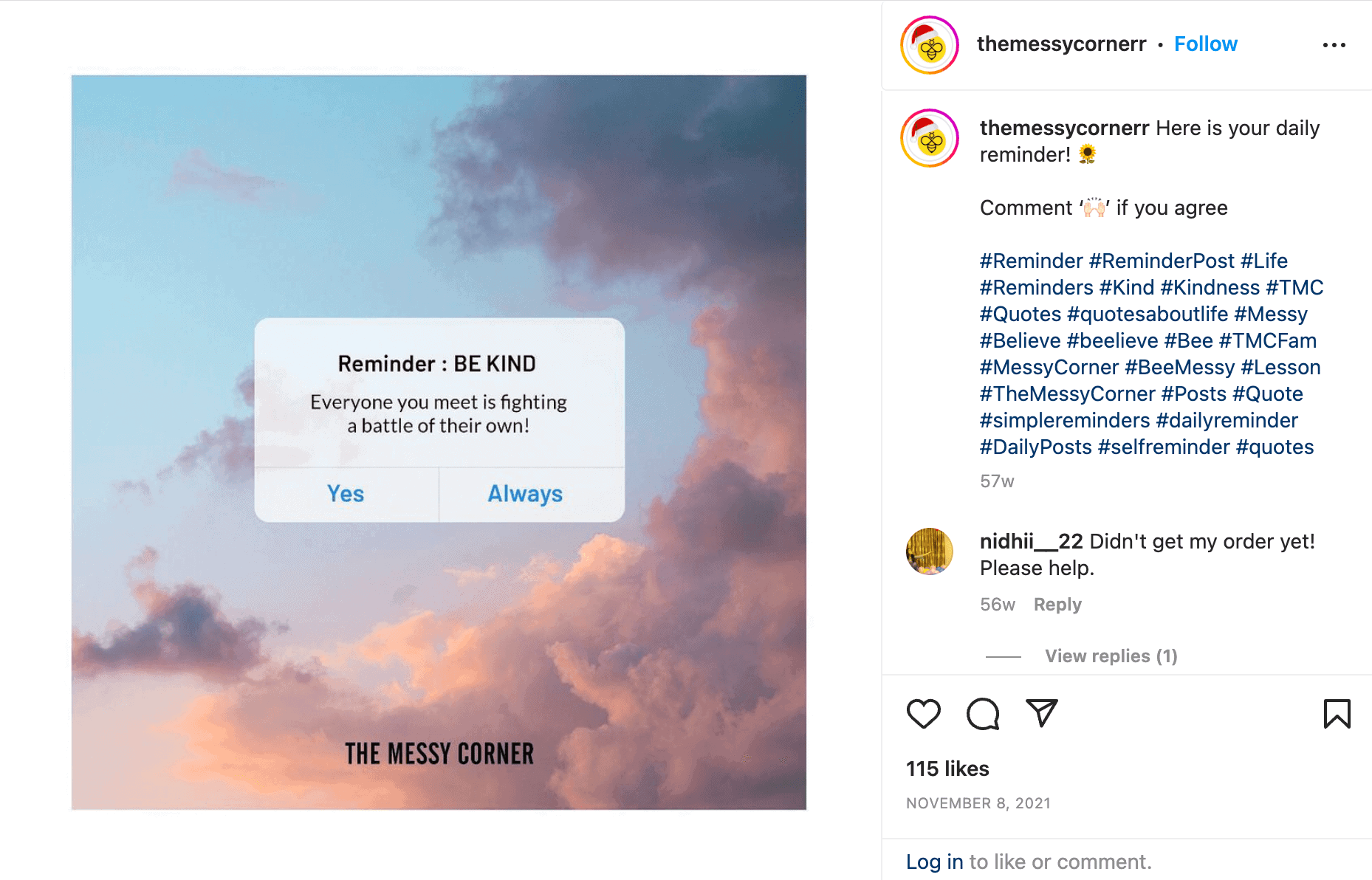 In the above post, Messycorner inspires people to be kind. And, it creates positive associations between your audience and your brand, which is always a good.
3. Repost user-generated content of your product
Find posts by your customers with your product and re-share them to your feed. This is an excellent way to show your followers that your brand engages with the community, which is very important. Also, it's very useful if you have very little products on your store. Re-posting such content encourages more user-generated content, which leads to word-of-mouth marketing.
View this post on Instagram
For example, PlanetBox features many of their customers' posts like the one below to show their lunch box product filled with different kinds of delicacies. Though they only sell one single product, they never run out of Instagram content ideas because they can re-share their customers' unique content!
4. Post about your best-selling product
With all the fun content you post, do not forget to talk about your products! After all, your ultimate aim is to get sales through Instagram. Posting about what your small business offers can be done in a non-salesy way. Artloom does this well by showcasing their gorgeous planners and its features.
View this post on Instagram
Plan your Instagram content with a proportionate mix of informative, entertaining, and sales post. This way, your followers are more likely to become customers.
5. Discount sales and coupons
A proven and tested marketing technique, offering discount sales is sure to bring you more sales. But, be sure to do it at the right time. Festive seasons are the best times to put up sales offers. Make an eye-catching post tempting your followers to make a purchase before the sale end.
View this post on Instagram
Pro tip: Put a countdown in your post like "offer ends in 3 days". This creates a sense of urgency which will push your followers to check out the offer. Also, remind them about the discount sale occasionally through your stories.
6. Giveaway post 
In case you don't know, a giveaway is a kind of lucky draw contest where you ask your followers to tag people in the comments and then you pick a winner randomly. It's a simple technique to increase your reach and gain more potential customers. Put up a tempting giveaway post with one of your products every once in a while.
View this post on Instagram
Make sure you mention the rules clearly and when the contest ends. The example above does it right.
7. Tips and tricks — a helpful post
Create a post which solves a problem of your target audience. Make sure that it's related to the products or services you offer. For this, you can create a carousel post on tips to do something, a tutorial video, or even do an IGTV video.
View this post on Instagram
Some brands like Ugaoo make suck posts a regular part of their content marketing. It's the best way to gain the trust of your audience and establish your brand as an authority.
Pro tip: Ask your audience what problems they face or what kind of content they want to see from you. For this, you can use your stories. You will get a lot of content ideas.
8. A relatable meme
Nowadays, memes are more than just funny pieces of content — they're a powerful content marketing tool. Posting memes on your feed as a business will make your audience feel connected to your brand. Because, who can resist a good meme? Memes are the kind of posts that get a lot of re-shares. So make sure you mention your brand name in the post.
Make sure that the meme is related to your niche or business in some way, and not a random one. June shop does this well in the above post.
9. A trending reel 
Going with the trend and posting trending content is a quick way to gain more followers. Remember, do this only if the trend is related to your niche. Or else, you may not get quality leads, even if your reach shoots high. You can use trending reel music in the video or do a challenge.
View this post on Instagram
ChapterOne does this well by creating a relatable video with trending music in the background.
Loving this blog? You'll love our newsletter too! Get weekly business tips straight to your inbox. Sign up for the Business Growth newsletter.
10. Online store walkthrough 
Do you have your own online store for your business? Then show it off on your Instagram feed. You can screen record a video and post it as a reel. This is a good way to let your followers know that you have an eCommerce website.
View this post on Instagram
Want to know the quickest way you can set up an online store? Visit here.
11. Game challenge
Engage your audience with fun games related to your niche or business. You are free to come up with creative ways to do so. But, make sure its related to your niche and your audience interests.
View this post on Instagram
Make sure the activity is related to your audience's interests. For example, Ugaoo posted a fun word search game about gardening activities.
12. Customer testimonial
Let your followers know that your customers love you — in their own words. Most brands choose to post customer reviews on their stories only, but it is good to make it part of your feed.
Pro tip: Take screenshots of what your customer said through DMs and use that in your post.
13. A social cause you care about
Does your brand help any social causes? If yes, make sure you include this on your Instagram feed. Consumers always love a brand that stands for a cause. So, show your audience how your business does its part.
View this post on Instagram
Phool.co, an incense brand, employs women from marginalised sections of the society. They talk about this in their post, letting their audience know how they do meaningful employment.
14. Introduce the founder
Let your followers see the face behind the brand. Share your story — where you come from, your passions, how you run your business, etc. Because, this is an Instagram content idea that will make your audience feel more connected, make sure you have at least one such post in your feed.
View this post on Instagram
15. Show your product in use — video
Shoot a scenario where your product is in use. Plan this post as a pitch for your product and a value-giving post at the same time – a sweet spot between the two.
View this post on Instagram
Kidtsack creates videos on how the products in their toys store allows children to be creative. Such videos are value-oriented and promote their products at the same time.
Want to know more about growing your business on Instagram? Sign up for this free MojoVersity course!
16. Feature employees
Give the spotlight to the people behind the business. Introduce your employees and what they do. If you are the only person behind the business, you can do a video on yourself too! See how MySaltApp does this with a fun carousel post:
17. Festive post
Instead of simply wishing them on the festive day, post content on the preceding weeks of the festival. Feature your product, create eye-catching content, and share them on your feed. For almost all businesses, festive seasons bring in more sales. So, make full use of this opportunity.
View this post on Instagram
Pro tip: Research on your target audience and find out about festivals that they celebrate. There are many festivals Indians celebrate. So, make sure you don't miss out on the ones important to your potential customers.
18. A map marking your customers' states/cities
This is a very specific Instagram content idea. Create a graphic of the states or cities you've sent orders. This is a kind of testimonial to your business. Your audience finds your brand trustworthy because of all the different locations of your customers.
19. Post on FAQs
Your audience might have a lot of questions in mind when buying from an online business. So, it's your duty to give them a smooth shopping experience by clearing their doubts. Note down questions you often get in DMs and do an FAQs post.
View this post on Instagram
Here's a good example of an FAQs post. You could also do a carousel post.
20. Story behind your business
Why keep the interesting story behind your business to yourself? Talk about it in your post and let your audience know! Also talk about how passionate you are and what your future plans are.
21. Physical shop tour
Does your business have a physical shop? Create a video showing your store. If you don't have a shop, you can also do a warehouse tour, or a simple behind-the-scene content.
View this post on Instagram
ChapterOne bookstores regularly take their followers for a bookshop tour.
22. New product releases 
With all the fun content, don't forget to talk about your products often! Do you have a new set of products in your stock? If yes, announce this to your audience with a post.
View this post on Instagram
23. Informative post
Give a helpful tip related to your niche. Such posts solve the problem of your followers. Thus, your Instagram handle will have the reputation of being a value-oriented page if you post such content regularly.
View this post on Instagram
24. Milestones in your business
Include your followers in your business journey by celebrating milestones with them. Such posts can be an anniversary post, your 100th order, getting your own online store, hiring a new employee, or anything that marks a special occasion for your business.
Pro tip: You can organise a giveaway or similar contests to celebrate your milestones with your followers. Make sure you convey how much you care about them!
25. Process video
Do you sell products that you make on your own? Show your followers a time-lapse of how you make them. People love such posts because of the transparency it offers.
View this post on Instagram
A simple behind-the-scenes video of you doing the work would be great. Whispering flames shows how they make candles in a short video.
26. As for advice from followers
Interact with your followers by asking for their opinions or advice regarding your business or content. They may have a lot to say. So, you can do this occasionally. Because It keeps your brand connected to your customers, such posts are important elements of your Instagram content.
Growing your business on Instagram is an important job for online business owners. So, here are some more resources to help you with it:
Having your own eCommerce website will make selling on Instagram much more easier. Start selling on your own online store in just a few steps. Sign up on Instamojo for free!
---