(Last Updated On: May 18, 2023)
To succeed as an eCommerce brand, the foremost thing is to stand out from the crowd.
And for that, you will need a professional online store that can be customised for your brand and help you get customers.
Creating an eCommerce website is quick, easy and does not require any developer or IT assistance. Why do you need an online store? Because your customers need to find you! And you need them to keep coming back for more.
The best part is that you can start your own online store for free on Instamojo.
In this blog, we will cover:
How to start a free online store free on Instamojo?
Before you do anything else, signup on Instamojo. Once you create your account (it will take 2 minutes), head to your dashboard.
Once here, head to the 'ONLINE STORE' section on the left-hand side to make changes to 'Add Product' and customise your store.
Next, click on 'Store Details' and you will see a dropdown where you can edit your profile, add your logo & favicon, edit or add pages as required. You can also link your social media pages to the store homepage.
Social media icons are displayed on the footer of your store's home page. When your customers click on the social media icons they are taken to your social media pages.
You have now created your free online store and the next step is to start adding products.
How to add products on your online store
Edited your store information? Okay, let's add some products.
To checkout all your products, click on 'Products'. Here you can view and edit all your products by clicking on 'All Products'. You also have the option to 'bulk import' all the products by clicking upon the bulk Import icon present on the toolbar.
TL;DR – Check out this quick video guide to help you add a product when you create your online store
Click on 'Add Product' (blue button appearing on the top of left-hand side). Here, you can choose what kind of product you want to add to your store.
Physical Product –
Goods, objects of any kind, from apparel to books. Anything physical in nature.
Digital Product –
From ebooks to services – plumbing or cleaning services, online tests
Event tickets –
Do you host workshops? Are you perhaps a major music festival looking to rescue an Island from sinking? Sell your tickets on Instamojo by creating your event here.

Other:


If your brand does not fall under any of the above categories, add your product here.
As shown in the video above, you can now fill in the sections here. We will help you out with the details for each:
Product Title:
What's your product? Add the name of your product here. In other sections, it would be the name of your event ' Majuli Music Festival 2020' or 'Ebook for Marketers'.
Short Description (on right-hand side):
Nothing flashy here, except the formatting option below.
Product Category:
This helps customers when they search for your brand online. You can choose from the categories you create for your product (shown below).
Add Variants:
You can add different 'variants' of your product, specifying its colour, size, value, etc.
Advanced Settings:
This section allows you to add a 'Redirection URL' (the URL where customers are redirected after they make a payment) and also a 'Custom Thank You Note' which will be shown to buyer after successful order.
SEO Options:
Right under the Advanced Settings option, the Instamojo online store offers you SEO options. Each of these options is important if you want your online store to rank higher on search engines. Adding the SEO elements to help search engines discover your online store and show it to relevant audience.
How to add categories to your online store
You can also add 'Categories' to your products. For instance, if you are a clothing store which sells travel specific clothes, you can create different categories of your product. You can also edit the category later by clicking on the three dots appearing under the 'Actions' column.
How to customise your online store on Instamojo
One of the many benefits of an eCommerce website is that you can customise it according to your needs and control what you put out.
Now that you have started your free online store, you can customise it according to your brand identity. Customise your Instamojo free online store by clicking on Store Settings > Themes. You can also edit the Theme by clicking on 'Edit Theme'.
Instamojo free online store just got a new member in the theme family for free online store users. You can now choose between Simplar or Cipher for your online store.
While Simplar is basic and simple to use, Cipher comes with a fresh look that lets you enhance the online store experience for the end user. Here is a quick look at Cipher theme features:
Be it clothes, art, ebooks, courses, tours – its universal appeal makes the Cipher theme suitable for all businesses.
You get a template banner image for your store, which can be modified according to your brand!
You can also set featured products, add slider images and have social icons placed prominently in the footer.
Also Read: Top eCommerce website themes for your online store
To 'Edit Theme', go to Store Settings > Themes > Edit Theme
Here you can choose the elements you want to include in your theme. Let us explain the elements to you here:
Slider Image: The image which will appear in the banner area of your online store
Banner Text: Text you want to be displayed on your banner
Edit home page: With 'Customize Home' features you can display Testimonials, Latest Products, Featured Products, and Categories on your store homepage
Customize URL: The Customized URL format is more SEO friendly compared to the default product URL on the product page. Customize Url will change the URL format of the browser link on your product page.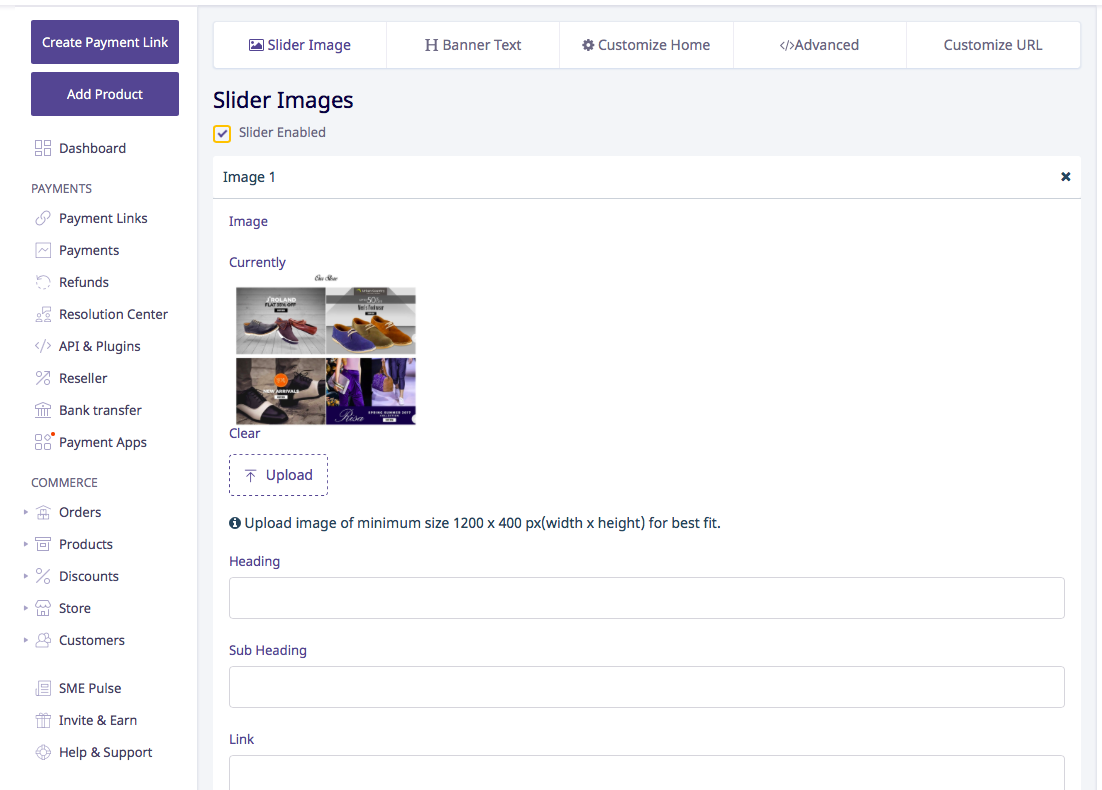 How to add images on your free online store
Your product images matter. Make sure you upload high-resolution photos (ideally 312 px * 224px) of the products you want to sell. Customers like attractive products. Even if you are selling an ebook or tickets for a music festival, get HD creatives made (1020*900).
To upload banner images on your online store go to Store Settings > Edit Theme > Slider Image > Image 1 > Upload (upload image of minimum size 1200 x 400 px(width x height) for best fit).
For your product, you can add upto 3 images at the max. You can do so while adding the product, as explained above.
To add images, go to Add Product and choose the type of product you want to add. Once selected, you will see a screen as shown below and you can upload a product image by clicking on Add Image (1024×1024 being the recommended size).
How to use Instamojo online store
You have added your products, and your eCommerce website is ready for business! Now, we need to get some marketing done.
Here's an example of a complete Instamojo online store.
Share your store link on your social media:
Just like a website link, you can share your Instamojo online store URL cross your social media channels. Customer clicks on them and lands in your store. For example – Glasshopper, an online store user, adds their Instamojo link to their Instagram bio.
Offer discount codes and clearance sales:
If you have an online store on Instamojo, you can generate 'Discount Links' by clicking on 'Discounts' under 'Store Settings'. Generate a discount link that is unique for each product and share it with only specific customers you'd like to get the discounted price.
SEO options on the online store:
We mentioned this in the previous section, now let's elaborate a bit on it.
SEO title: An ideal SEO title is 60 characters long and while it's not a mandate to stick to it, longer titles get cut out on searches.
SEO description: Search engines like Google constantly change their algorithm every once a while. Therefore, it's necessary to make sure you have a perfectly tailored SEO meta description of the product you're selling on the online store.
SEO keywords: Keywords are probably the most important part of SEO. They are search terms that anybody on the internet would use to look for your product.
Also Read: Full guide to get your Instamojo store to rank on Google
Canonical URL: Sometimes, search engines penalize you if you have the same content on multiple web pages. Simply specify to a search engine which URL is authoritative (canonical) for your page. Here's a guide to help you prevent that.
View and manage your customers:
Click on 'Customers' under 'Store Settings' and select 'All Customers'. Here your can view and manage all your customer details. You can also assign tags to specific contacts based on their profile and run Campaigns to engage with the different customer segments. You can 'Add New Customer' as well.
How to collect payments on the online store
Head to settings and update your payment details. You can enable a convenience fee for your customers – this way, you do not have to bear the transaction charges. Instamojo allows customers to pay you through a variety of online payment modes.
Edit your account details, under the Payouts option.
Here's what you need to know about collecting payments on your online store:
Basic transaction charges on Instamojo are 2% + Rs. 3 on a successful transaction.
For digital goods, the transaction charges are 5%.
Once the payment is made, you receive money in your bank account in 3 working days. Unless you opt for the Faster payouts option that can help you get the payout faster but for a small fee.
You can check all your online payments under the 'Payments' section on the left-hand side.
Instamojo shipping service mojoXpress: Your own logistic service
Let's rewind a few steps. While adding a product to your store, you might have seen an option to enable shipping charges. You can pass on shipping charges to your customer too, or set up shipping with Instamojo Shipping and logistic mojoXpress.
mojoXpress is Instamojo's own shipping service, partnered with Vamaship. If you want to ship your products across India, mojoXpress is the best way to do it.
Check out a short guide for Instamojo mojoXpress here:
It's simple, quick and easy. Annada Menon, an artist who sells her work on our free online store, found it easier than creating a website!
Once settled with the free online store, you can consider upgrading to the premium online store. In addition to everything a free plan offers, top features in a premium plan include:
Link custom domain to store
Wholesale and referral discounts
Up to 10 images per product
Cart abandonment report
Access to 20 Premium themes for your store
Access to Contact Us Queries from your customers
Live chat feature to chat with your users in real-time
Setting up SMS & Email campaigns
Advanced SEO for your store
Promotions & discount engines
Also Read: How to setup Instamojo Premium Online Store
PS: Let us know if you have any queries in the comments. You can also refer to our support section for any further assistance!
---