(Last Updated On: August 17, 2023)
Ever thought about diving into the exciting world of selling books online in India? Well, look no further! Our all-inclusive guide is here to show you the ropes to sell books online. 
From setting up your very own virtual bookstore and getting your hands on awesome inventory to crafting eye-catching listings and making your mark in the vast online landscape, we've got you covered. 
Whether you're a bookworm eager to share your collection or an enterprising spirit ready to tap into India's diverse reading scene, this guide spills the beans on how to expand in the fast-paced game of online book selling. Let's set sail on this adventure together!
Why selling books online is a lucrative opportunity?
Despite the advent of e-books, books are still very popular. A billion-dollar market, the online sales of books are projected to increase in the coming years. So, it's a good idea to start selling books online — whether starting a business from scratch or taking your bookstore online.
On an average, books have a profit margin of 30%. This number can go upto 60%, depending on how much stock you order in bulk from the supplier.
Being a product with a longer shelf life (pun intended), starting a bookstore online can reap huge profits. The only disadvantage is that you'll need significant storage space for the books.
Along with all these benefits, there is also the added advantage of easy supply — it's relatively easier to find suppliers for books.
What kind of books can you sell online?
There are so many categories to choose from when it comes to selling books. You can niche down and sell only one genre of books — like fantasy — or start an online bookstore with every kind of book.
If you're wondering what they most popular categories are for books, here are some stats to help you out: according to a report, the most popular category of books on Amazon are ​​Memoirs and Biographies, Self Help, Religion and Spirituality, Health, Fitness and Dieting, and Politics. Romance and crime make up the most popular sub-genres.
Selling used books online, also known as "Pre-loved books" is also a great option because many shoppers look for cheaper options when buying books online. You can source old books, bargain a price, and sell them on your online bookstore.
Another less explored way of starting an eCommerce book business is creating a subscription-based model for book lovers.
Champaca, a popular bookstore in Bangalore, set up a subscription-based model for their loyal customers who do not have too much time to browse through their collections.
The store will pack and deliver a set of books, based on the customers choice, monthly, quarterly and yearly. This ensures customer loyalty, ensures feedback and helps reach out to new buyers too.
eCommerce success: The complete guide to selling books online
Being a book enthusiast, you might be gearing up to dive into the world of online book selling in India? Isn't it? If so, then that's awesome! So, let's get those books of yours all set for their online debut. You should trust this; a little prep work can go a long way in making your online bookstore shine.
How can I sell my books online instantly? If such questions are revolving around your head, then consider the following steps.
Choosing your online platform
Exploring eCommerce platforms: Amazon, eBay, Etsy, etc.
Specialized book marketplaces: AbeBooks, BookFinder, Alibris, etc.
Creating your own eCommerce website or app with Instamojo.
Also, to answer your question, i.e. where can I sell my books for the highest price, you should consider various factors such as book rarity, condition, demand, and the platform you choose.
Start your own eCommerce app today
Along with this, with your own online store, you can list books easily, collect orders and payments securely, and ship them — all in one place.
You'll also get the potential to be featured on Google shopping snippet. An online store will get your bookstore out into the world and bring in more customers.
Sapphirebooks sells books online on their eCommerce website which they created using Instamojo store builder:
You don't have to be a full-time business to sell books online with Instamojo. Starting an online store on Instamojo just takes a few steps. And you don't need any coding skills to get started.
Start by signing up (for free) with your email id and add the details of your store like business name and category. Then, start adding product images you have created along with description. 
Here's a short video to help you get started with creating an online bookstore:
Preparing your books for sale
Quality inspection: Assessing book condition and ensuring they meet marketplace guidelines.

Cleaning and repair: Basic book restoration tips.

Professional photography: Capturing attractive images for online listings.
Pricing your books
Research: Analyzing the market and determining competitive prices.
Setting different price points: New, used, signed copies, special editions, etc.
Factoring in costs: Shipping, packaging, and platform fees.
Discounting ideas during seasons
Do not pile up books on your shelves right now. The best way to keep shelves clear is to clear off old inventory with giveaways online using social media. Some of the best ways to offer discounts to your customers are –
A buy 1 get 1 offer on classics – book bundles

An online quiz announcing flat 40% off on selected categories of books

Clearance sale offers on second-hand books or old books

Referral codes – here's how referral codes work on a website.
View this post on Instagram
Captivating photos, compelling descriptions
Once you have decided which books to sell online, you need to prep them for selling online. As a bookstore, you're competing with giant e-marketplaces where many people shop. So, you need to make sure that you're well prepared before making your leap into eCommerce.
Crafting engaging summaries: Highlighting key plot points, genre, and unique aspects.
Utilizing keywords: Optimizing descriptions for search engines.
Honesty and transparency: Describing the book's condition accurately.
Product photographs
You don't have to go over the top when it comes to product photographs of books. A simple image of the cover would do. Still, make sure that the resolution is good enough because many shoppers base their purchase decision on product images.
Here are some inspiration for product photographs for book product pages: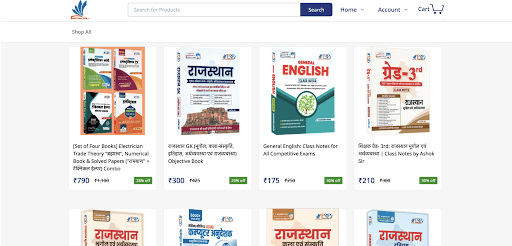 Also, here is a quick reels that can help you elevating your product photography skills. Check out now!
View this post on Instagram
Book description
Your product descriptions can make or break your online business — this is something many business owners don't realise. Having good products is not enough to get customers online. You need to put up detailed product descriptions for each book you are selling. Here's what product descriptions for books can include:
Synopsis of the book

Author credentials and publication

Dimensions and weight 

Format (Hardback/Paperback) 
Product descriptions will help you get discovered on search engine results (SEO) when shoppers search for a particular book. 
Marketing and promotion
Over 45% of booksellers in the country have shifted to an online platform since the pandemic, with almost every business setting up an Instagram and Facebook page.
Blossom book house, a beloved old-time bookstore in Bangalore, has taken their business online, even though the shutters have opened on a lot of stores.
Utilizing social media: Building an online presence and connecting with potential buyers.
Content creation: Writing blog posts, creating videos, or hosting virtual book events.
Customer reviews: Encouraging satisfied customers to leave positive feedback.
Managing sales and customer service
Inventory tracking: Keeping tabs on available stock and restocking when needed.
Prompt communication: Responding to inquiries, processing orders, and providing tracking information.
Handling returns: Developing a fair return policy to maintain customer satisfaction.
Keep in touch with your customers. Loyalty is a powerful tool that every bookstore in India can rely on. Most customers miss spending hours in their favourite bookshops, especially the ones they remember from their childhood, or a weekend stroll.
Shipping and fulfillment
Packaging: Safely wrapping books to prevent damage during transit.
Shipping options: Comparing carriers, delivery speeds, and costs.
International sales: Understanding customs, tariffs, and international shipping considerations.
Packaging products is an essential part of any eCommerce business. You can either opt for a basic packaging — brown box and tape — or you can go over the top with gorgeous packaging with branded boxes and customised messages.
Here's how TheBigBookBox send out their monthly book boxes for their subscribed members:
View this post on Instagram
You can also opt for eco-friendly packaging. Here's a blog to give you some ideas on product packaging for eCommerce.
When it comes to shipping, you'll need to expect a significant expense. For starters, you can partner with a shipping service based on your needs. Here's a guide to get you started with eCommerce shipping.
Analytics and improvement
Monitoring sales performance: Tracking sales, bestsellers, and slow-moving inventory.
Adapting strategies: Making data-driven decisions to optimize listings and marketing efforts.
Continuous learning: Staying updated on e-commerce trends and adjusting your approach accordingly.
Legal and ethical considerations
Copyright and intellectual property: Respecting authors' rights and avoiding infringement.
Taxes and reporting: Understanding tax obligations and reporting income from online sales.
Privacy and data security: Safeguarding customer information in compliance with regulations.
Scaling your online book business
Diversifying inventory: Adding related products like bookmarks, stationery, or book-themed merchandise.
Collaboration and networking: Partnering with authors, publishers, or other sellers for cross-promotion.
Expanding to other markets: Exploring international markets and language translations.
All the above mentioned steps justifies the question : How to create customer demand for buying books online. 
If you decide to sell books online, you need to maintain networks offline too – with both customers and other buyers. The best way to do this is to contact thrift stores and offline sellers for brand collaborations.
Keep an eye out for what other booksellers are doing, as this will help you connect with third-party marketplaces that help you sell old books, new books, and second-hand books online.
View this post on Instagram
Related Read: A comprehensive guide on networking for small business owners
How to market your online bookstore?
Book lovers and readers in the country will work towards supporting their local stores over corporate giants – all you need to do is tell them!
View this post on Instagram
Once they set up in May this year, since lockdown commenced, the bookstore has gained over 2,300 followers on their social media. They take orders via WhatsApp and DM and constantly engage their customers online with –
Regular updates on their store inventory, new book releases coming in

Customer stories, reposting reviews from customers

Offering reading tips, ideas, and hacks

Announcing giveaways, author snippets, and meet-ups
Social media is the best way for any bookstore to sell books online and keep customers engaged. 'The Bookshop' – an independent bookstore in Jor Bagh market, Delhi, constantly uploads stories on their Instagram to keep customers interested in their collections. Here is their recent one.
What are some of the best ways to engage your customers on social media so that they place more orders? Find out with our ebook – How to sell on social media
Go digital with books: Sell eBooks on Instamojo
Since you have begun to sell books online, why not sell ebooks too! If you are an independent business looking to start selling digital books, you can start on Instamojo.
Our detailed definitive guide will help you upload your first ebook on our platform and start selling it to customers. Read our full blog on How to sell ebooks online.
A study showed that Indians have consumed more digital books than physical books in the past 1 year, so if you are considering selling an ebook, now is a good time.
GC Mouli, a writer and product leader published his first novel 'The Son of Cauvery' by uploading the entire book online on Instamojo's online store for customers to read.
Ready to start your online bookstore?
An online book business has limitless potential in 2022 and beyond.
So, take the first and create your online store. On Instamojo, you can get started for free and start selling books online at minimal costs.