(Last Updated On: May 25, 2023)
Everyone loves personalised experiences. And what about getting a whole box of personalised experiences every once in a while? That's exactly what has lead to the growth of subscription business in India — the excitement and satisfaction of getting curated products and a unique experience.
The subscription based business model is gradually gaining popularity in India. And this trend is here to stay.  As more consumers become aware of it, the subscription eCommerce market has plenty of room to grow.
If you have an idea to start a subscription business or want to add-on this model to your existing business, read on to find out how to bring it into reality. In this blog we'll cover:
The benefits of a subscription model
How to start with a small budget
Examples of subscription businesses in India
What is a subscription business model?
In a subscription model, a business charges customers a recurring fee for a product or service. Customers can choose how long to subscribe and most businesses offer cancellation and renewal anytime.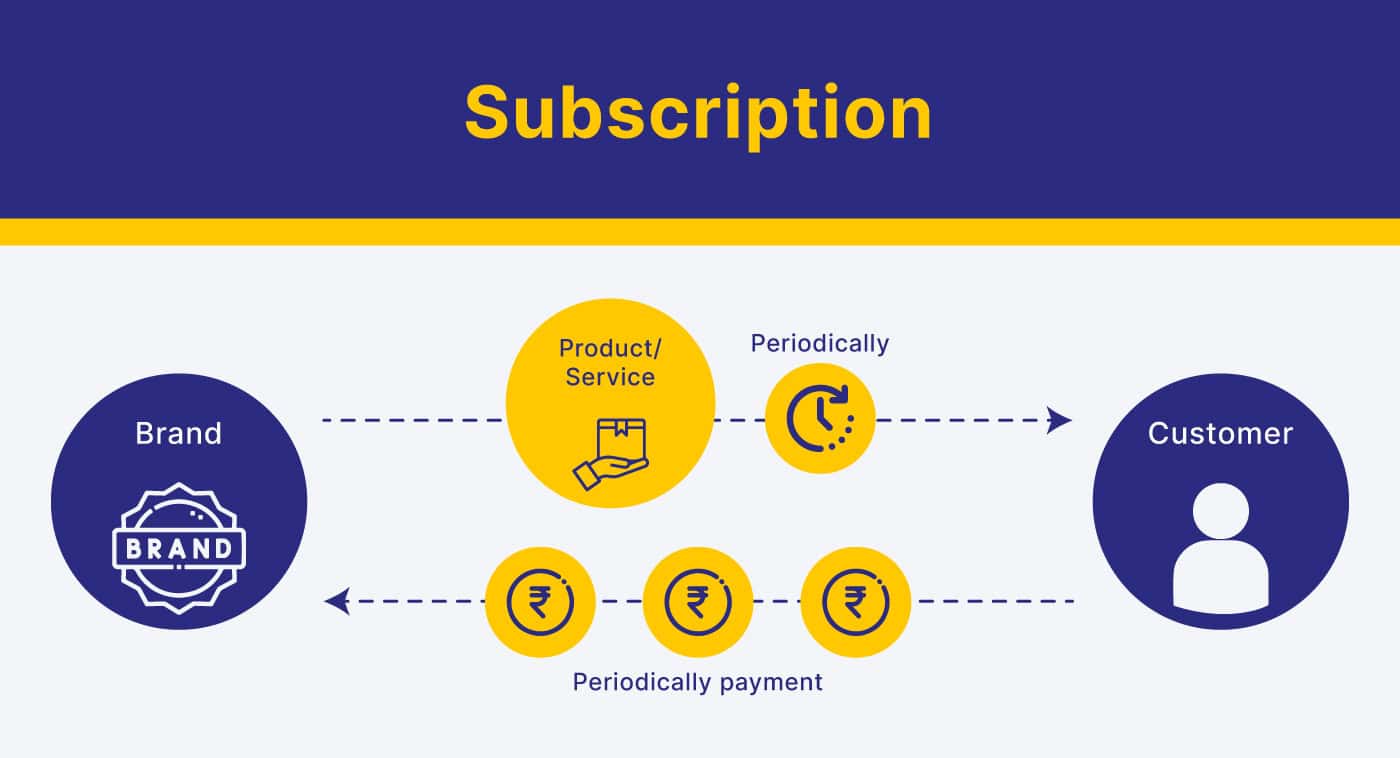 The most basic example of a subscription model is newspaper subscription. Although you can buy them individually, most people opt for a subscription to get newspapers delivered at their doorstep and at a discount.
Similarly, brands offer subscription services for a variety of niches including beauty, essentials, and food.
What makes subscription businesses so popular? It's all about the experience. Customers look forward to a great experience rather than a great subscription. And they're willing to pay a recurring fee for it.
Let's explore the basic business models available a subscription business.
Different kinds of eCommerce subscription business models
Subscription boxes – curation
Customers will receive packages from you on a recurring basis. The aim is to delight customers with curated items and personalised experiences. Successful subscription boxes make sure to satisfy the need of their audience and have a niche.
Subscribe and save
Also known as replenishment experience, a subscribe and save model provides regular delivery to customers based on a subscription. This is the best option if you have an ordinary business and want to try out the subscription model.
An example of subscribe and save  model can be seen on Nua website. They offer automated deliveries on monthly or quarterly subscriptions. And they also put a discount on the products.
Customers expect a discount on the products they're subscribing for. So, you need to stay updated on the price of the products in the market.
Membership
Brands offer memberships programmes which gives access to exclusive deals and products. This is the ultimate loyalty program because customers look forward to the value the brand will provide in the future when subscribing.
This model will work for you if your business offers unique products.
You can also add a subscription model into your existing eCommerce business. For example, Noorali online store sells fine quality products from Kahsmir and also offers a subscription box on monthly and quarterly basis.
Want your own online store to sell products. Get a fully functional online store with Instamojo.
Are subscription based businesses profitable?
Subscription business can bring in profit margins of 40-60%. And it may vary for different niches.
Because of easy revenue forecasting, less uncertainty, and fixed number of consumers, a subscription business has great potential in India.
Here are some other benefits of subscription based business models:
Predictable and compounding revenue
You will have an accurate estimate of how much money you'll be making every month.
Although the upfront costs will be higher, your revenue starts compounding over time, if done correctly. Let me elaborate.
You will need to invest time and money to acquire customers, but retaining them will be fairly easier and cheap. This means that over time, as your revenue increases, money needed for marketing  will decrease.
This compounding growth is what makes customers so powerful. Through subscription, customers become more valuable the longer they use your product.
Read this blog to know more about how to increase revenue with brand loyalty.
Lower customer acquisition costs
Subscription business is all about retaining customers. This means that once people subscribe, you don't have to invest as much in new customers to keep your business going.
Although at the initial stage, you will be needing to spend on customer acquisition, later on your business will thrive with little to no marketing. This brings us to our next point – customer loyalty.
Increased customer loyalty
The subscription business model attracts more number of loyal customers than any other. If done well, you will retain a majority of the customers you attract and increase the lifetime value.
Chances of upselling and cross-selling
Introduce new or additional products or services to them. Easier to cross sell in a subscription business model because they trust the value of your brand.
Let's discuss how to start a subscription box business — the most popular form of subscription eCommerce.
How to start a subscription box business: 6 easy steps
Find a niche or theme for your business
Source your products
Create an eCommerce website
Design your subscription box
Set a price
Handle shipping and fulfilment
1. Find a niche or theme for your business
What separates good subscription boxes from great ones is its specificity. So, you need to narrow down on a niche to make your idea work.
For example, if you want to create a box on the beauty theme, there are many options — essentials, makeup, perfume, bath, and so on. With a theme, your customer will be convinced of its value.
Myenvybox curates a box of happiness with luxury beauty brands. They also sell their products individually on their website.
View this post on Instagram
Consider these elements when deciding on a niche for your subscription box:
Your customer profile
Solve a need of your customer
Analyse successful competitors
Another idea is to offer different boxes on themes related to the niche you have chosen. This gives your customer a wider option to choose from.
Woofbox is a pet subscription box brand based in India. They offer eight different categories of boxes based on themes such as vegan, chewmaster, treat, and so on.
2. Source products for your subscription business
If you already have products that you sell on your online store, you can start with that. Otherwise, to source products for your subscription box, you have two options — build or buy. For the former option, you will need resources and capital as well as time. Read this detailed guide on how to sell handmade products online.
You can also source products from small businesses brands or artisans.
For example, Verth subscription box contains a curation of eco-friendly products sourced from leading conscious brands and local artisans.
Here's how you can get products from an external source for your subscription box business:
Start reaching out to companies via email or social media.
Tell them about your subscription box brand and how it will benefit them to include their product in your box.
Work out a deal for a bulk order with a discount.
You can also get products on wholesale sites like Alibaba as well as marketplaces like Etsy.
How to get free products for your subscription box
Getting free products is actually possible. Brands may agree to give you products for free if they want to get in front of your audience. But this means that you should already have an active audience or community which the brand might be interested in.
3. Create an eCommerce store 
To provide a smooth shopping experience, you will need an eCommerce storefront to showcase your boxes.
Customers need to trust you before deciding to subscribe to you. And a fully functional online store will help you build that trust. Besides, you can showcase what your brand has to offer and use the power of SEO to get more people to your store.
Sign up on Instamojo and get your own online store. You can customise the store to reflect your brand and use the eCommerce features to get more sales. Also, you can unlock a variety of apps that help scale your business.
4. Design your subscription box
Box is a big part of your subscription box business, obviously. Customers expect more than the generic brown box when it comes to a subscription box. But that doesn't mean you have to spend a lot of your budget on boxes.
In the beginning, you can start lean and go for cheaper packaging options like customised tape and stickers. There are many companies out there that offer you such packaging services. For example, Printo offers custom packaging tape starting from Rs. 74 per piece.
Later on, you can go for customised boxes as well, which can cost you around 10 to 20 rupees per piece.
Read this blog to know more about packaging for your eCommerce business.
If you have an Instamojo online store, you don't need to worry about finding packaging partners for your subscription box business. You can access many such services and business tools on the app store and choose according to your needs.
5. Pricing subscription box
To set a price for your subscription box, calculate all the practical business costs involved. The basic costs for an eCommerce business will be for you products, website, shipping, and marketing.
Offer your subscription box for less than its total worth, especially if you also sell the products individually. Make sure you highlight the price difference on your product page and compare the products' total value with your box price.
The growth plan for your Instamojo online store will cost you Rs. 1,999 per month and also costs of any other apps you want to use.
Shipping charges will depend on the weight of your box and the mode of shipping. As for marketing, you can opt for organic methods such as SEO and social media marketing, which won't cost you. Paid marketing will cost you anywhere between Rs. 100 to Rs. 10k along with charges of the person setting up ads for you.
6. Handle shipping and fulfilment
Shipping is a major challenge when starting an eCommerce business of any kind. But with the basics, you can setup a good shipping strategy for your small business.
Shipping costs eat into your profit margins. So, you must take measures to reduce the costs as much as possible. Here's how:
Choose boxes with as little weight as possible
Consider the weight of products when choosing a niche
Compare different courier partners for the best plan for you
Fulfilment is another aspect to consider when dealing with subscription box products. If you have 30 customers and have 5 items per box, that's still 150+ items you need to store. So, make sure you have enough space at your home to store products, or you could rent out a space.
Tips to grow a successful subscription business online
Once you get your subscription business off the ground, you need to start activities to scale it beyond. Here are some tips to help you for the growth phase of your brand.
Building a brand image is important for a subscription box brand more than any other business model. Your box should stand out from every other boxes out there and convince customers of your uniqueness and value.
Here are tips to scale your business
Marketing your subscription business online
Most subscription box businesses customers know about subscription box brands through word-of-mouth, recommendations, or positive online reviews. So encourage your customers to leave reviews and recommend.
Here are some other organic ways to market your business:
Email marketing: Email is a marketing channel with high ROIs. Build your email list through social media and use it to upsell and cross-sell products.
Pinterest marketing: Subscription boxes are highly visual products. The whole box and unboxing experience is what makes customers look forward to their next box. So, make sure to make use of Pinterest and bring in traffic to your eCommerce website.
Speaking of traffic, another organic way to market your subscription business is through SEO. It's all about optimising your store's content with relevant keywords and targeting the right audience. Download this free eBook to know about capturing leads — The Good Traffic.
Build a community and learn directly from customers to improve your business
Communities contribute to the building of a brand because they are focused on the human psychology of 'feeling of belonging somewhere'. So, put in effort to build a stronger customer relationship through communities.
The Big Book Box, a book subscription box, built an amazing community of book lovers with aesthetic and user-generated content. As a result, they reached thousands of fantasy book lovers all over India.
View this post on Instagram
Here are the benefits of managing an active community for your brand:
You can get valuable insight related to your product directly from your community members, this will help you take more informed decisions on business strategy.
Understand what your customers actually need instead of guessing
Which features you should prioritise building.
Consistently retain customers in a cost-effective way.
Upselling and cross-selling
Selling new products to existing customers and increasing your revenue is much easier than finding new customers.
You should definitely use this scale tactic if you sell products other than subscription boxes on your online store.
Speaking of up-selling, there is a simpler way to go about it if you have an Instamojo online store — product bundles. Bundle together products at a discount and nudge your customers to buy more. You can set up the product bundle feature through your dashboard.
Provide excellent customer service
Customers expect good service from online brands, especially from a business they regularly pay for.
Serving your customers might seem confusing in the eCommerce world. So, here are some tips to deliver excellent customer service as a subscription eCommerce business:
Create an FAQ page to solve common queries
Reply to messages promptly and politely
Deliver products on time and offer tracking for shipping
Use chatbots or chat widgets on your online store to communicate with customers. Instamojo has some amazing customer service tools on the app store.
Start your subscription business
Curating a box of experience is a business idea that is fun and profitable at the same time. The key is to be as unique and specific as possible in the niche you choose.
Start your eCommerce journey with a free online store. Use it to bring your subscription box idea into reality.
---