(Last Updated On: June 14, 2023)
Sometimes platforms and apps are known for their unique purpose. eCommerce platforms are known for being the bridge between a D2C brand and an online shopper.
But, a good eCommerce platform does so much more. It makes your life easier and helps your business explore its full potential. There are so many features that often go unnoticed and underutilized.
Instamojo is one such platform. We provide a host of D2C solutions and marketing features for your online business. But do you know all of them?
The Instamojo eCommerce platform 
It might be tough for us to tell you each and every one of the 120+ eCommerce features Instamojo has. But, we can show you the main ones you can find right on the Instamojo dashboard!
If you are a business that uses us for your digital commerce – you might want to see which of these features you missed out on.
If you are new to us – check out our entire dashboard and its highlights!
Sell online with Instamojo 
Are you a business looking to sell online? We are not restricted to just helping you sell physical products.
With Instamojo you can – 
Manage your eCommerce business with Instamojo 
We did say a good eCommerce platform makes your life easier. With Instamojo, you can not leave the managing to us, while you focus on growing your business.
👉 Want a trustworthy payment gateway with affordable transaction fees of just 2%+₹5? You can integrate the Instamojo payment gateway with other eCommerce builders like Magento or Wix with our wide range of APIs and wrappers. 
👉 We help you give a professional makeover to your entire eCommerce business with custom domains. 
👉 Your efforts should be rewarded. As you grow, collect mojoPlus points that you can then use to get discounts on your transaction fees, partner apps and premium subscriptions.
👉 In our customer section, you will find all customer details along with the details of all prospects. Prospects are "almost" customers who visited your store/landing page, and interacted with it but did not make final purchases.
Read More: 5 Unconventional social media platforms for small businesses to sell on
Online Stores on Instamojo 
We can't call ourselves an eCommerce website builder without a dedicated section for online stores.
What can you do in this section? 
Choose a theme and customise it according to your brand preferences
Set up different pages like the Homepage, About Us page, Contact Us etc.
Organize your products efficiently in catalogues
Set up product bundles, product filters etc to help your customers with their search
Customise your store with elements like pop-ups, countdown timers, or your Instagram feed
Use the power of social proof and customise a section for testimonials
Market with Instamojo 
If you want more customers to purchase from you, they need to know more about you. The Instamojo D2C Tech platform offers scores of useful technology and tools that are easy to use and have a high impact when marketing.
Some of our most popular in-built marketing features are: 
Recover abandoned carts with our automated workflows 
Set up different kinds of discounts to incentivize customers to purchase more
Instamojo online stores and landing pages are designed to be SEO friendly
Integrate with Google Shopping so that your products show up in Google Shopping's sponsored section
Subscribe to our 30+ add-ons and plugins by popular partners like Canva, Mailchimp, Optimonk, and LegalWhiz for a variety of purposes.
See optimal growth on Instamojo 
A D2C eCommerce brand needs to monitor their Key Performance Indicators and improve them to see growth over time. Improving business operations is not a straightforward task. You need support and data.
As a D2C brand, you can analyse and monitor customer behaviour data and improve in areas that need it.
Resolve order or payment-related disputes with your buyers by directly communicating with them in our Resolution Center. You can also keep track of your Refunds in this section.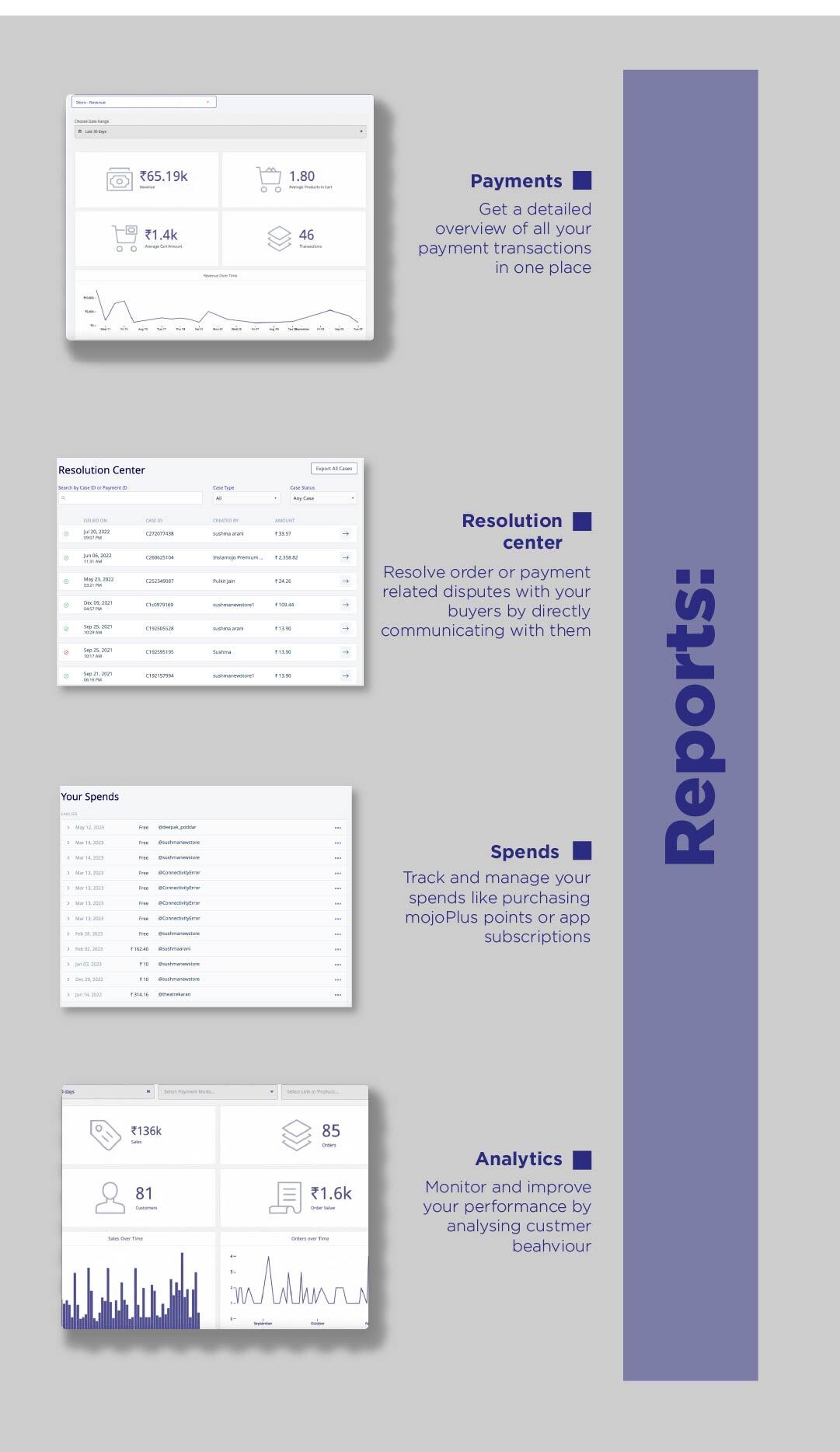 We might tell you to sign up on Instamojo to run your online business. But that would be limiting you.
Instamojo is an experience. Join us for free, or subscribe to our premium plans for the price of a masala bun and tea every day.
---