(Last Updated On: May 30, 2023)
The About Us page of your eCommerce website may not be the most important page on your online store — it won't bring you sales or get you leads. You're not even sure if anyone will ever visit the page!
But that doesn't mean the About Us page is trivial. Every year, thousands of businesses lose potential customers because of the lack of a proper About Us page.
If created properly, it can be used as your brand guideline. Unfortunately, many eCommerce websites neglect the importance of an About Us page.
In this blog, you'll learn:
How to write the perfect eCommerce About Us page in 5 easy steps
Elements of a good About Us page
Examples of great About Us pages to inspire you
Why is an About Us page important for your eCommerce website?
Imagine a situation where a person you met for the first time is trying to sell you products. But, they only talk about their products and its features during the conversation. They don't mention anything about the brand, how it will impact you, or why they're unique. Would you buy from them?
That's exactly how a website with no or poorly written About Us page will sound — untrustworthy and boring.
Here are some ways in which an About Us page brings value to your business:
Spokesperson for your brand
Now, imagine if that salesperson talks to you about what the brand stands for and how it impacts people's lives. They evoke an emotion in you and relate it to the product they're selling, without actually urging you to buy. Won't you be more inclined to make a purchase or at least be interested in the brand?
Your About Us page will do this for you — spread brand awareness and leave an impression in customers' minds.
Remember, in business, if certain activities do not directly bring you revenue, that doesn't make it unimportant. Writing an about us page is one of them.
Popular with new visitors
This data speaks for itself: A recent survey by Hubspot reveals that 31% of respondents said that an About Us page is the most important element in an eCommerce website when they visit it for the first time.
This means that you're literally driving away customers if you leave your About Us page blank!
Shows authenticity
In a recent survey, 85% of consumers say they'll only consider a brand if they trust the brand. Having an About Us page is part of your journey in building customer trust online as a business. We published an eCommerce Trust Report which highlights a clear picture of the Indian online consumer and how brands can win their trust. Get your free copy of the whitepaper today!
Read this blog to know more about how to start an eCommerce business.
What does a good About Us page include?
Analysing top brands and what has worked for them, here are the elements of a good About Us page:
Your story
To gain attention from otherwise distracted customers, you need to tell a story about your brand. You need to practically communicate to make sure people see you, hear you, and understand exactly why they must simply engage with your products.
That's how a good About Us page should sound.
About your team or founder
Humanizing your brand by talking about the people behind will give your customers a glimpse into who powers the business.
It's common for About Us pages to have images of the team, founders or co-founders. You can also mention the qualifications and achievements of your team members.
Awards, certifications, and testimonials
Has your business received awards or been featured somewhere. Showcase your recognitions by including logos or images of the featured story. You can also plugin certifications your business have. For example, if you're a food business, add the FSSAI logo to show you are a certified business.
Including testimonials and reviews on your About Us page is also a good practise as it enhances the trust factor.
Good design and visuals
Include good visuals in your About Us page which also reflect your brand. The best practise would be to use original images rather than stock photos. In a recent survey, 27% of people say it's most important to use original videos and images of your products your website.
For example, on Paul and Mike About Us page, you can see an image of the ingredients used in making their chocolate. This brings a unique perspective to the page.
Social links and other plugins
A good About Us page will also have links to social media profile of the business. Ideally, this can be added at the end of the page and acts as a call to action.
Other than social links, you can also ask them to subscribe to your newsletter or read your blog. Some About Us pages also have a plugin of the store's top products.
How to write the perfect About Us page for your eCommerce website
How to write a persuasive eCommerce About Us page in 5 easy steps:
Step 1: Brainstorm points about your brand
Step 2: Declutter, bring in clarity, and put together your story
Step 3: Structure your About Us page
Step 4: Align with your brand
Step 5: Revise, proofread, and edit
Step 1: Brainstorm points about your brand
Start with your mission statement and what inspired you to start your business. Here are some questions to help you write about your brand:
How does your brand differ from competitors?
Does your business stand for a greater cause – sustainability, NGO, planting trees?
What problem of your customers do you solve?
How will their lives change when they use your product?
When writing the answers to these questions, you don't have to worry about the writing style or tone. Just brainstorm all things about your brand and get all the content down.
Step 2: Declutter, bring in clarity, and put together your story
Once you have the rough content ready about you brand, you can put together your brand story. Decluttering is an important step when you write an About Us page for your eCommerce website.
Communicating your brand through a story means simplifying your message and make your products it attractive to your customers. In fact, neuroscientists claim that the average human being spends more than 30% of their time reading, listening to, or watching a story unfold.
Answer these questions to put write your brand story for your About Us page:
What is your customer's challenge(s)?
How does your product solve help overcome it?
How will your customers life look like when they buy your product?
Tip: Tie the benefit of your product with an emotion. For example, a brand selling eco-friendly products can talk about how people are saving the environment by buying their product and thus evoking a sense of pride and responsibility in them.
Step 3: Structure your About Us page
Now that you have your story ready, decide how you want your About Us page to look like. What section should it have and write down the subheadings. Also collect visuals for the page — images, videos, logos, and testimonials. Also add social links and other relevant call to actions.
When you write your About Us page, make sure the content flows easily. Write it in your brand tone. Also, the content should be customer-centric and not a random rant about your brand.
Step 4: Align with your brand
Brand consistency is important. Make sure the colour scheme and fonts of your About Us page are also consistent with that of your general branding, and that it matches the theme of the rest of your website.
Remember, consistency is important in building trust with customers online.
Step 5: Revise, proofread, and edit
Make the copy as clear and concise as possible. Edit out any clutter or fluff and keep your messaging simple. Does the content address your customers and make them realise how you can help them? Is the language simple enough?
Take the help of others to help you edit the final draft of your About Us page. Also, you should occasionally revise the content of the page after it has been published, and keep it updated.
Examples of eCommerce About Us Pages to inspire you 
Now that you know how to write an eCommerce About Us page, check out some online brands for inspiration.
We have put together a list of eCommerce businesses that have nailed their About Us pages. Take a look at how these brands have written their About Us pages and learn from them!
1. Phool
Phool.co, a sustainable incense brand has a beautiful About Us page with the right content. They have written about their story right from the inspiration till their achievements along with good visuals that align with their brand.
Check out the anatomy of their page:
2. Terracotta by Sachii
This online store on Instamojo sells handicrafts by local Indian craftsmen. We love how they highlighted the people behind the brand in the About Us page — their founder and talented craftsmen.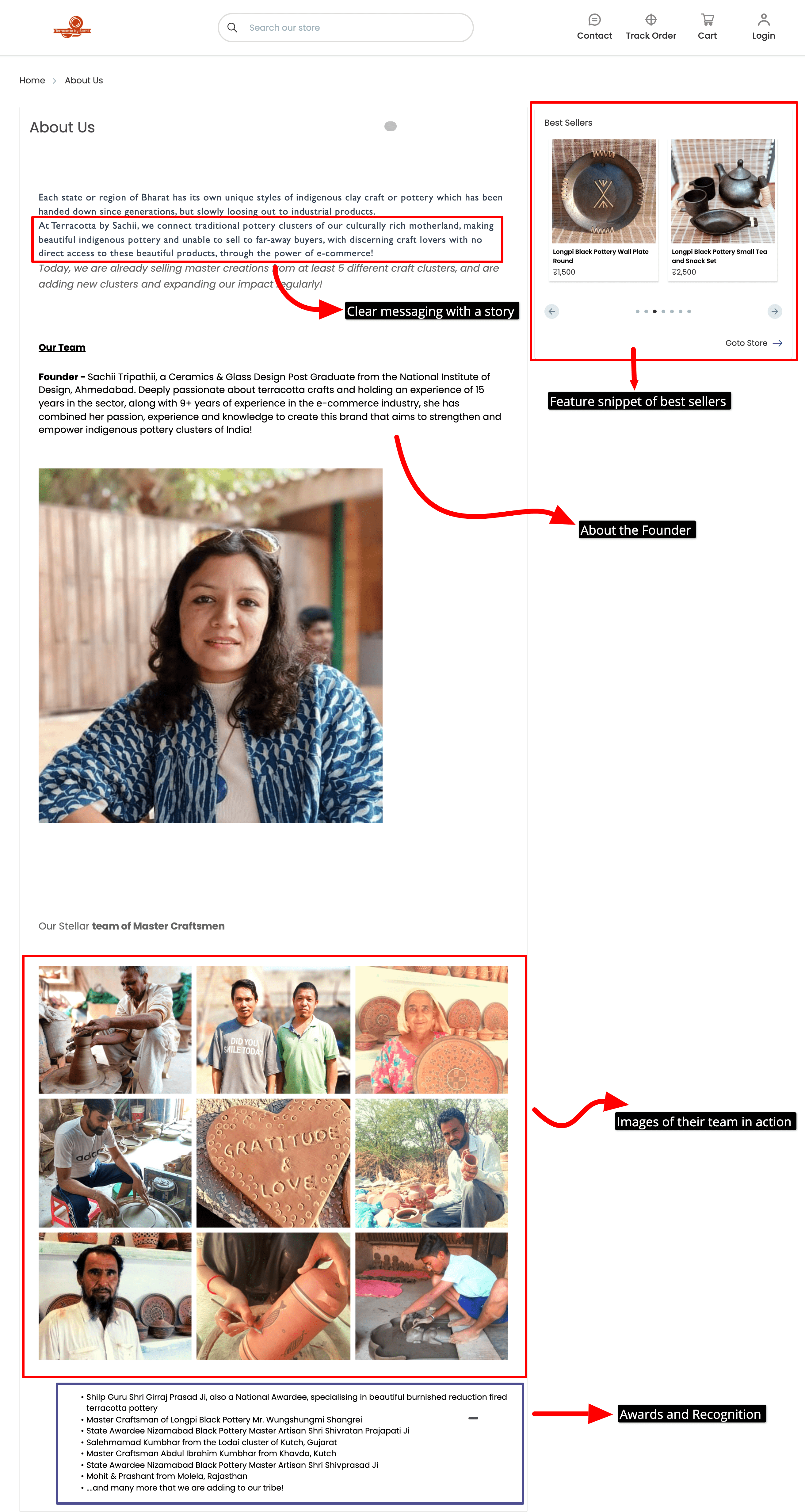 3. Pulpbrew
Pulpbrew is a smoothies brand founded by Vakula Sharma, a mompreneur. The About Us page of Pulpbrew narrates the story of the brand right from the moment when Vakula got the inspiration to start a beverage brand.
The page also features the founders and how they built their eCommerce business. Also, they describe shortly the intricate technique of how Pulpbrew makes smoothies. This is an added bonus to any About Us eCommerce page.
4. Sleepy Owl
Sleepy Owl is one of the most popular DTC coffee brands in India. They have a simple About Us page which is in the format of a letter to customers from the three founders. Check this page out if you want to know how to write a simple eCommerce About Us page that grabs attention.
5. 4700 BC 
A brand that sells delicious gourmet popcorn, their About Us page is a reflection of the grand and unique brand they are. They have narrated their story beautifully with the help of metaphors and accompanied by creative visuals.
They have also seamlessly woven their products into the story, also backing claims up with numbers. This is a perfect About Us page example for food businesses.
Start creating your About Us page!
Now that you know everything on how to write an About us page for your eCommerce website, it's time to take action and set up your page.
You can follow the 5 steps mentioned here and keep in mind what a good about us page contains. But you don't have to feel overwhelmed by all the details. At the end of the day, it's your brand story that you're writing. And no one knows it better than you.
Write an About Us page that will gain the interest and trust of new customers and retain old ones!
Do you want to grow a sustainable business online and reach more customers? Sign up for the free version of Instamojo online store and start selling products easily!
---