(Last Updated On: September 28, 2023)
Quick summary:
The clothing business is really taking off, and it's no surprise! But if you want to get noticed by everyone, from young folks to the newer generation, you need to be online. Whether you already have a physical clothing store and want to go digital, or you're thinking about starting a brand-new online shop, we've got you covered.
Let's dive into our guide on how to sell clothes online like a pro. We'll chat about everything, from whether the market is profitable, how to target your customers,  market research, sourcing the material, selecting the platform and many more.
So, here we go!!
Is selling clothes online a profitable market? 
Let's answer the most basic question first. You have chosen the path to becoming an online business person because you want to see profits. So, is selling clothes online the way to go?
In short, the global economic trends have a favourable response. According to Statista, revenue in the clothes market is expected to show an annual growth rate (CAGR 2023-2027) of 8.94%, resulting in a projected market volume of US$7,736,000 by 2027. 
Statista another survey has shown that clothes and shoes take up the top two spots in eCommerce categories for the Indian consumer. The fashion sector takes up nearly 16% of the overall eCommerce sector in India!
So yes. The numbers do show selling clothes online can be a profitable and easy business.
Let's dive into this a little more: 
The eCommerce market for clothing has really taken off in recent years. It's like having a virtual mall right at your fingertips.
Let's look at the pros and cons: 
Selling clothes online rocks because your shop isn't tied to one place. It's open 24/7, and anyone with internet can shop. That's a ton of potential customers!

Here's the cool part: no physical store is needed. No rent, no bills, no coffee spills. It's all online, so your costs can stay low.

Here's the catch: online clothing's a tough game. It's packed with sellers big and small, all chasing the same customers. To shine, you'll need unique stuff, top-notch service, or smart marketing.

Then there's shipping. Getting your clothes to customers can be tricky. It costs money, and handling returns is a hassle.
Related read: Sell online easily: The ultimate guide for beginners
Convinced? Now that you have your business idea set. Let's go to the next step: actually choosing WHAT to sell.
Conduct market research to choose a niche 
You've got the gist, right? Investing in your online store is a solid choice. Starting a clothing business is like setting off on a stylish adventure. And to ensure you're on the right track, market research acts as your trusty map.
You can't just sell ANY type of clothes. "Clothes" can mean anything from a pair of jeans to a handloom saree. You need to decide what you will be good at selling. This is your niche. 
Don't know what a niche is or how to choose one? Here's a guide.
Conduct some basic market research to:
Define your goals: Know where you're headed, whether it's luxury or eco-friendly.
Understand your audience: Connect with your fashion tribe.
Stay trendy: Keep an eye on fashion trends.
Check out the competition: Study your niche rivals.
Talk to customers: Get insights from potential buyers.
Crunch the numbers: Consider costs and pricing.
Want some ideas for clothing niches? 
Athleisure: Comfy activewear for workouts and brunch.
Gender-neutral: Inclusive clothing, breaking gender norms.
Vintage: Unique, nostalgic garments.
Streetwear: Urban-inspired bold styles.
Workwear: Stylish and sustainable professional attire.
According to GlobalData, 88.1% of niche shoppers bought from stores like ASOS and Next (UK brands) last year. But 71.1% say there aren't enough niche retailers, and 76.1% feel niche clothing has fewer choices. To attract more customers, mainstream stores should broaden their niche collections and embrace inclusivity.
How to source your materials to sell clothes online?
Now that you have selected a niche. Let's start sourcing!
When it comes to running a fashion business, getting the right materials is a big deal.
Whether it's fabrics, artisans, printing services, or designers, here's a simple guide to help you get what you need:
1. Fabrics and materials
What is the fabric material of your chosen clothing niche? Is it denim, organic, recycled, cotton, satin, the list can go on!
Choose the perfect fabric: Opt for materials that suit your niche's style and audience, such as cotton, silk, or eco-friendly options like organic cotton.
Discover reliable suppliers: Find them at textile trade shows or online fabric marketplaces.
Test samples: Before ordering a lot, ask for fabric samples to check quality and feel.
Bargain: If you're ordering a lot, don't hesitate to negotiate prices.
We've talked about eco-friendly apparels. The major concern here is whether it is profitable or not? So, here's what we can consider for its future. As per The Roundup, the market for environmentally friendly clothing is projected to increase its global annual sales by $1,574.2 million by 2025.
2. Artisans and manufacturers
Who is designing the clothes? Is it you? Thats great!
But if it's not you, you will need to identify and hire designers. You can also decide to stay #VocalForLocal and hire traditional artisans for their generational designs and craftsmanship.
Here are some tips:
Hire pattern makers: They transform your designs into patterns that match your style.
Sample makers: They bring your designs to life. Make sure they're good with details.
Find manufacturers: Look for those equipped for your materials and volume while ensuring ethical and responsible practices.
Quality control: Keep an eye on quality. Inspect samples and finished products regularly.
3. Printing services for graphics
Are you choosing to sell merchandise online? You may require high-quality printing services for the graphic designs that go on your products.
Printing options: Choose methods like screen or digital printing to match your designs.
Partners for printing: Locate reliable printing companies or apparel print-on-demand services.
Design prep: Make sure your design files are ready for printing.
Here are some professional tips on selling merchandise from the co-founder of The Souled Store 
4. Designers and creatives
Decided to go with a designer? You can choose:
In-house team: If you can, have your own design team. They'll give you full creative control.
Freelance designers: Freelancers can bring fresh ideas to your brand.
Creative agencies: They can cover design, branding, and marketing all in one.
5. Sustainability matters
Is your niche going to be sustainable? If yes, choose:
Eco-friendly suppliers: Look for suppliers who care about the environment. Check for certifications like ECO-MARK.
Ethical production: Make sure everyone you work with treats their workers fairly and follows ethical practices.
Recycling options: Consider using recycled or upcycled materials to reduce waste.
A prime example of sustainable D2C clothing is Stree Kolkata. They're all about authenticity, sustainability, inclusivity, merging tradition with a modern touch, and taking Indian handloom worldwide.
Related read: Stree Kolkata: An ethical brand that is crafting success with their omnichannel strategy 
Choose where to sell clothes online
You have your batch of clothing products ready. Whether you are starting fresh, or if you are shifting online from offline, you have three options to sell on: social media, a marketplace, or your very own website! 
Let's break down the pros and cons of each:
1. Social media
Pros:
Easy start: Setting up a shop on social media is quick and simple.
Ready audience: You can connect with people who already follow you or use the platform.
Engagement: Social media allows you to engage with customers directly.
Cons:
Limited control: You have limited control over how your store looks and feels.
Competition: You're among many other businesses on the same platform.
Overwhelming: You will have a hundred DMs and comments to manage.
Related read: How to set up social media for small businesses – A complete guide
​​If you're getting ready to kickstart your business, there's no better way to create a buzz than through social media. Check out this video for some awesome tips on how to make the most of social media for your eCommerce adventure. 
2. Online marketplace
Want a middleman to take care of promotions and distributions for you? A marketplace does just that.
Pros:
Built-in traffic: Marketplaces have a massive built-in customer base.
Less hassle: You don't have to worry about building a website from scratch.
Cons:
Fees: Most marketplaces charge fees for listing and selling your products.
Less brand visibility: Your brand might not stand out as much compared to having your own site.
Delayed realisation of sales: You will not receive the money on time, and will have a huge commission deducted.
Related read: How To Sell Online In India: Website vs Marketplace
3. Your own website
How does selling on your own independent online store sound?
Pros:
Total control: You have full control over your site's look, feel, and functionality.
Brand building: It's the best way to create a unique brand identity.
Long-term asset: Your eCommerce website can be a valuable long-term asset for your business.
You are your own boss: You have complete accountability and ownership over your business assets and revenue.
Cons:
Initial effort: Building and maintaining your website takes time and effort.
Marketing responsibility: You'll need to drive your own traffic to your site.
Setting up your store to sell clothes online
Ready to start your very own online clothing store? Awesome!
For this, you can trust Instamojo to build the best online store for your brand. This is how Instamojo can make things super easy along the way.
1. Choosing your business name and website
Instamojo can help you find and buy the perfect web address (that's your store's website) easily.
Pick a store name: Choose a catchy store name that reflects your style and is easy to recall.
Get a web address: Check its availability and grab it via Instamojo. You might even

get a free domain

if it's on offer.

Website hosting: Let Instamojo manage your website's location, so you don't have to worry about hosting.
2. Showing off your clothes
Instamojo's website builder makes it a breeze to list your clothes and make them look amazing.
Themes and layouts: Customise each section of your online store to reflect your brand values.

Great pictures: Put up high-quality pictures of your clothes, so people can see how awesome they are.
Here are some tips to get brighter and coolest pictures for your store. 
View this post on Instagram
Tell a story: Write cool descriptions for your clothes to make people want them.

Pricing magic: Set prices and run sales or discounts easily with Instamojo's tools.
Related read: Launching 'Builder': Your ultimate customisation tool
3. Getting paid
Instamojo makes it simple for people to pay you in different ways (safely!) 
Get online payments: Instamojo lets you take payments with credit cards, debit cards, net banking, UPI, and digital wallets.
Keep it safe: Instamojo makes sure that payment info is super secure with SSL encryption.
Easy payment setup: Instamojo stores come with an integrated payment gateway. 
4. Shipping stuff out
Instamojo teams up with shipping companies to reach remote corners of India! 
Pick a shipping buddy: Choose from reliable

shipping

partners right from Instamojo's platform.

Calculate costs: Figure out how much it costs to ship based on your product's weight and size.
Label and track: Create shipping labels and monitor package locations from your Instamojo dashboard.
Check how to use auto shipment tracking on Instamojo:
5. Making your homepage awesome
Instamojo's website builder comes with cool features to make your homepage look great.
Fits all screens: Your website will look good on phones, tablets, and computers thanks to Instamojo's designs.
People can find you: Use Instamojo's tools to help your store show up when people search online.
Easy to use: Instamojo's website builder is as simple as dragging and dropping things where you want them.
Promoting your business to sell clothes online
Now that your clothing biz is up and running, do you want to get the word out? We've got you covered!
Here are some simple ways to promote your clothing business effectively:
Social media magic: Use platforms like Facebook, Instagram, and Twitter to showcase your clothing and build a community. 
Optimize your website: Ensure it's user-friendly, visually appealing, and has an online shop for easy shopping.
Offer discounts and deals: Attract customers with promo codes, discounts, and limited-time offers to create excitement.
Collaborate with influencers: Partner with fashion influencers to reach a broader audience and gain credibility.
Word of mouth: Encourage reviews, referrals, and loyalty programs to build a strong customer base.
Email marketing: Send newsletters with updates, new arrivals, and exclusive offers to keep customers informed and valued.
Discover the incredible potential of email marketing to boost your leads and expand your business. Dive into a user-friendly free course brought to you by @HubSpotMarketing on mojoVersity- our learning platform!  Explore tools, metrics, and much more!
3 D2C brands to inspire you which sell clothes online
Inspiration can lead to new beginnings! Want to see success with your own online store? Let's see how these 3 D2C clothing brands are performing and what we can learn from them:
1. Happie Curves
Alright, let's chat about something super cool – finding your groove in the online store world.
You know that store called "Happie Curves" on Instamojo? Well, they've got a neat trick up their sleeve.
Instead of going broad and offering everything to everyone, they focused on something specific – plus-size women's clothing. It's awesome, to show some serious love to a group often overlooked in fashion.
Why's this a big deal? It's like they get plus-size women's style and want them to rock their outfits with confidence. Hippie Curves is a role model for finding your sweet spot in fashion – your unique place to stand out.
2. Trendy Naari
Let's introduce you to "Trendy Naari," a fantastic online store powered by Instamojo. It's a treasure trove of traditional and fashionable clothing, exclusively for women. 
Picture stepping into their virtual boutique, and you'll discover a splendid collection of traditional Indian dresses, from elegant sarees to vibrant salwar suits and stylish lehengas. It's a one-stop paradise for women who adore traditional attire and seek the latest ethnic wear trends.
3. Young Tees
Let's talk a bit about the customization. Well, it's a superpower for the D2C brands nowadays. But how? Imagine exploring extraordinary D2C brands, and 'Young Tees,' immediately catches your eye.
They're not your average brand; they specialize in custom baby rompers and kids' t-shirts, with charming prints on top-notch pure cotton.
But what sets 'Young Tees' apart is their superpower: customization. It transforms shopping into an enchanting experience, turning rompers and t-shirts into canvases for your imagination.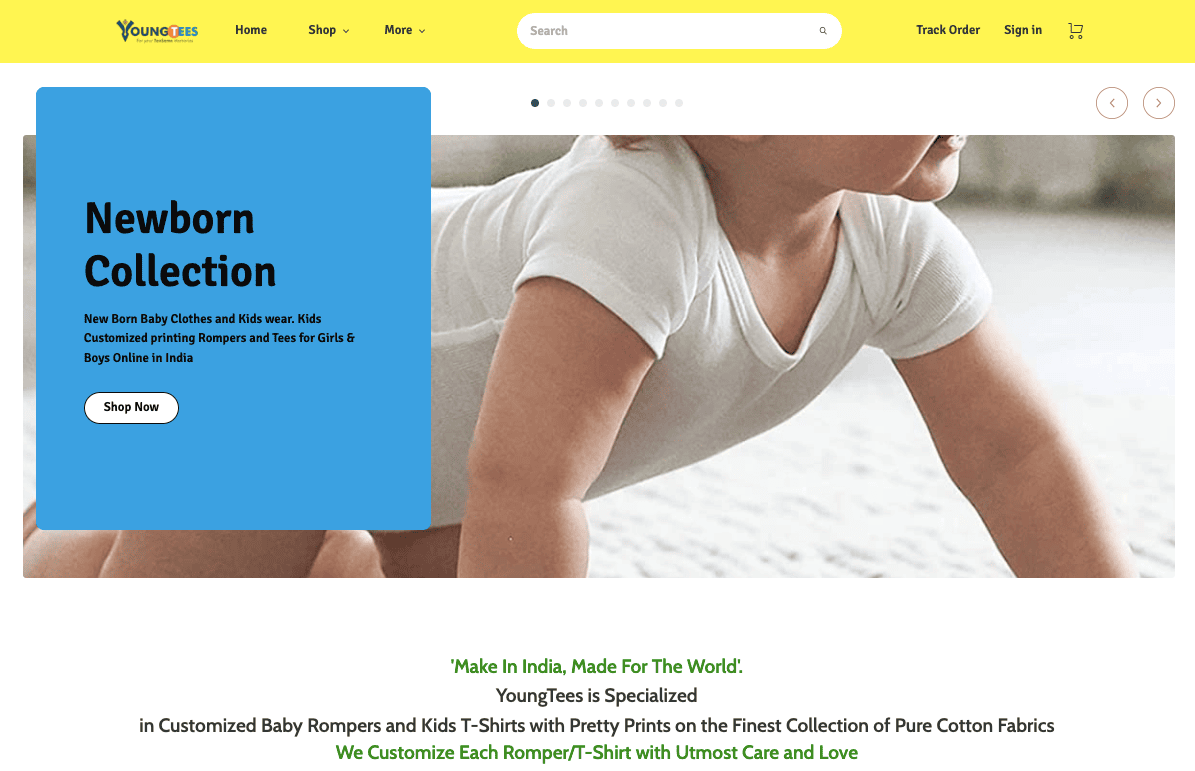 Sell clothes online: Things to be careful about
When you're running your business, there are a few things you need to be careful about when you start to sell clothes online. Let's break it down in simple terms:
Legal compliances: Follow local rules, get permits, and pay taxes – it's like driving your business on the right side of the road!
Copyright issues: Own or get permission for what you use, just like you'd want others to respect your stuff!
Return policies: Customers might want to return items, so having a clear, fair return policy gives them peace of mind, prevents misunderstandings, and keeps them happy.
Instamojo: Your partner for D2C clothing store creation
Ready to sell clothes online and create a dedicated online store for your niche clothing? Here's why you should choose Instamojo.
With Instamojo, get a domain name, a fully ready online store, integrated payment gateway for a better experience.
Is pricing a concern? well, you get the Instamojo lite store for a lifetime for FREE!
Once, you are more comfortable you can checkout the premium pricing before moving ahead!
Want to reach for the stars? We are here for you.
---