(Last Updated On: June 9, 2023)
Designing for a small business is not a one-dimensional topic. There are so many elements involved in design for small businesses – right?
Maybe not.
According to a study by the design powerhouse Adobe, businesses with a strong design outperformed weaker designed companies by a whopping 219% on the stock market index!
In this blog, we will review the generic rules, tips and guidelines you should know about incorporating design into your business. Before you hire a designer, it is good to have an idea of what you expect FOR your brand. After all, your business's brand identity relies a lot on your design.
"Design is not just what it looks like and feels like. Design is how it works" – Steve Jobs
Elements to design for online small business:
Ask any graphic designer what are the most important aspects of 'designing' your brand and they'll point out these 4 core elements:
Typography
Colours
Images
Hierarchy
Your overall colour schemes – along with the logo and typography will determine what your brand is to your customers.
Your brand tells a story. So choose these carefully, because what your brand LOOKS like will also help tell the story.
Designing a customer
Don't laugh yet – you need to know who your first buyer will look like. Dig deeper, into what will they want from your brand and in return, what you can offer them.
You need to create a buyer persona. This allows you to understand your target audience better and also let's you design a brand that YOUR audience would want.
Does your brand sell baby products? Who are your buyers? Young mothers? In what age group? What are the most common items they want to buy?
Have you ever wondered why baby product brands mostly feature a mother and child? – not because that is the only relationship the baby has, but because the most common shopper on the page is a mother.
Logo design
What do Tata, Apple and your brand have in common? Kickass, simplistic logos customers identify you with! 75% of people recognize a brand only by its logo. A well-designed logo can be the difference between blending in and standing out from the competition.
It takes your customer 10 seconds to form a first impression of your logo – but around 7 impressions to recognise it.  Logos are probably the first element to focus on when it comes to designing for online small businesses.
Website design
Customers judge your website within 50 milliseconds!
Studies show that over 94% of customers reject a website due to poor design. When looking to design your online small business, avoid these:
Busy layout – keep it simple, and have fun with white space
Lack of navigation aids
Too many pop-up advertisements
Heavy files and loading time
Related read: The Do's and Don'ts for the perfect eCommerce website
Here is the perfect example of a clean design of the Instamojo jewellery online store – The Rover.
A good website helps convert your visitors into customers. Make sure your website design is responsive, easy and useful. Also remember, the colours you choose can have a direct psychological influence on your customer! Here is A guide on using colour psychology for your online store
Product Design
Your colour scheme is ready, now how should your product look?
Let's also include packaging design in this. We are not talking about the clunky cardboard box you ship your products in, but the box within. Let's see a few examples of packaging design that worked well with customers.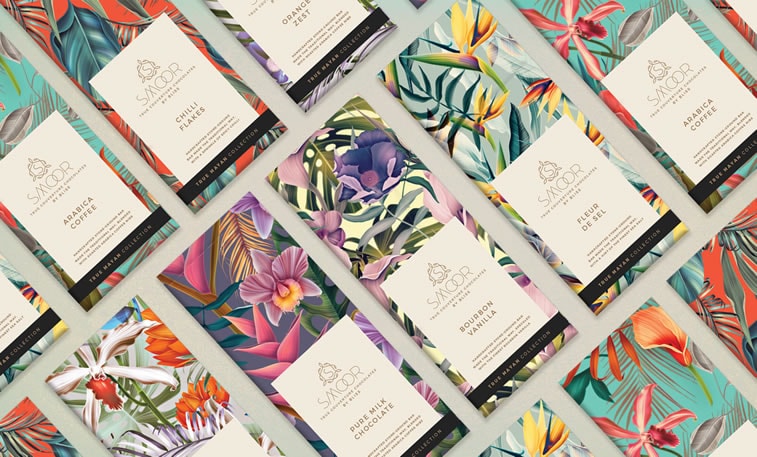 This is where it is important to know who you are designing your products.
From the product to the service, your messaging has to be clear.
Selling medical soap? Go easy on the colours and words. Stick to blue, green and white, but if you are saying, designing a luxury Ayurveda brand, go for the colour that depicts luxury when packaging your product – gold, red, orange!
As mentioned before, design for small businesses is a vast subject – and can seem scary! So let's take it step-by-step.  Let's start with a few tips and 'How-to's' to keep in mind when designing a product for customers.
Tips when designing products/services for your customer
How your product/service appears to your customer –
This ranges from branding to the aesthetics of your product. The importance of first impressions holds good even in the digital world.
An inviting design and a strong brand identity can not only increase engagement but makes them forgiving of other hiccups that may arise when using your product.
How your product/service works –
It is important that your product works in a way that customers expect and even appreciate.
Good usability and information design allow people to accomplish their goals quickly.
And a great user experience makes the entire process pleasurable.
"User experience is how your product works in the real world, or how a person really FEELS about your product"- Jason Putorti (Lead Designer at Mint.com and Co-founder of Votizen, elegant.ly)
Is your product/service right for your customer –
Your product might meet all the above conditions and still be facing the wrong end of the stick.
Is it really solving the right problem or addressing the right needs of the customer? The art of thinking like this is known as design thinking.
Design thinking is a problem-solving/opportunity-finding technique which keeps the customer at its centre and is iterative.
It requires you to spend enough time understanding the customers' needs and find multiple ways to address it.
Observe patterns of user behaviour. You then test your solution and iterate based on feedback.
This can help you understand if your product/service solves the right problem for the right people.
Design for small businesses specifically is not just about visual delights but also about problem-solving.
A well-designed product/service looks good, is a pleasure to use and addresses a genuine need – and keeps customers coming back!
Of course, it always helps to use an existing platform to help you sell your products/services whilst you figure out the design of your brand.
Take our free online store for example. No design requirements, no setup fees or issues – just upload and start selling! Not to mention you can customise your store according to your professional image.
Choose from more than 30+ themes on your premium plan. Apply custom colours and fonts to make your online store resonate with your audience.
---