(Last Updated On: April 4, 2023)
Who are you selling your products to? Creating a buyer persona helps you answer this question in just a few words. Every marketer and entrepreneur needs to create one, else they are selling to no one.
In this blog, we will show you:
How to create a buyer persona
Provide 5 free buyer persona templates
What is a buyer persona?
Buyer personas are semi-fictional descriptions of anyone you plan to sell to. Creating a buyer persona helps you with:
Targeted content creation
Filter qualified prospects
Create product development to suit your future customers' needs
Attract high-value visitors
Reduce dropped-off buyers on your store or website
Most importantly, having a buyer persona ready before you kickstart business operations helps you have a deep understanding of who will value your business almost as much as you do.
For more detailed insights on who your ideal customer is, check out this article on how to find and reach your target audience as an eCommerce business.
Now, how do you make a buyer persona?
How to create a buyer persona?
Different groups of people will want to buy different products or services from you. So, you need to classify them.
Collect a bunch of information about prospects and segregate them according to your core business plan. Not created a business plan yet? Here are a few business plan templates you can use.
Online surveys
Compile data on existing leads you may have by sending out a Google form via email. Request them to fill in the form that answers basic questions like –
Age of interviewee
Location – where do they live, city and country
Languages they speak
Job
Interests
Favourite holiday destination
Favourite day of the week
Willingness to spend money on _____
Goals and motivations
There are different ways to collect data via Google forms for your customers. You can send them forms that require detailed fill-in-the-blanks or you can send them poll questions, which have been proven to be quicker.
Online B2B tracking channels
Buzzsumo and SEMRush give you an overview of what people are consuming in terms of content. They tell you what your competitors' buyer personas look like.
A tip – You can make use of Google Analytics and Hootsuite, among other tracking tools to figure out your strongest customer base, based on the above pointers and create your buyer personas from there.
Opt-in custom forms on your website
Create custom form fields when setting up your website. This helps you collect leads and emails for setting up buyer persona interviews.
Everyone who fills out the form automatically gets added to your leads base in the back end. This way, you can send emailers, reminders or SMS campaigns once they are onboarded.
Check out these custom field opt-in form options from WordPress to help you get started.
Let's create a customer persona!
5 Free buyer persona templates to help you get started
#1 – Buyer persona template for your online brand from Instamojo
We created an easy-to-use buyer persona template that you can use to create a sketch of your ideal buyer. It contains specific details you can fill in and create a bio. Here's an example of a filled-in buyer persona template you can use as an example.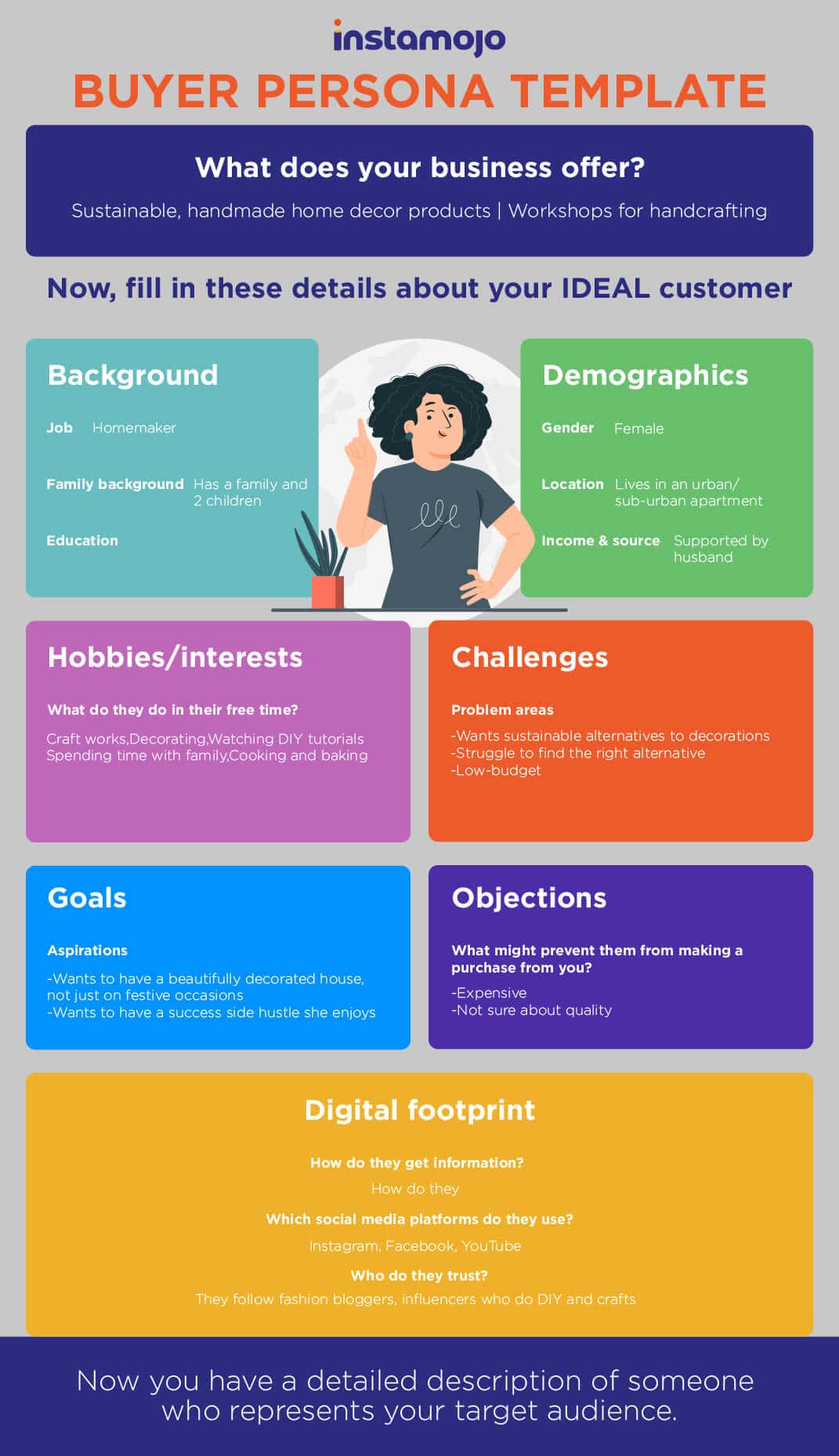 Download this free buyer persona template and get started on your target audience startegy
Get your free buyer persona template
#2 – eCommerce buyer persona templates from Visme
Visme has attractive and useful templates for different business needs. With this minimal  buyer persona template, you can put down the common traits of your ideal customer.
#3 – Hubspot's Buyer persona template
Hubspot has resources that can help you easily create templates for your buyer personas. With their templates, you can –
Assess what exactly a buyer persona means for your business
Carry out research to proceed with interviews built on these personas
Create concrete customer lifetime cycles
#4 – Free buyer persona templates from Behance
Behance has a wide variety of free buyer persona templates to help you interview prospective customers.
Download their complete template here 
#5 – Xtensio's User Persona Template
Xtensio, a business communication platform has set up an intricate, yet easy-to-navigate user persona creator for any business looking to find their ideal customer base.
"User Personas are designed to boost clarity, productivity, and traction when it comes to all areas of internal decision-making." – Xtensio on Creating User/Customer Personas
The free version of Xtensio user personas allows you to create and use up to 5 templates.  You can check out their templates here.
How to assess buyer personas with the Instamojo leads manager app
If you are looking for customers once you create your online store, we got you! The leads manager app on Instamojo collects information about dropped-off buyers and abandoned cart users so you can send them cold emailers and prompts.
---