(Last Updated On: June 12, 2023)
The best landing pages are simple, persuasive, and convey the benefits of your product or service to the target audience. If built correctly, a single yet smart landing page is all you need to grow a successful business.
Smart Pages is a simple landing page builder for businesses that has features to help you capture leads better and grow your business.
In this blog, we have listed down a few businesses using Smart Pages-the simplest landing page builder that follow best practices that you can take inspiration from.
Too long to read? Talk to our team instead.
What is Smart Page?
Instamojo Smart Page is the simplest landing page builder. You can get a one-page website for free to sell event tickets, raise money for charity, and much more.
Here's how your business can benefit with Smart Page:
A beautiful landing page with your branding
Collect payments hassle-free
Reach a wider customer base
More leads
Here's who can benefit from Instamojo Smart Pages:
Service-based businesses: showcase your offers
Freelancers: display your expertise and collect leads
Coaches/trainers: sell event tickets
NGOs or crowdfunding: collect donations
To know more about Instamojo Smart Pages and how to setup, watch this short video:
Top Smart landing pages for inspiration
From selling event tickets to seats for coaching programs, people are using Smart Pages to build their business.
Encubay – global conference
Encubay is a startup network that uphold sustainability and diversity by offering mentorship and networking opportunities.
With the help of Smart Pages, Encubay was able to organise Network-her'21, a 2-day conference to enable networking for women entrepreneurs. They claim it to be the largest global conference for female founders.
A simple landing page helped them to reach more women across India and host a successful conference. A highlight of Encubay's Smart Page is the FAQ section — a detailed section to help solve their customer's possible queries. This may have helped them to increase conversion rates.
Educlass – Goal setting workshop
Educlass is a smart landing page created by Shahanawaz Patel for his workshop on goal setting and manifesting. The theme used is bold, matching the purpose of the workshop.
The benefit of the service is clear in the first part of the landing page, which is a crucial feature of such a page. The page further goes to explain what a person can achieve through the workshop and how. It also includes attractive graphics and photos.
What makes this landing page good is that it clearly explains all the features of the service, broken down into small sections.
Desk Calendar by Manjul
Landing pages are not limited to sell services. You can also make sales for products. You can use a landing page if you have only less number of products to start an online store, but want to sell it online. 
With Smart Pages, you can get a your own one-page website with your branding and domain where you can sell products. That's how MANJULtoons, an editorial cartoonist used Smart Pages to sell his desk calendars.
With the help of smart landing page, they were able to collect leads even before the launch of the product. Thus, they could maximise sales and access a wider customer base.
HivePad – Winter Acoustics
HivePad is dedicated to artists by bringing them together in unconventional spaces with enthralling music and an amazing community. To get the word out for their latest session, HivePad created a landing page where they can sell tickets.
The page shows the featured guests on Winter Acoustics and also the fabulous venue.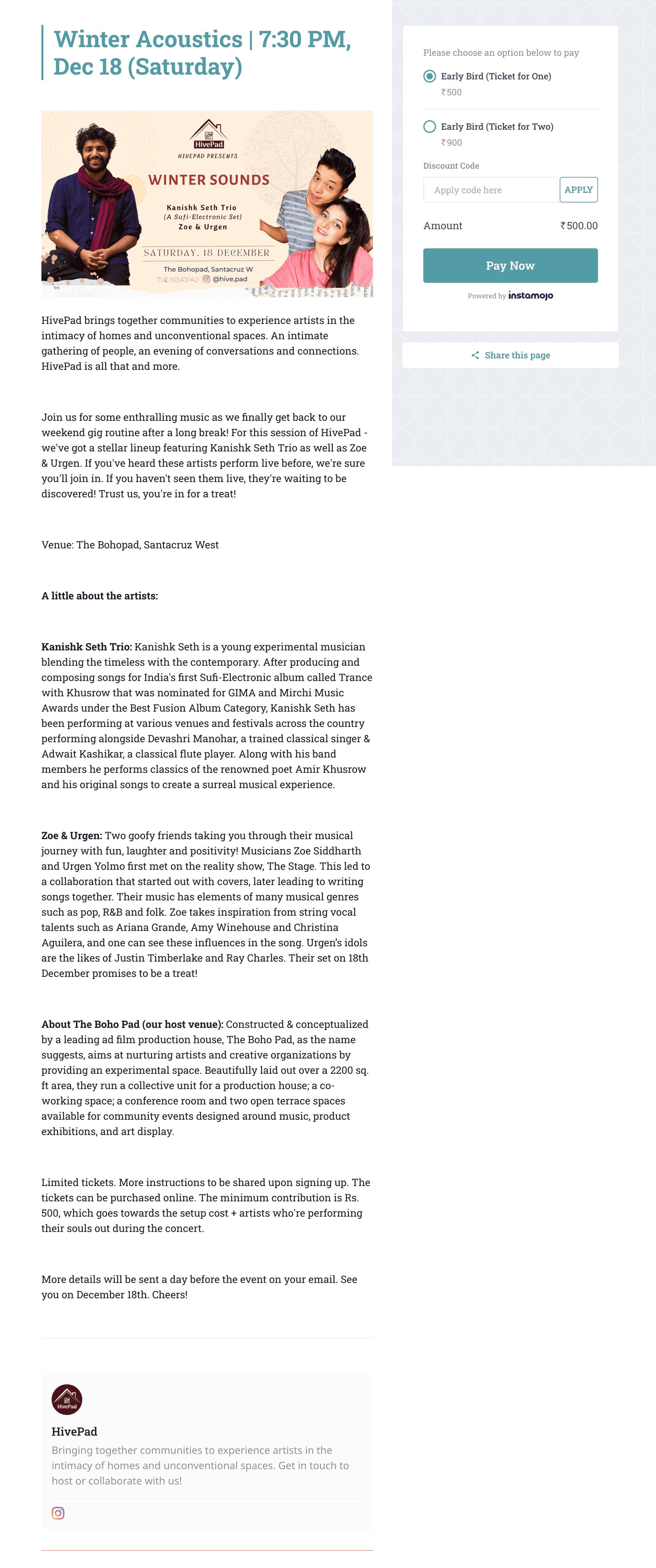 Inchara Foundation – Charity Dinner
The best way to spread the word about a charity dinner is online. And Inchara Foundation took the advantage of it and built a Smart landing page for their latest cruise and dine charity dinner.
The charity dinner is an endeavour to help the victims of child sexual abuse and violence. Being a non-profit organization, Inchara wants to widen their reach, and Instamojo Smart Pages has helped them do so.
KASA Wellness – Weight Loss Bootcamp
A fast growing community of health, KASA helps people to safeguard their health and increase fitness. As part of their wellness program, they organised a 5 day weight loss bootcamp.
To collect leads for the same, they created a smart landing page with the help of Instamojo.
The landing page for the bootcamp is short and well-written. It has detailed section on the benefits of the program and who it's for. The highlight of this page is the testimonial section. KASA has smartly used testimonials of previous clients to boost the credibility of the program.
LiveFromALounge – Masterclass
LFAL is a digital platform that publishes content on travel, aviation, and loyalty program. Recently they hosted a masterclass, MileageMentor, to help people know about the best ways to maximise flyer miles, hotel points, and credit rewards.
Instamojo Smart pages helped them to sell tickets online with a one-page website. They were able to reach a wide range of customers.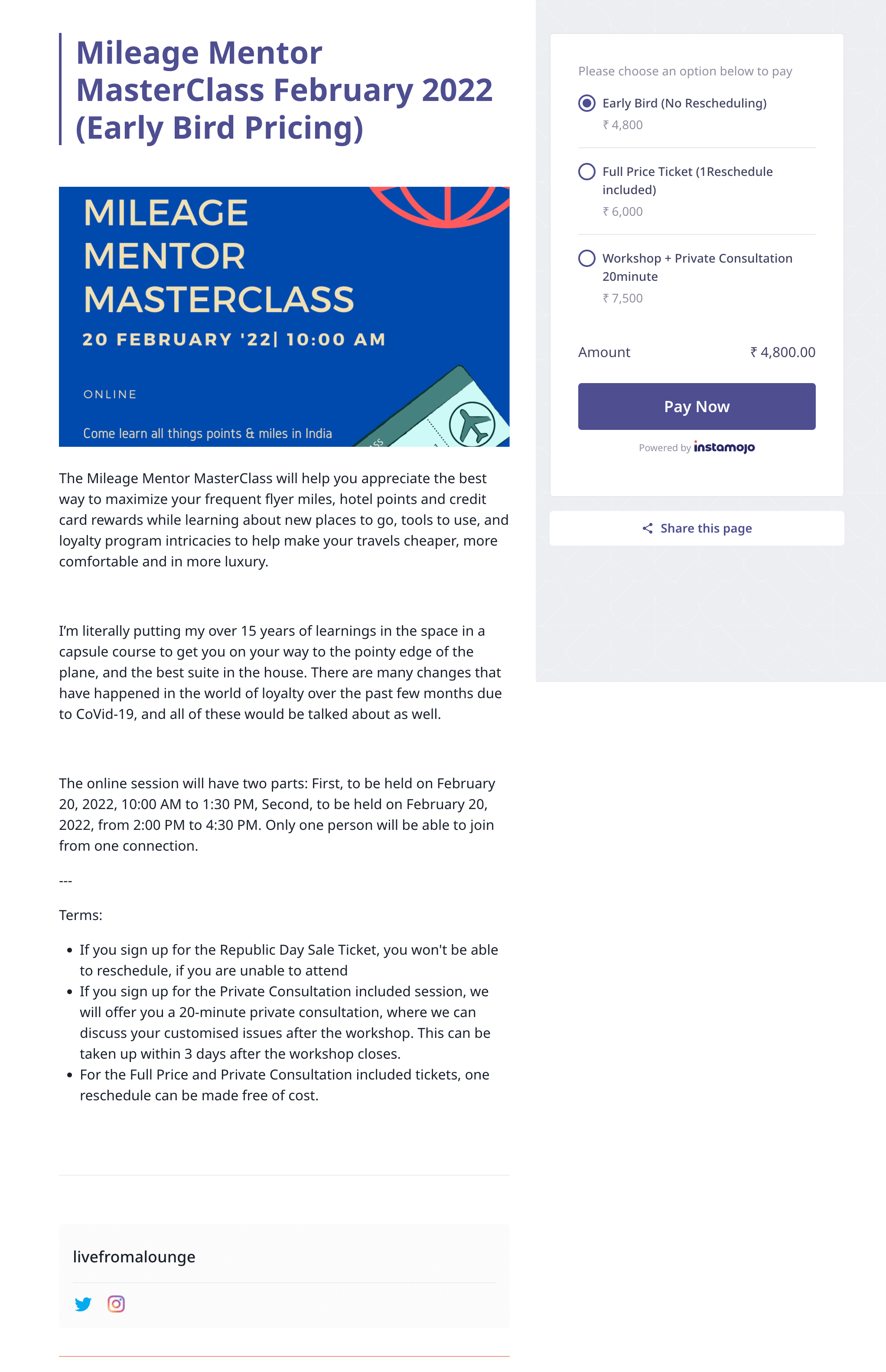 If you want to host a masterclass online, the easiest way to get attendees is by creating your own Smart Page. And after the event is over, you can deactivate the page.
Sign up here to get a free landing page.
Create your own smart landing page
Having a landing page for your business is an efficient way to grow your business. You can start your own in just ten minutes. Check out this blog to build your own landing page.
Ready to create your landing page? Sign up on Instamojo to get your own Smart Page for free!
---