(Last Updated On: May 30, 2023)
Are you thinking of setting up an online business or an eCommerce store? Great idea – but do you know what to SELL online in India? Several online stores fail to get noticed by people because the products they sell are not trending or in high demand.
Here's how you can prevent that from happening.
How to find out what product to sell online
Google trends
Before you set up your online store or business, research on Google Trends about whether the product or service you want to sell is in demand at the moment.
Online business communities
Join online business communities to know what they are selling online. Assess what products or service they sell that are making a profit and generating demand.
Want to get started right now? Join our online business community on Facebook, WhatsApp and Telegram.
Identify what your product can do for customers
Once you find out what others are selling and do a little digging, sit back and do a little self-analysis of your product. Does your product solve problems for your customers? Will your product or service help customers with the current issues they face?
Or do you wish to create products that are sustainable and helps change customer behaviour?
For example, Sneha, a chef-turned-entrepreneur and founder of 'HolyScrap', discovered that there was textile waste piling up daily that she could make use of! She turned the textile waste into essential yet trendy products – blankets, bags and laptop sleeves!
Look to sell niche products
How do you sell trending products that are also niche? Don't they seem like two opposites? Turns out, selling niche segments prove successful for eCommerce. You serve a specific purpose for your customers and they can find you easily online.
Also, niche segments are highly engaging, highly converting and a great business proposition thanks to a passionate audience segment.
Niche products are the best example of 'solving your customers' problem' even before it begins! They include organic food, pet products, ayurvedic skincare, shapewear and more.
For example – Pet search, an Instamojo store, is a unique platform that provides freshly cooked food, exclusive for dogs. Customers who own dogs can order meals and treats for their pooches and have them home-delivered. The store also runs weekly subscriptions, another unique niche idea to sell online.
View this post on Instagram
What to sell online in India: Most popular products 2023
In 2023, trends mean everything. Here's what you can sell online if you wish to set up an online business and grow your brand.
Sell clothes online
Clothes are always a necessity, and yes, there are many players in the market. If you wish to stand out from the crowd, we have curated an entire guide on how to sell clothes online in India. Thanks to the Instagram reels feature, several online influencers and clothing brands have set trends to different fashion styles inspired by favourite movies, sustainable projects or occasions ( workwear, partywear).
Also, search terms on Google Trends showed that Indians search for blazers, suits and workwear have ready to wear outfits have increased. This could be because of offices reopening after COVID and people choosing to get back to work instead of working from home.
Combine the NEED for apparel with what your customers also WANT to buy. For example, how about comfortable and aesthetic workwear for women? Qua clothing, a brand that makes professional apparel for women, recently set up an online store targeting all working women who are headed back to the office space.
View this post on Instagram
To know more about selling clothes online, read this.
Sell face masks
The total panic that the pandemic created might be over, but face masks are still a necessary product as several countries and Governments still ask the public to wear face masks when stepping outside.
If you are looking at what to sell online and have an existing product in mind, face masks need not be your only product. But it can definitely be one of the products you sell. For example, Wildcraft, an adventure apparel and accessories company, began actively manufacturing and selling face masks that doubled as pollution protection wear and protected the wearer from airborne viruses.
Also, Google Trends show an increased search for face masks that have been steady since September 2020. If you are wondering " doesn't everyone already wear face masks", here's what you need to know; Face masks are highly replaced and frequently purchased by both customers and other businesses like hospitals and airports.
Sell dry fruits online
A commodity that never goes out of demand is dry fruits and nuts. In Indian household, these products are a necessity. So, it has a definite market in years to come. The value of dry fruits market in India is a whopping 30,000 crore rupees.
The benefit of selling dry fruits is that you will always have a good customer base. All you have to do is reach them by good marketing.
Related Read: How to sell dry fruits online: the complete guide
Sell travel packages and accessories
Travelling is slowly becoming the norm. People are travelling back to cities for work and some are headed to long overdue vacation spots. Due to this, there is now an increase in demand for travel accessories like luggage bags, neck pillows, wireless chargers etc.
Whether the pandemic causes travel restrictions to be imposed or not, one thing is for sure; people will always need to travel. It is an essential activity, irrespective of the mode of transportation. 2021 has seen a rise in travel packages searches and it will stick on for a while.

To know more about selling travel packages, read this blog.
Enjoying this blog? Get more updates business advice to your inbox. Sign up for our FREE newsletter — the Business Growth Blog Digest!
Sell superfoods
Did you know that one of the most popular business ideas that popped up during COVID was superfoods? Superfoods are top healthy food items that boost immunity, metabolism and helo aid in solving several health issues like cholesterol, blood pressure or skin problems.
Among superfoods, online customers in India have also purchased immunity boosting health supplements and vitamins to keep their metabolism up. While it is not proven to battle COVID, Indians purchase these products to stay healthy and keep their immunity rate high.
For example, Cosmix, a vegan, organic superfood brand set up a business in the middle of the pandemic. But cofounder Vibha had been researching the health benefits her products would have on her target audience for years before launching the brand. Since 2020, the brand has expanded and garnered nationwide love and popularity, especially with a lot of influencer marketing strategies.
View this post on Instagram
Sell handmade products
Handmade items are loved by consumers for its uniqueness and originality. If you have a hobby of making craft products or are willing to to learn one, then monetise it by selling them online! There is always space in the market for unique handmade products.
To know more about starting a handmade business online, read this blog.
Sell furniture
With people spending more time at home, 'home decor' and 'office furniture for home' searches increased. Furniture retailers like Pepperfry and Homelane saw a rise in desk chair purchases too. Setting up a furniture business altogether is not easy, but if you know what you want to sell online, we can help you with – how to sell furniture online in India.

Furniture brand Saraf furniture have capitalised on selling home decor to tier 2 and tier 3 cities. Their customers often feature in their video advertisements and the website runs seasonal sales and offers on a constant basis.  Check out their store below –
Sell shoes online
The footwear industry is an all-time trending one. So, if you have a good amount to invest, starting a shoe store online is a good option to consider. You can also start a dropshipping business, which requires minimal investments, and sell footwear online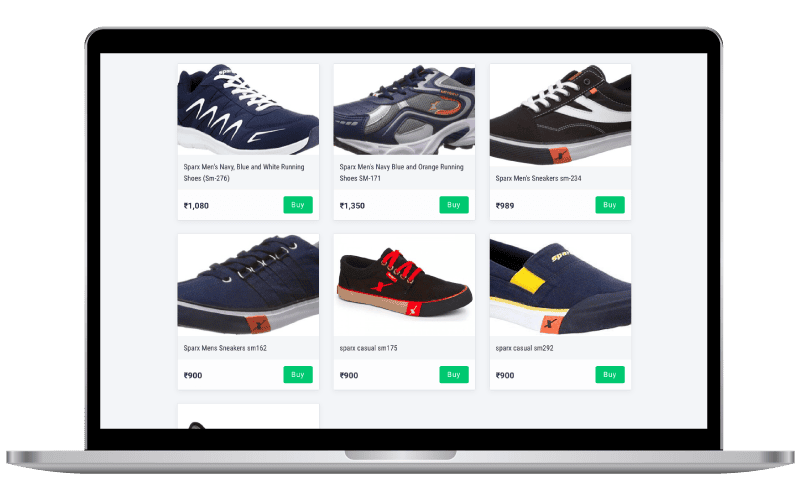 To know more about selling shoes online, read this.
Sell toys online
Toys are an evergreen product category which also requires creativity to stand out in the market. The average profit margin is 25 to 30 per cent, making it a great product to sell both online and offline.
Pros of selling kids toys:
Constant and universal demand
Low manufacturing costs
Many niches to choose from
Here's a guide on everything you need to know to sell toys online and start a successful business.
Sell second-hand products
Thrift stores are highly in-demand today because of the vintage products they offer. If you can source second hand products in bulk, start an online thrift store.
It requires minimal investment and is easy to market. Just pick a niche — clothing, shoes, bags, furniture, etc — and start selling online. This is also one of the best part-time business ideas you can start on the side and grow gradually.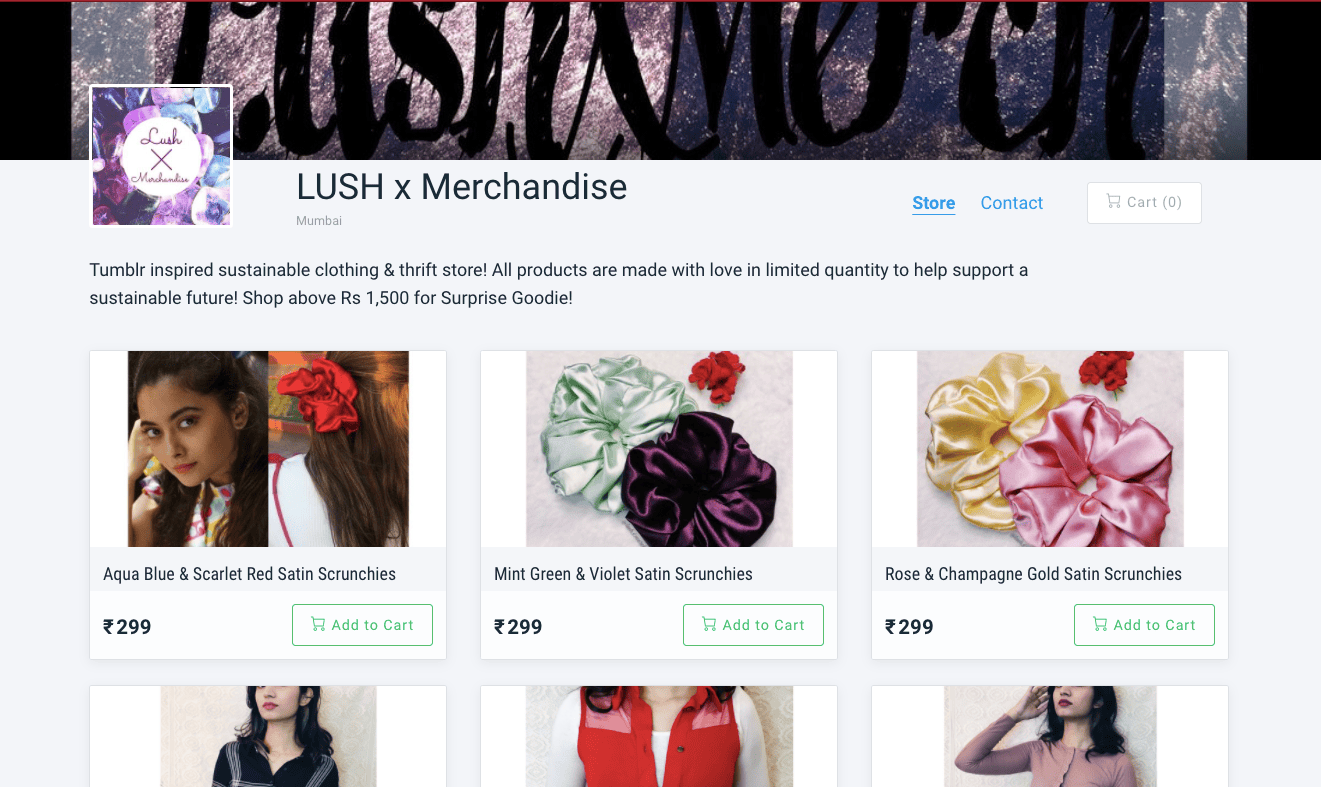 Check out this detailed guide on how to start an online thrift store.
Sell fitness gear
Yoga mats, dumbells, and fitness apparel are just some of the online exercise equipment that Indians have been purchasing since last year. Your customers want to stay healthy and fit, so why not sell it to them?
Most commonly searches for fitness and exercise terms and items –
Jump rope
Online exercise packages
Resistance band
Fitness bands
Yoga mats
Sell beauty products
Self-care became the war cry for customers last year as people sacrificed social lives and chose to be home and take care of themselves. Google trends show an uptick in the number of searches for organic beauty products in India.
Read about how to sell cosmetics online in India.
Soapernatural, a handmade soaps business run by two entrepreneurs is gaining popularity on Instagram and Instamojo simply for this reason; authenticity. The brand does not use ANY chemical in their products and is beautiful to look at too. Founders Shrutika and Lehar ensure their customers know that their products are not for cosmetic purposes alone, but are holistic and completely free of chemicals.
Sustainable products
Customers are moving to eco-friendly, conscious buying and do not mind spending on products that are organic alternatives to plastic or chemicals. All sectors are trying to adopt an eco-friendly approach but those that have made it their key branding, are gaining more support and followers online.
Sell books and stationery
Thilak Desingh, entrepreneur and founder of Used Books Factory said this in a webinar " Even during the pandemic, people wanted to buy books from my store and I had to use India Post to make sure we could deliver to them."
Children are getting back to school, prepping for exams, and are in need of study material. If you wish to tap into the books sector, consider selling them online as ebooks! GC Mouli, an engineering lead, sold his history-fiction novel ' The Son of Cauvery' on the Instamojo online store without too much hassle!
Sell plants online
The current obsession irrespective of gender or location is plants — especially indoor plants. If you know how to tender plants and are determined to start a business around it, then that's a great idea!
Though selling plants online have some challenges with delivery and shipping, it's definitely worth it.
To know more about selling plants online, read this detailed guide. 
Sell online with your own eCommerce store
Imagine finding your ideal product, but then creating a website or online store requires you to shell out big bucks! Fortunately, you can create an online store with us and maintain it for just ₹10/- day!
The brand new premium online store on Instamojo has been tested, used and loved by all our customers. In our store, you can sell your products and services AND market to them. Our stores are optimised for SEO, allowing you to attract more customers daily.
---