(Last Updated On: March 1, 2023)
" Quality in a service or product is not what you put into it. It is what the customer gets out of it." – Peter Drucker
At least, that's what Syrow believe in!
Customer Delight is gaining more prominence in the business world. Small businesses are now developing strategies for Customer Delight and Retention.
Luckily, the team at Syrow realized this and introduced the new 24×7 Customer Support App from Syrow under its MDP initiative (Mojo Developers Program).
What is MDP?
Mojo Developers Program (MDP) is a set of simple APIs built on top of the Instamojo platform. It enables developers & startups to gain programmatic access to our merchant data. For example,
Profile (name, email etc)
Payment (payment date, amount etc)
Payout (date, type, amount etc)
Online store (inventory, sales etc) – all with merchant permission, of course.
Developers & startups can now build apps on the Instamojo developer platform. Instamojo merchants will be able to view the app from Instamojo app store (android and web) and subscribe to the apps instantly.
What is Syrow's app?
If you are an Instamojo user, then you are in luck!
Subscribe to the Syrow feature from the Instamojo App Store to deliver round-the-clock, reliable, secure and technology-led customer support services.
Syrow is a top customer service outsourcing company.
What sets Syrow apart from the rest of the customer support companies out there? The company's success in this venture is largely due to a unique and futuristic AI + Human-based approach towards customer care.
This effective combination helps your business to equip itself with powerful insights that transform the way they perceive and deal with various business challenges.
The company is proficient in Omnichannel Customer Care. This basically means mastery over multiple platforms like handling Phone Calls, Audio and Video Calls, Chatting, Emailing, Ticketing, Social Media Support, etc.
How can Syrow help Companies on the Instamojo platform?
Excellent customer service can be a key differentiator
Products, services and pricing can be easily duplicated, but not a strong customer service culture.
And for that, we need to know a little about customer experience:
Customer Experience (CX) is the new battleground for businesses.
According to Gartner, Customer experience management (CEM) is the practice of designing and reacting to customer interactions to meet or exceed their expectations. This leads to greater customer satisfaction, loyalty and advocacy.
In other words – if your customers like you and continue to like your business, they are going to do business with you for a long time and recommend you to others.
By subscribing to Syrow's service, your small business can provide round-the-clock Inbound Customer Service with advance AI + Human expert support system.
Giving in-depth information about new markets
Subscribing to Syrow App and utilizing their services can facilitate your entry into fresh markets and locations.
Syrow tele calling service helps reach out to a potential database on your behalf and you can get direct & honest feedback that will prove beneficial for new launches. Syrow's team is multilingual and therefore, allows global access.
Checking current marketing or distribution
Also, Syrow helps your business with an excellent marketing and distribution strategy.
Semi-Voice Services via the Syrow App on Instamojo App Store launches an AI + Human-based (email, Chat, SMS, Social Media or WhatsApp) campaign. It helps you check how effective your promotional activities and brand image is.
Trained Customer Support Advisors are available round the clock via Syrow's Omnichannel platform using Phone, Email, Chat, SMS, Social Media, etc based campaigns.
Cutting hiring, training and development investment
Customer support is a fast-evolving and technology-driven sector. Businesses that cannot adapt could get left behind!
Syrow App stays in touch with your customer base; thanks to a highly talented Customer Service team. The team at Syrow is available across the globe, 24*7 for a minimal cost.
Syrow saves big costs to your company with hiring and training internal customer support teams and saves on costs to upgrade customer support systems.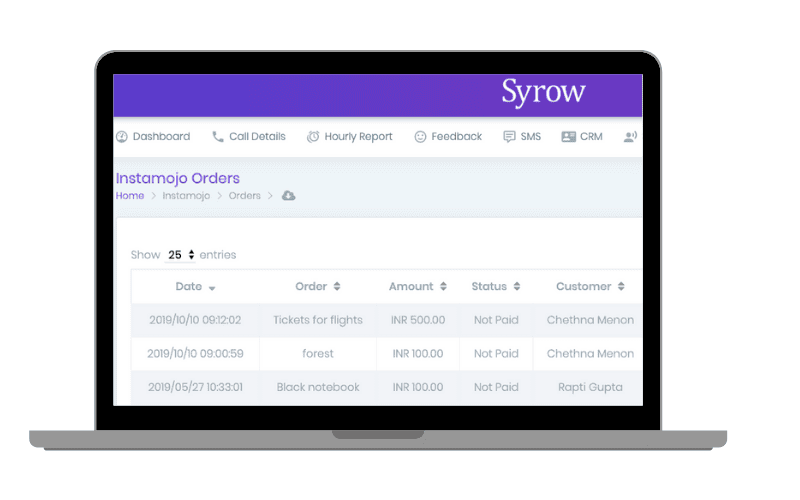 Customer Delight in 2021 – Why Syrow is the future
Omnichannel customer support: From Phone, Audio, Video, Chat, Chatbots, WhatsApp, FB Messenger, Ticketing, Emailing, Social Media Support etc.
Machine learning-powered  – Syrow combines a futuristic Artificial intelligence technology, but also makes sure customers know they are not talking to a bot.
360° Dashboard – All information is available to every Syrow customer care stakeholders about each and every related cases and past experiences.
Plug & play adaptability – Instant knowledge transfers and shifting customer care responsibilities to Syrow team.
Transparent and scalable – Every call or interaction is recorded for quality and is improved on a continual basis.
Industry-specific – Experts from every field are available to handle your niche account.
Steady data analysis – The app helps measure customer delight levels, problem areas, customer expectations, and more.
Syrow provides support for startups that receive less than 10 calls/emails/chats daily;  to enterprises who receive 1,000+ calls/emails/chats; with its flexible pay-as-you-go prepaid packages.
Important: As a promotional service right now Syrow is offering a 14-day FREE trial and 15% FLAT discount on signup for all our Instamojo 10+ Lakh merchants. Log in now to subscribe for Syrow's 24×7 Customer Support app from Instamojo's App Store today.
---