(Last Updated On: June 9, 2021)
We know how important your business is. We also know how important it is to look professional and that's why – we've launched a brand new app on the  Instamojo app store – the Domains and Emails app.
With Instamojo's domain and email apps, you save time. Your customers find you easier, and since you already have an Instamojo account, why look anywhere else? We have made it simple, cheap, and comfortable for you.
Why should you buy a domain & emails?
Your business needs an online presence in today's world. A good domain name is one of the easiest ways for customers to find you online. You need to have your own business domain and email if you are looking to expand your sales and your customer base.
Some of the benefits of having your own domain are:
1. Search engine rankings
Creating a good domain name that identifies with your business helps improve your page rankings on search engines. When customers search for a product that you could be selling, they will come across your site early in the search process. This results in better engagement. The backlinks you get on your blogs contribute to your page ranking higher too.
2. Branding & business identity
Keep your domain name simple, short, and easy to remember. This way, your existing and new customers will be able to refer you and find you respectively. Good domain names help keep your brand's longevity guaranteed. Domain names tell people what your business is about.
3. Credibility
Customers want to know how trustworthy and serious your business is. They are not just looking for a place to contact you, they want to sign up and do business with you. They want to partner with you. A business domain helps with that. This way, customers know you are serious about your business, since it has a strong online presence.
4. Locality 
An important trait of having domains is location. If you are a global business or a business catering to a very specific regional area, you can customize your domain names as per your location. For example: www.petshopindia.in. You can also customise it to .com,.org, .ca, .uk based on geographics.
Customers
In the end, your customers are happy. They have a place where they can come see your products and services, testimonials, and reviews themselves. They can contact you easily and help increase engagement on your site through signups. This is where your customers will look for you, always.
Emails: A Bonus
Once you buy a domain name, you can create your own professional email for you and your employees. Your email will be your username@yourdomainname.com. With your custom domain name. Using this professional email:
You can boost your company's blog credibility
Create a professional look for your business.
Make it easier for your customers to contact you.
Allow your employees to carry your brand identity when they interact with third parties at work.
Maintain a flow of professional communication between business parties and customers for anything related to your brand.
Getting started with Instamojo's domain & email
If you are a small business looking to kickstart your online presence in just a few steps, you can buy your own domain and email with Instamojo. We have simplified the process for you and it takes only 5 minutes to create your domain. Voila, your website domain is ready.
Domain
Head to the App Store in your Instamojo account and click on buy domain (once you have subscribed to the app)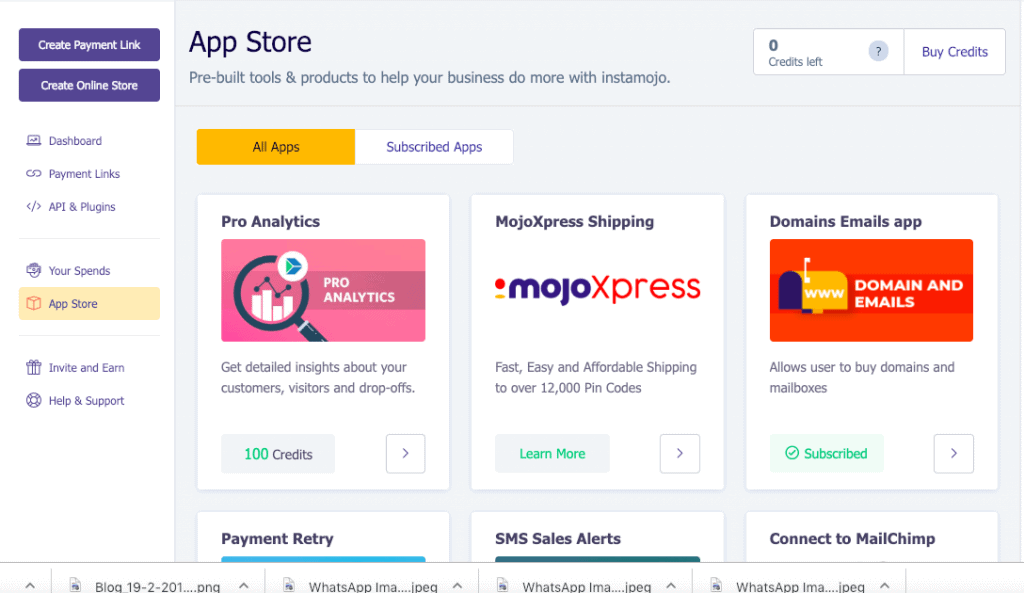 Type in your domain name and Instamojo check its availability on the internet.
Select the domain name of your choice and proceed to make your payment.
Once completed, connect and configure DNS (Domain Name System)  settings.
Email
Once you set up your domain name, it is best advised to buy an email too. You can create an email whilst creating a domain:
Or you can head to the Buy Mailbox option (as shown below) once you verify your purchase via email ID.
Choose the number of mailboxes required.
Match mailbox to your website or domain name. Add new users in email settings once you buy your mailbox.
What do you get with Instamojo's domain & email?
Why Instamojo? We offer domains and mailboxes to you for 70% cheaper rates than any other website.
Connect your domain to your mailbox and get over 5 GB of space for every mailbox.
Emails are secured with quick spam and virus detection.
Works with IMAP, Webmail, SMTP, POP3
Instamojo has developed many tools and apps to help boost over 6,00,000 businesses and grow their customer base. If you have not set up an Instamojo online store, you are missing out. Just like setting up a domain and email, you can create an online store on Instamojo in just 3 steps.
---