(Last Updated On: April 6, 2022)
How nutritious was your lunch? Farmilicious wants you to get back to your traditional vegetables, spices and lentils, and they guarantee it will help you fight diseases too. 
Farmilicious, co-founded by Vinod S Rajani and Satyan S Punjabi – is a Bangalore based organic-certified and FSSAI licenced agri-startup or 'Farmacy'. With a wide range of organic fresh produce, groceries, snacks and superfoods, Farmilicious embodies a unique nutrition concept. Their produce is available across a chain of retail stores, mobile vans and online via the Instamojo online store. 
We got in touch with the team to hear all about their business, their strategy to revolutionize nutrition for India during COVID, and their vision. 
Setting up an ethical agri-business startup – An Organic 'Farmacy'
Satyan Punjabi and Vinod Rajani started Farmilicious on a stretch of land in Devanahalli, Bangalore. They reached out, met with a lot of farmers and dove right into researching what type of farming would benefit everyone. 
" After we interacted with farmers, we realised it was important to assimilate traditional, natural forms of farming. We needed to start a movement where we help farmers on one side, and bring back good health for city folks on the other side – especially children!" – Satyan 
The team focused on building a large network. They currently employ over 100 farmers and are looking for brand collaborators and promoters pan India to help take their business forward.
Nutrition > Organic  – The Farmilicious Mantra
The Farmilicious team did not simply buy land and start farming the next day. A lot of research went into understanding what they should be offering their customers. Several agri-startups focus on organic practices, but Farmilicous went one step ahead.
They sought to grow produce that had zero-chemicals, zero-microplastics and completely natural; a step above organic! 
Farmilicous does not want to produce quick solutions for health. In a conversation with Satyan, he says that folks in the city often look for quick solutions when it comes to their health. From medicines to detox teas or synthetic fast food, people are losing their immunity, especially when they purchase mass-produced food items.  
Related Read: How to sell organic products online
" Chemicals are acidic in nature and can burn off the nutrition in food. So, what we consume is actually not benefitting us, it just eliminates hunger.  The body gets basic nutrition from the sun, and the rest is from food, so you should be mindful of what you consume." – Satyan
Did you know your food carries energy?
Satyan brings up an important PSA for everyone living in the city: 
" What you consume, essentially carries energy. Food that is naturally procured, ethically sourced and has zero chemicals, is postivie energy. You need to consciously buy your groceries. Yes, organic food is more expensive, but we never bat an eyelid when we need to buy expensive shoes or sports gear, why do we hesitate with food that's farm to home?" Satyan 
The Farmilicious shopping experience
If you have diabetes, your doctor is likely to recommend a diet rich in lentils and vegetables. How do you know which one suits you best? To help customers with their specific nutrition requirements, Farmilicious is creating a shopping experience wherein: 
Customer clicks on the website. 

Heads to the Instamojo online store to buy their groceries/packaged products. 

Finds out a yellow label under the product stating the nutritional benefits of each item. 

For vegetables and fruits, Farmilicous offers a subscription model. Consumers can choose when to receive their produce, and Farmilicous delivers it fresh on the day of cultivation. 
" The Farmilicious business model and nutrition-based concept have proven successful across online, mobile stores and brick and mortar formats. The focus, now, is to align and empower the brick and mortar stores through robust online sales channels."  -Satyan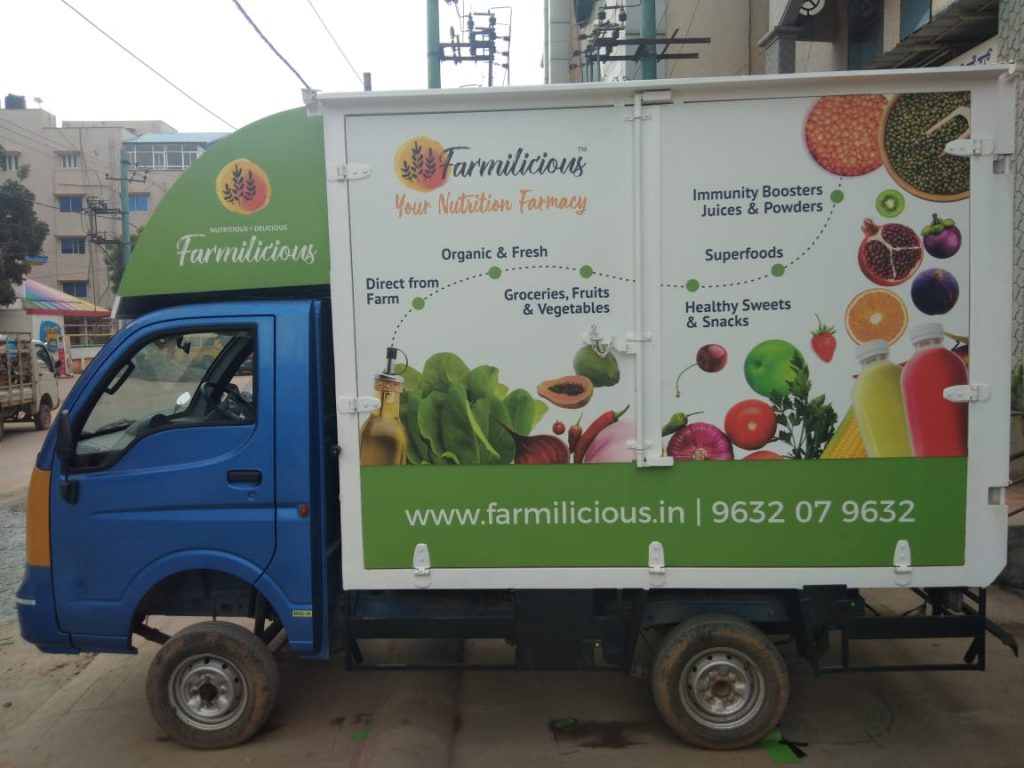 Fighting COVID with healthy food and Indian lentils
COVID is taking the country by storm and quite frankly, scaring citizens. If you are home, you need to boost your immunity, and Farmilicious can help. Satyan's advice – stay home, eat traditional recipes that carry rich nutritional value and boost your health. 
" Post COVID, the need for better health has triggered lifestyle changes, especially eating healthy, leading to significant increase in demand and consumption of our rich-in-nutrition, organic products across categories." – Satyan 
Farmilicious has developed a technology-driven, colour-coded system to empower consumers to identify, purchase and consume products beneficial for their health and wellness.
" Our technology positive approach has yielded fantastic dividends – post COVID – for the company and its channel partners, with most consumers making the enormous shift from conventional buying to online purchasing and contactless payments." 
Guess who helped them achieve that? 
Going online with nutrition
" We sell rice, oil, dals, and other groceries as well. We need to promote a wholesome meal." – Sayan 
But where would customers buy their healthy produce when a pandemic was wreaking havoc across the country? 
An online store. 
The team set up their Instamojo online store to sell all their packaged goods, from oils to groceries. 
Having an online presence helped the business – 

Rapidly scale customer connectivity

Expand product offerings to meet the growing demand 

Offer online sales support to channel partners. 
" Setting up the Farmilicious Online Store and payments system with Instamojo was our first and most profitable online initiative and has worked in our favour ever since, and more so during COVID." – Satyan 
You can join businesses like Farmilicious too!
Farmilicious is looking out for brand collaborators and other small businesses, freelancers, and solo entrepreneurs to help them grow. If you are on the fence to set up a business, all you need is a little push! 
Push = setting up on Instamojo!
Like Farmilicious, you can set up your online store for free in 2 minutes and start collaborating! You receive several benefits from using the Instamojo online store. Check it out!
---