(Last Updated On: May 18, 2023)
The online furniture sector saw a  boom thanks to work-from-home (and now hybrid!). People are buying furniture they need like desks, chairs, tables, etc since they are spending more time at home.
So, if you had a plan to sell furniture online, this is a perfect time.
What type of furniture can you sell online?
Do pillows count as furniture, but not kitchen equipment? Turns out, furniture has different categories too, and it is best to keep them in mind if you decide to get into this business.
The Indian furniture and furnishings sector mainly has furniture, furniture parts like wooden flooring, concrete slabs, marble, tiles, textiles, and other home décor products.
It does not include:
Home consumables
Home improvements
Products (hardware, tools paint, etc.) faucets
Kitchenware categories
5 steps to sell furniture online and build a successful eCommerce business
How did Pepperfry and HomeLane find success as online furniture-selling platforms? What was the core business plan that led to these businesses scaling it big?
Most importantly, how do customers trust furniture brands when purchasing something without testing/touching it to ensure quality?
What is your biggest concern while buying furniture online?#OnlineBusiness #furniture #onlineshopping #Online

— instamojo (@instamojo) December 7, 2020
Step 1: Find a trusty manufacturer or vendor
If you are new to selling furniture, make sure you check the following –
Read up on the market share of different furniture items.
Research on trending designs. Consult with different furniture design experts on this.
Get samples of new products before you buy them.
Set up a unit with trusted vendors and purchase or lease machinery.
Maintain a steady flow of working capital
Customers are more aware than ever of the quality of the products they buy. Therefore, you need to do a little market research and find vendors and wholesalers who source good, low-cost materials and craftsmanship. Once these are in place, we can start to focus on setting up an online platform.
Related Read: Supply Chain Management for your Business: Everything you Need to Know
Step 2: How to set up an online store to sell furniture
The offline furniture sector covers only 50 out of close to 500 Indian cities in India, serving just about 10% of the Indian population.
So how can you reach everyone and tell them about your brand? Set up your premium online store on Instamojo
Start with a social media page, and a WhatsApp group of your first 50 loyal customers, and work around the feedback that keeps your business on its toes.
In 2022, let's face one truth – despite the world returning to normal, online shopping is here to stay! You can check out online platforms like:
Online store platforms like Instamojo
Online marketplaces like eBay, Amazon, Pepperfry, Rentomojo
A brand website with integrated payment links
Online thrift stores– Instagram and Facebook store
Tip: An online marketplace is ideal to sell used furniture, and it will sell quickly for the low price. Do not sell new furniture as your products could get lost in the ocean of furniture.
How Ecowoodies uses the Instamojo Free Online Store to Sell Furniture
Ecowoodies, an online furniture seller makes customized cane furniture and sells its products on the Instamojo online store.
The brand uploads photos of its cane chairs and footstools to the store with a detailed description of the product.
Step 3: Focus on key design and content elements for your website 
If you wish to sell your furniture on an online website, here are some important things to consider:
1. Choose a website builder

If you are new to the online game and do not want to spend a lot of money on an independent website. eCommerce website builders let you create a website on your own, for a monthly subscription fee.
You need to choose an eCommerce platform that suits your business.
2. Product description

Furniture is not as easy to purchase as clothes or books. People want to take their time before making a decision to buy a piece of furniture. Therefore, you need to invest time to describe the product in detail when uploading it to the store or website.
For example – take a look at how well Saraf furniture describes its product information in different categories. Ensure you mention –
Furniture dimensions
Warranty information
Estimated shipping time
Maintenance instructions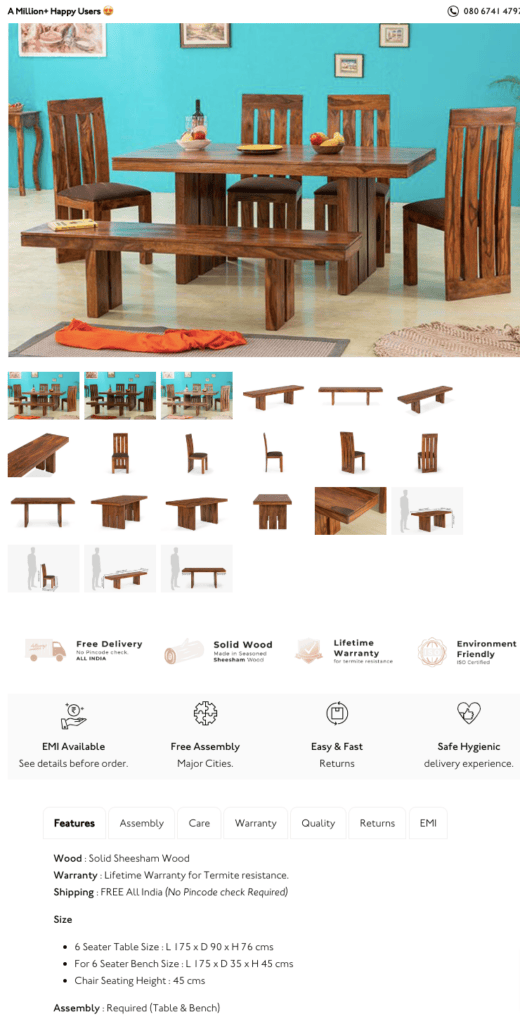 Related Read: How to write product descriptions for your online store products
3. Product photos
Take clear, high-definition photos of your furniture before you upload it. Provide photos with dimensions mentioned in the photo itself. In eCommerce, product photography is crucial when convincing your customers to buy your product. 
Step 4: Find a shipping partner and a trusty online payment gateway
The worst kind of customer review is when it is not your fault!
Many times, customers have received furniture that comes broken or damaged during transit in shipping. While this is not your business's fault, you are still accountable for it when it comes to the customer.
The solution is simple. When you set up a website or an online store, check the shipping partner reviews. Find out which eCommerce shipping service is used by furniture retailers in your city, and be clear about the shipping time for different furniture categories.
Related read: Everything you need to know about finding the perfect shipping partner 
Almost every new furniture business has an online platform on social media. Did you know Pinterest is a great platform for furniture sellers?
Customers add furniture they would like to buy to their Pinterest boards. They share beautiful furniture products with their friends on Instagram.
View this post on Instagram
How to boost sales on social media and sell your furniture
1. Share customer testimonials on social media
Customer reviews are the most important for a furniture brand. The biggest fear customers have with online shopping for furniture is they cannot test the quality of the product.
You can request happy customers to review you on social media – which you can later add to your stories and website.
2. Have a strong customer support system in place
Talk to your customers, and ask for feedback.
Offer to assemble furniture for free and provide after-sales customer services to address any issues the customers have with the products. Allow customers to send you emails, call on a customer care number, or DM you on social media. This prevents any negative feedback from being displayed on your website or social handles!
Related read: How to manage your business reputation on social media
3. Offer discounts and coupon codes
Did you know that over 92% of customers use discount codes while shopping?
Discount codes attract more customers to your online store and this way, you have more potential buyers for other items in your store. Keep a track of seasonal marketing trends and offer customers discounts and coupon codes to boost sales.
The right time to start your eCommerce furniture store
Consumers are back on the buying spree, and new market trends show that eCommerce will drive the way forward both in order volume and sales.
If you wish to set up your online store, send payment links, integrate payment APIs, offer customer support, collect leads, and sell on social media – you are in the right place already.
Sign up on Instamojo and choose how you would like to start selling your furniture. We can help!
---