(Last Updated On: March 29, 2022)
You don't have to be a restaurateur or end up on Masterchef to start making money with your love for food. All you need is an internet connection and this blog post to understand how to sell recipes online in India. Let's get to it right away.
Ways to sell recipes online in India
There are different ways to sell recipes online in India. Here is a snapshot of the platforms and formats you can use to sell online recipes:
Sell recipes on Instamojo product page
Collect payments for cooking workshops/tutorials
Sell recipes on Instagram and Pinterest
Selling cooking/baking club memberships
Sell food products online
5 ways Indians are selling recipes online:
We bring to you 5 unique stories of Indian food enthusiasts that have taken their passion for food and turned it into a successful business.
1. How Archana Pidathala immortalised 100 family recipes in Five Morsels of Love – a cookbook:
When Archana found an incomplete cookbook her grandmother had left behind after she passed away, she decided to complete it and fulfil her late grandmother's wish of bringing out an English cookbook.
Five Morsels of Love The cookbook contains 100 recipes brought to you straight from the kitchens of Andhra Pradesh with anecdotes that make for an enjoyable read. The book contains vegetarian recipes, spicy meat preparation recipes, traditional Andhra snack recipes and more.
Here's a flip-through of the book:
Five Morsels of Love on Instamojo:
When you land on Archana's website and click on the "Buy Now" button, you are redirected to Archana's Instamojo product page. You can buy the book easily on Instamojo.
Instamojo allows you to offer all payment methods to your customers. They can pay you with Debit/Credit Cards, net banking, and even UPI options like Google Pay and Paytm!
2. How Jeyadra Vijayselvan sells her cooking masterclass tutorials online:
Jeyadra Vijaselvan, a food stylist and Baker, doesn't just sell plain recipes on her website but also offers cooking courses for a fee. She teaches a range of cooking recipes that start from just boiling an egg to baking a full-fledged 3-tier cake.
Jeyadra's baking courses on Instamojo 
It's simple to sell a cooking course on Instamojo. Jeyadra pre-records the video and restricts it with a paywall and password to convert it into a course.
Once the payment is collected, the user is sent a guest password to access the video. This is how you can easily collect payments for your cooking classes or tutorials online.
3. How Amrita Kaur makes food look pretty on Instagram:
Amrita Kaur is a healthy food connoisseur. She holds Ayurveda cooking classes and also offers recipes to how even junk food can be healthy if made the right way.
Amrita, like many of us, makes food look really pretty on Instagram. A mini-celebrity herself, Amrita's healthy-food cooking classes are almost always sold out. She uses Instagram to market her cooking workshops very effectively.
How Amrita use Instamojo to collect tickets for her cooking workshops
You can find the link to buy tickets to her cooking workshops in her Instagram bio. She also posts stories and pictures of delicious food that would make anyone want to attend her workshops.

******BONUS******
How to Sell recipes on Pinterest
Did you know you can even post your Instamojo recipe page link on Pinterest and collect payments? Check out how Recipals is promoting their recipe on Pinterest and getting pins and saves while also collecting money.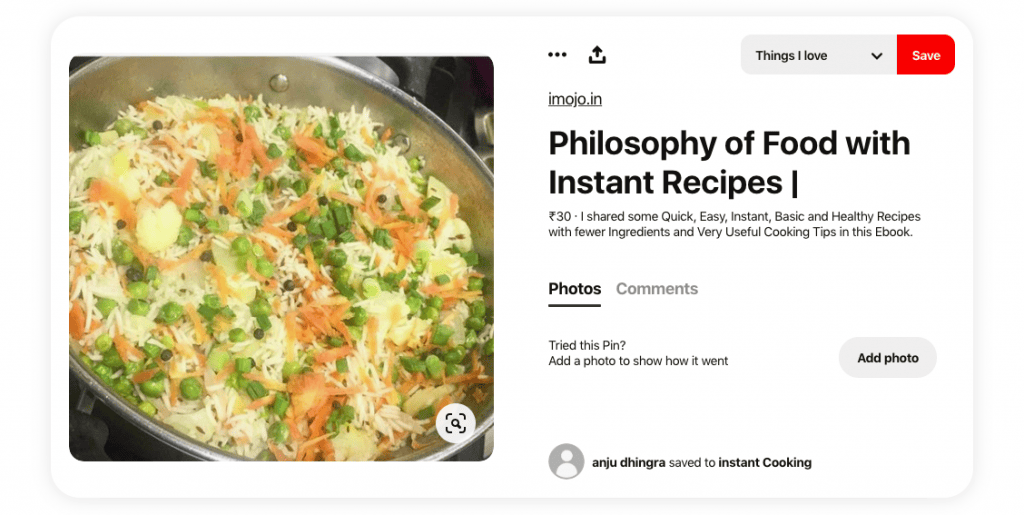 Recipals is using the minimum payment feature, where you can set a limit on the minimum amount a customer can pay for your product/service. There are several such amazing features on Instamojo that make selling online a breeze.
Selling cookies and cakes online in India
You can also sell your products on the Instamojo online store. Check out how Sheekha Mehta manages orders of BerriesnBakes – her delectable cookies and cakes store on Instamojo.
4. How Deep Singh Bawa is putting India on the world map of baking:
Coming from the land of traditional sweets and mithai, Deep Singh Bawa plans on putting India on the world map of baking. This unique platform supports encourages and promotes baking as a culinary art in the country.
Home Bakers India has worked with national and international baking events where bakers attend and interact with others in the industry. The company promotes baking brands and helps sellers with their products to reach bakers, in a bid to change the way baking is done in India.
Watch this video on how Deep uses Instamojo to power the next generation of Indian bakers:
5. How Gurdeep Kaur Saluja spreads happiness with her jams & pickles in flea markets:
Gurdeep Kaur Saluja, owner of Pikkle Shikkle, a homemade Punjabi pickle brand started her business 4 years ago.
" I started making pickles and jams for my kids' friends and they loved it. Today, my husband helps source the raw material and my kids help me take care of social media, designing, and packaging. I have 4 helpers who help me make the food items. My items always sell because I focus on quality – no preservatives, full of love. "
How Pikkle Shikkle used Instamojo in Flea Markets for offline payments
Gurdeep was at the flea market Instamojo hosted in 2019 at Garuda Mall, Bengaluru. She used Instamojo QR codes and payment links to collect payments for the products she sold at the Women's Day Bazaar.
Instamojo payment links are shareable URLs that can be opened in any platform including Whatsapp, email, and SMS. You can convert payment links into QR codes and collect offline payments too!
Instamojo powers over a million MSMEs in India with several solutions. Online stores, websites, payments, marketing tools, growth apps – you name it, we go it.
We might have just the solution for your business. Start your Instamojo experience today!
---