(Last Updated On: March 1, 2023)
Legal formalities for startups and SMEs can feel intimidating. But not anymore! Introducing LegalWiz apps on the Instamojo App Store. As a part of the mojo Developers Program, Leglawiz.in has launched 3 apps to help you register a business entity, protect intellectual property through trademark registration and file GST online.
Exciting offers on LegalWiz Apps
As a business, you would want to focus on providing excellent services and products to your customers. LegalWiz.in is an Instamojo merchant offering compliance services to let your business run smoothly without any legal issues.
LegalWiz.in is an expert at providing a range of compliance services like:
IP protection
Filing GST
Fulfilling any annual compliances.
LegalWiz has launched three services to help millions of Instamojo merchants in staying compliant.
What makes LegalWiz.in Special for Instamojo Merchants?
Instamojo merchants can avail LegalWiz.in services by subscribing to the app on Instamojo App Store.
Currently, there are 3 apps available on Instamojo app store as a part of MDP:
Any new idea or an unregistered entity intending to earn profit needs to get registered. New Entrepreneurs need to choose this business structure. The business registration application by LegalWiz.in on Instamojo App Store offers the following services:
Private Limited Company Registration
Entrepreneurs can register their startup as a private limited company via a 100% online process. It is a business entity that opens up a plethora of options to avail funding through private equity and other investors. Also, the private limited company creates a separate legal identity that is distinct from its owners. This means a company can get insolvent without personally affecting the owners.
LegalWiz.in follows the below-mentioned process for company registration which ensures a faster turn-around.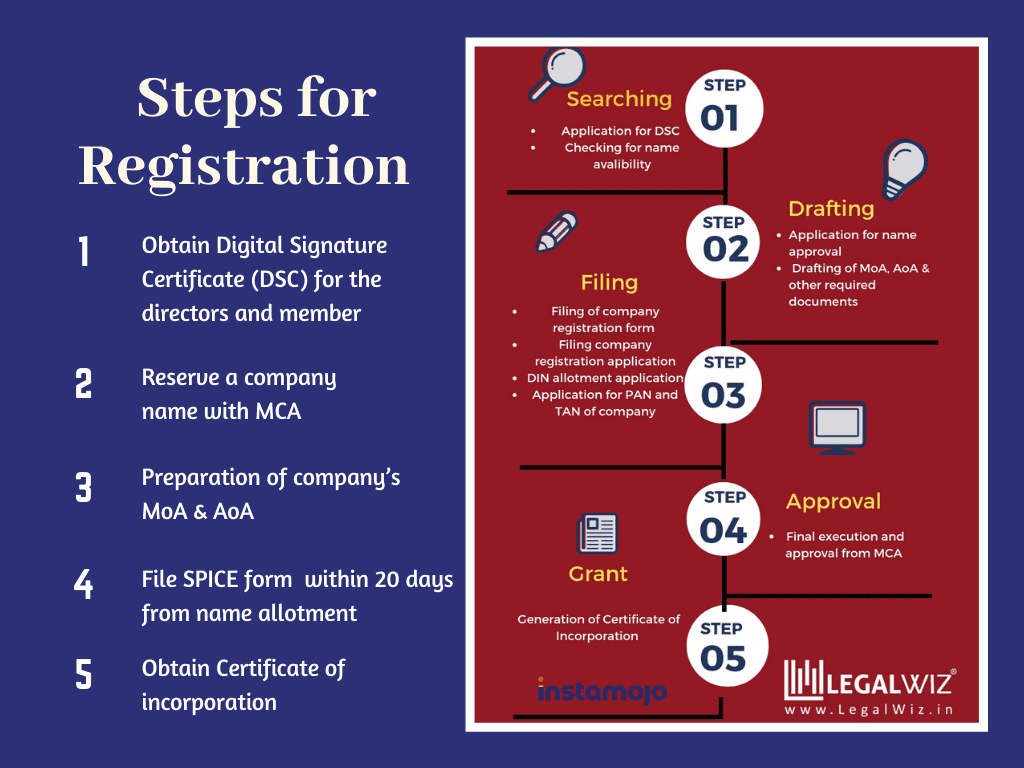 Packages for Private Limited Company Registration
There's a bouquet of packages for entrepreneurs looking to register a private limited company – Business Package, Executive Package and Premium Package. All these packages include basics like company registration fees, documents drafting, PAN/TAN, etc. Executive and Premium also include additional services like Employment Contracts, NDA, Accounting, Annual filing, etc.
Also, talking to LegalWiz.in experts personally can get you a customized package tailored to your needs.
Limited Liability Partnership
It is a business registration that is atypical of a conventional partnership business but devoid of partners' liabilities. This creates a separate legal business identity distinct from its partners. LegalWiz.in facilitates quick turnaround to register a Limited Liability Partnership. Once you place an order for LLP, the experts at help will connect personally to address your queries.
Be it regarding the documents required or mandatory compliance that follows the registration, LegalWiz.in experts are quite resourceful to help you make right calls with LLP registration. Below are some advantages to registering your business as an LLP.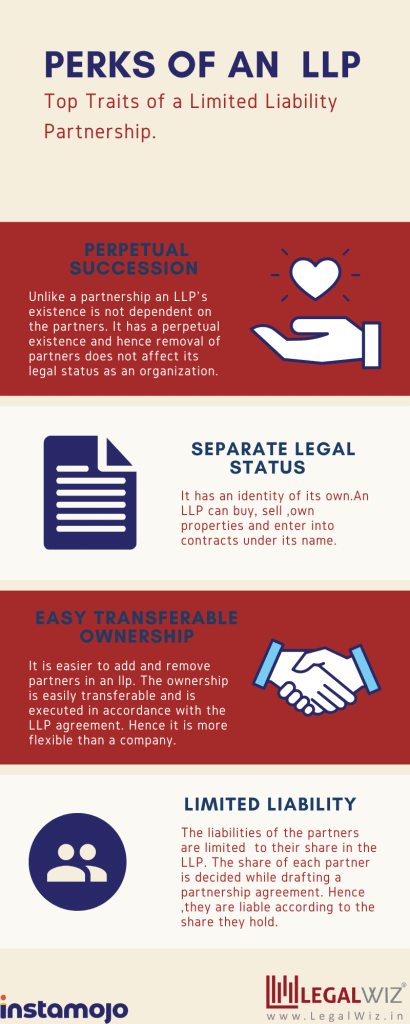 Packages for LLP Registration
Register LLP with LegalWiz.in app from the Instamojo App at discounted rates. A bouquet of packages under LLP registration include:
Business Package
Executive Package
Premium Package
All the packages contain basic services like Government fees, PAN & TAN, 2 DIN and DSC, Certificate of Incorporation, etc.
The Executive and Premium packages have added services that include drafting documents like:
Website policy
Disclaimer policy
Employment offer letter
Appointment letter apart from filing ITR for 1 year
Filing GST returns for a year
Talk to experts at LegalWiz.in to avail tailored packages to meet your specific requirements.
While Company Registration and LLP are of the most sought after business structures, you can always turn to this app for registering One Person Company, Partnership Firm and Sole Proprietorship Firm.
Instamojo users can avail GST registration services at a discounted rate using the app provided by LegalWiz.in on the portal.
GST registration offers legal recognition as a supplier with a one-time registration. It is an integral part of the business for which LegalWiz.in assure a smoother, quicker process.
LegalWiz.in Packages for GST:
There are 3 product packages offered as a bouquet of services under the GST registration viz.; Business Package, Executive Package, and Premium Package.
Each package offers GSTIN allotment, application for GST registration application and new taxpayers. Other packages have added services like DSC registration and one-month GST return filing.
Create a brand out of your startup with Trademark Registration to give your business a strong legal backing in case of infringement. Also, it ensures no one steals your brand identity in terms of logo, business name, coined word, image, etc.
Moreover, businesses can access control over the trademark by selling them to a third party.
Trademark Assignment and Licensing can earn you revenue from registration. The simplified trademark registration process followed by LegalWiz.in makes way for the hassle-free transition from being merely a business entity to a brand.
Packages for Trademark Registration
There are three packages for business to register trademark – Business Package, Executive Package and Premium Package.
Each package consists of basic trademark registration services like stamp duty and government charges, online application. And there are more services comprised MSME certification, Trademark Search Report, etc. in other packages.
Special Offer for Instamojo Merchants
Being a long term partner to Instamojo, LegalWiz.in is offering all three services at a discount, through the app.
LegalWiz.in boasts 5000+ clients pan India with 9.6/100 unfiltered customer ratings. Also, it has a unique 100% satisfaction guarantee that speaks volumes about the confidence in providing quality business professional services in India.
We are looking forward to serving Instamojo users with our bouquet of applications on App Store through the Mojo Developers Program at a highly discounted rate to promote compliance awareness and need of a compliant partner for startups and SMEs.
---