(Last Updated On: November 24, 2020)
December has been an eventful month at Instamojo. Quite literally, because we held our 5th mojoMeets – this time in Chennai. 
The latest edition of mojoMeets took place in IIT Madras Campus in Chennai on 12th December.  The theme for our 5th mojoMeets was "Sales strategies to build your tech startup"
Do you have a tech startup? Don't worry, if you missed out on the event, we have covered the important pointers the speakers discussed during the mojoMeets Chennai. 
Speakers for mojoMeets Chennai: 
Javeeth Ahmed – Regional Sales Head, Freshworks 

Jubby Jacob – VP of Sales, Flintobox

Vikrant Sakthi – City Sales Head, Practo

 Vijay Anand –  Founder and CEO of Startup Center (Moderator) 
Introducing Instamojo's products:
The interactive session opened with Vipin welcoming the audience and introducing Instamojo to the startup community in Chennai.
Monica Krishna, Head of Channel Partnerships at Instamojo, spoke about Instamojo's newest and most innovative products yet – mojoVersity and the Mojo Developers  Program (MDP).
Monica went on to speak about how these platforms enhanced engagement and learning with customers and increased Instamojo's audience base. 
Monica Krishna, Head- Channel Partnerships at Instamojo takes over to quickly introduce #chennai #entrepreneurs about the latest updates on #Instamojo.#networking #entrepreneurship pic.twitter.com/OZDKNgmy8m

— instamojo (@instamojo) December 12, 2019
Traditional sales practices still relevant: Vikrant
With no time to waste, the mojoMeets panel discussion commenced.  
Vijay Anand opened the session by highlighting the importance of sales and being metric-driven. He emphasized on how domain knowledge can help businesses to streamline their sales strategies. 
Vikrant Sathi shared his views about the advantages of sales strategies being industry-specific. He also shared a few examples of him working with doctors and medical professionals during his stint at Practo.
"Online sales strategies are taking over at a rapid pace but that doesn't mean that the traditional sales practices are irrelevant. There are times when you have to spend time educating customers through dedicated engagement, especially when you're dealing in a traditional market." – Vikrant 
Divide and rule policy with customers  – Javeeth
Javeeth from Freshworks joined the discussion to point out the importance of understanding and segmenting the customer base.
"Segmentation helps the sales team understand what the customers are actually looking at or what the actual customer requirements are." – Javeeth
Be obsessed with customers happiness – Jubby
It is important for sales teams across startups to understand challenges and keep up to date with what's happening.
Jubby took the audience through his experience at Flintobox. He stressed the core challenges that include: 
It's a common mistake that startups implement a sales strategy only to pitch their product. 

It's almost always a one-way communication and never takes feedback into account.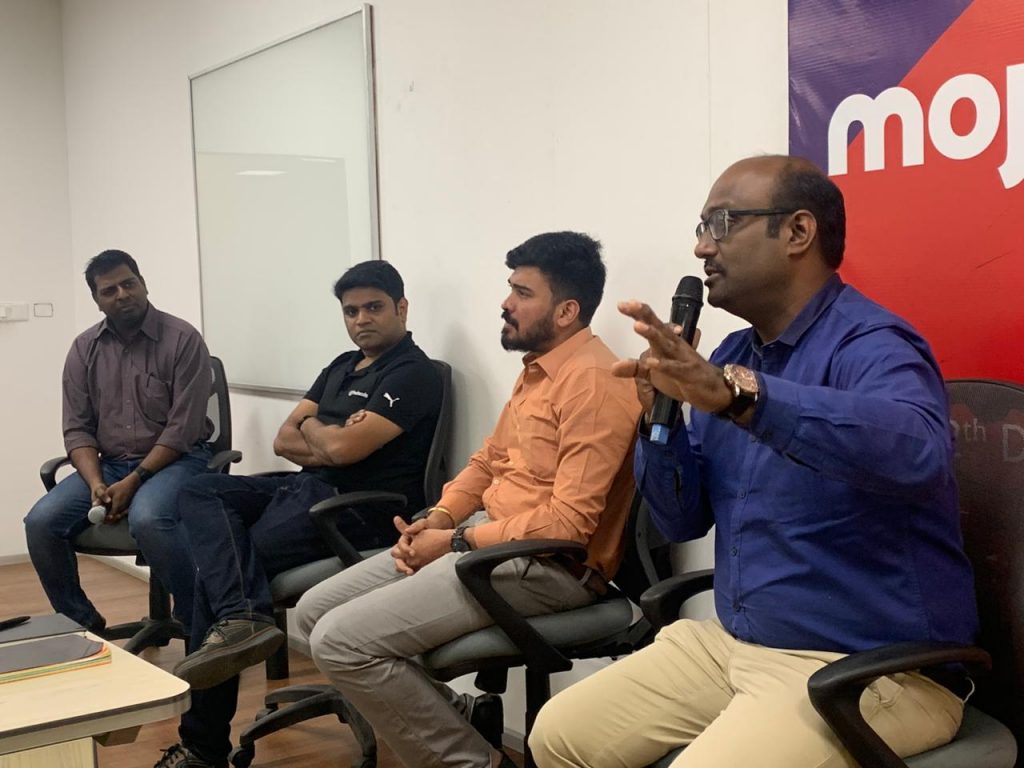 "Be obsessed with customers happiness – whether you are a B2B or B2C firm" Jubby highlighted.
Design your strategies as per marketing trends: Vijay
Vijay also spoke about how sales teams should work towards coordinating and designing their strategies in accordance with the marketing and the product they wish to sell.  
The panel also shared light-hearted experiences about the never-ending conflict between Product and Sales teams across startups. Javeeth reiterated that being sensitive and listening to the market is a good way to stay ahead of the competition and innovate in business.
Vijay Anand, Founder & CEO, The Startup Centre moderating the event and sharing insights on the topic.#salesstrategies #mojoMeetsChennai #mojoMeets #networking pic.twitter.com/UpiTxpsnk3

— Instamojo (@instamojo) December 12, 2019
"Nothing in the world is new. The next big thing is already a better version of what's already done." – Javeeth
The panel in unison agreed to the importance of having a steady flow of communication between product and sales teams.
How to communicate with customers – Vijay & Panel 
The audience listened in rapt attention as the panel commenced a discussion on Communication strategies was another point that caught the attention of the audience. 
The panel discussed different communication strategies including hiring and developing vernacular teams. 
"Compared to popular offline sales beliefs, customers these days prefer and are happy interacting on the internet over face to face meetings." –  Javeeth 
Jubby stressed on the need to be mobile-centric to engage with customers.
"One's leisure time has drastically come down since the internet was enabled on mobile. If your #business is not present on mobile, you're not in the game" – Jubby
Audience Asks:
To end the session on a high note, the panel indulged the audience in an interactive Q&A session. 
Out of the many interesting questions, the one that resonated with the audience was a question about the importance of offline acquisition methods. The panellists also discussed the best practices in hiring and developing sales teams. 
The mojoMeets Chennai ended as all our mojoMeets do – with a conversation over chai and a networking session thereafter. 
Did you catch our mojoMeets in your city? Stay updated on our social media to know more – and you can join in on an amazing session with some of the top minds in the country! 
---