(Last Updated On: May 18, 2023)
Have you ever worn a shirt the colour of flowers? Have you ever worn a scarf with prints made using leaves from a eucalyptus plant?
If not, then you need to check out Pahartah – an aesthetic, sustainable clothing line by Sakshi Khanna and Sagar Khanna. The brother-sister duo started the brand in 2019, after researching for 2 years about natural dyeing, sustainable fashion and eco-friendly textile manufacturing processes.
What does Pahartah mean?
We got in touch with Sagar Khanna, the marketing mind of Pahartah to tell us a little more about the brand.
" Pahartah is a conjoin of two words from Sanskrit – basically Pahatah (brown) and Haritah (green). These are the colours of the earth – brown for the land and green for the trees" – Sagar
Pahartah caters worldwide. The brand came into existence when Sakshi Khanna, the brains behind the brand, got fascinated with the art of natural dyeing and sustainable clothing, in fact, her daily involvement in the practice helped Pahartah become a reality.
"The fashion industry is second largest contributor to pollution in the world. With the growth of fashion industry and shoppers, we are exposed to more chemicals than before. Products created through the chemical process are causing more harm to the maker, wearer and our planet. " – Sagar
This got the siblings thinking. In a country like India, where resources come naturally and indigenous practices have ensured no harm to the environment, there is scope to save the world.
Sustainable Clothing: Creating a Pahartah product
So how did Sagar and Sakshi bring Pahartah to life? When it came to creating a Pahartah product the key was to use natural products without harming the environment.
"Natural dyeing is in practice since ancient times, we at Pahartah are reviving the art with the newness of eco-prints done over natural textiles like hemp, eri silk, khadi, bamboo, Kala cotton and organic cotton. " – Sakshi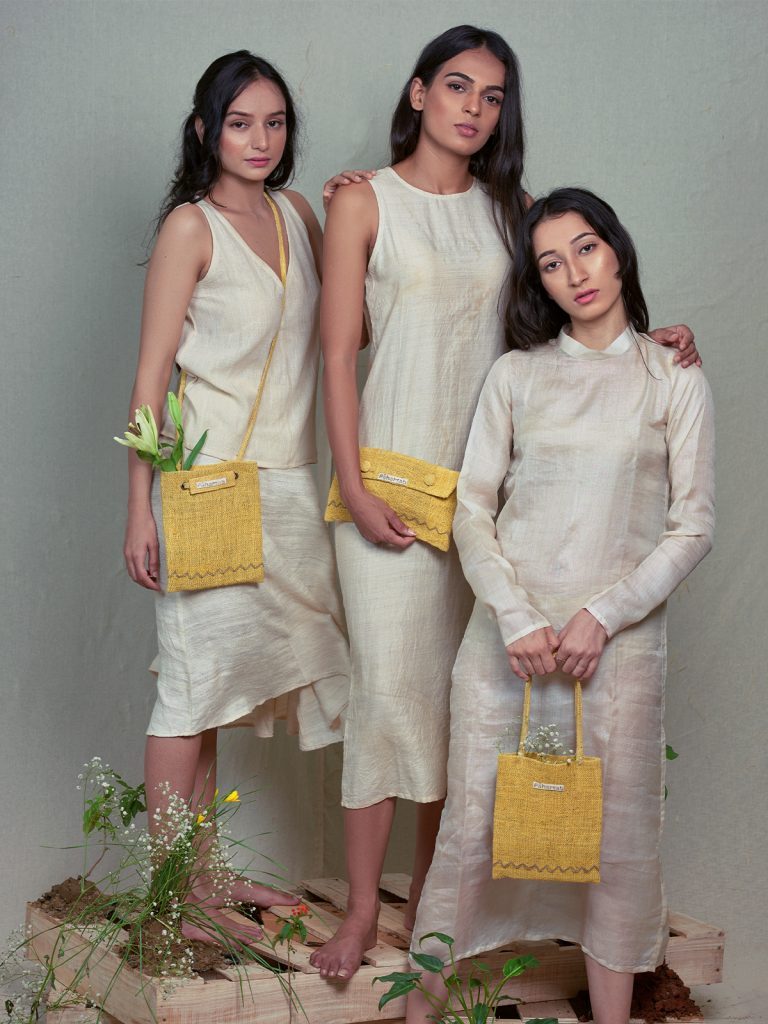 Kala Cotton – the Indigenous fibre
Kala Cotton is an indigenous product which uses less water and is sourced directly from farmers who grow the crop with only natural fertilisers. Sagar explains the fibre's texture to help us understand just how useful the cotton is.
"The Hindi word "ahimsa" means non-violence. We use this term to describe our innovation because our silk fabric is manufactured using a process where silkworms are not killed. Ahimsa silk is extracted after the silkworm has completed metamorphosis and emerged from the cocoon. " – Sagar
Pahartah considers the increasing need to address animal protection around the world, and if it means saving insects from dying too, so be it!
Jobs for farmers:
Pahartah sources all their natural material from lands owned by agricultural solopreneurs and farmers. The siblings employ women from rural areas to help them in the dyeing and weaving process. Sakshi is constantly in touch with weavers all over the country to understand and practice eco-friendly forms of making their products.
A flowered shirt or a leaf skirt?
Procuring the cotton, hemp, bamboo, and other materials may seem like a lot of resources being used, but this is not the case, as Sagar points out. For example:
Natural Dyeing: Pahartah uses flowers discarded by temples to dye their products. Let that sink in. Sagar says " The flowers used by temples for pools are plenty in number. One they throw these out, it simply adds methane to the environment. So instead, Pahartah gets these flowers from the temples and uses them to naturally dye their clothes!
Eco-printing: Instead of using wooden blocks or chemical lead-paints to print their clothes, Pahartah uses the natural shape of the leaves and flowers to draw patterns on the clothes. Don't be alarmed, they do not cut trees or plants for this purpose. The flowers and leaves are procured after they have fallen from the trees/ plants.
An eco-friendly investment:
Every product on the website is handmade; from the design sketchpad to the dyeing board. IF you ask yourself, why should you choose Pahartah over a normal, cheaper brand – well, it is an investment.
" Regular fast fashion material wears itself down after a couple of washes. When you use natural products, it only enhances the texture over time. It's simple, nature is tough, give it more water, it lasts longer. That's what you get with a Pahartah product." – Sagar
Pahartah is a step ahead of all its competitors. When a customer makes a purchase, Pahartah plants one tree in the customers' name. 
Collecting Payments on Instamojo
We admit we are saving the environment too, by facilitating online payments of course! But besides that, Pahartah found Instamojo through friends to collect their payments online. Once the orders started coming in, they wanted to a reliable payment gateway provider with low transaction charges and a sturdy support team.
" Instamojo has been in India for a while, and the support we receive from Instamojo is brilliant. The services I get from Instamojo is excellent. " – Sagar
Pahartah integrated the Instamojo payment gateway to their website, and allow their customers to pay them using different online payment modes facilitated by us. But that's not the only reason Sagar and Sakshi use Instamojo.
" It's about going beyond just payments for me. There are constant updates from Instamojo about any transaction changes, any new features. In fact, a recent discovery we made is mojoXpress – the shipping service offered by the company" – Sagar
In 2020, we need more businesses like Pahartah. Our forests are burning, animals are dying and traffic only seems to be getting worse. In such times, businesses that promote sustainability, eco-friendly manufacturing, and a cleaner, more breathable line of clothing.
" Making money is not too difficult – but the need of the hour is to take care of our planet" – Sagar and Sakshi Khanna
Pahartah saves the world with sustainable clothing – what is your dream business about? Start your dream business with Instamojo in just 2 minutes!
---