(Last Updated On: October 24, 2022)
Toys have a large part to play in the lives of kids.
Upto the age of six, toys are not just play things—they help in fuelling creativity and develop kids' learning skills. But, the market is filled with plastic toys materials exported from abroad.
Established in June 2020, Kidstack is one brand that has made a name for itself in the toys world by delivering curated, eco-friendly toys made of organic, non-toxic materials.
Apart from bringing a sustainable alternative to plastic toy, Kidstack also aims at promoting made-in-India products and support local brands. Founded by Simran Lekhi, a mom of two, this entrepreneur is dedicated to the vision of bringing kids allover India the best toys that brighten up their play time. She also aims at spreading awareness on the importance of switching to sustainable toys.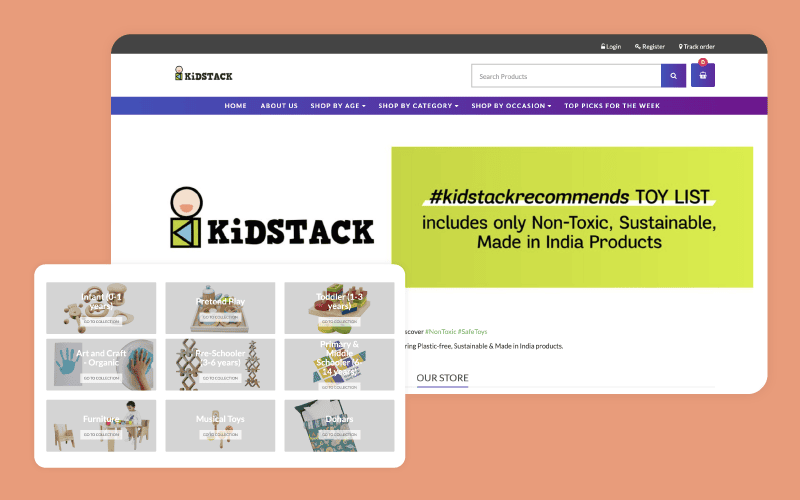 We at Instamojo are glad to be part of Kidstack's journey by being their platform for their online storefront that takes helps their brand reach more people.
Want to start your own online store for your business like Kidstack? Get started for free on Instamojo.
The story behind Kidstack 
Being a mother to two young children and a writer, when #boycottchineseproducts started trending, Simran was researching for her next article, but instead came across something that baffled her!
View this post on Instagram
As much as 90% of toys imported in India come from China, made of extremely low quality plastic which are constantly emitting dangerous toxic chemicals causing irreversible damage to the child's system! At the same time, plastic toys are extremely harmful for our deteriorating planet which end up under the ocean.
Simran started exploring Indian brands that are non-toxic and made of natural materials. She was shocked when she discovered that India has such amazing toy brands that manufactured sustainable toys of high quality material. She got into in-depth study of what are the ideal toxic-free toys that children should be playing with.
View this post on Instagram
"I have noticed several of my peers are still unaware of the adverse effects of using cheap, low-quality plastic toys and that really needed to change!", says Simran who is determined to create awareness amongst fellow parents on the harmful effects of using unsafe toys and at the same time curating sustainable Indian toys.
That's when Simran decided to create a brand and launch it online so that her message could reach more people.
Instamojo is glad to be part of its journey to becoming not only a sustainable toys business but also a brand that supports local craftsmanship.
To take a look at Kidstack's curated eco-friendly toys, visit their online store here.
Related read: How to sell toys online and start a successful eCommerce store
Selling toys online: Starting an online store with Instamojo
When Simran, the founder of Kidstack, first got the idea of selling toys online, she was not completely sure of it. But, she knew this idea must be nurtured. One of her friends who was an Instamojo merchant gave her a referral coupon. She started out with the basic plan on Instamojo platform—signed up for her first products.
Once her own online store came to reality, Simran realised this is what she wanted to pursue. And so, she took Kidstack to the next level.
"I quickly upgraded to a paid plan of the Instamojo online store. The platform was easy to use and I could set it up in less time than I imagined. Instamojo took made the task of running my online business easier"

-Simran Lekhi, founder, Kidstack
With the ability to start an eCommerce website with minimal effort, Instamojo gave Kidstack more time to do what they love.
Another speciality of Kidstack is that, the founder only uploads those products which she has personally bought for her kids and tested its quality. She guarantees that every toy is made of best-quality material and is free of toxins.
"Regular plastic toys break easily and it emits many toxic chemicals that cause irreversible damage to a child's system. Kidstack's journey is about spreading awareness among fellow parents on the harmful toys that we give our children. It's high time we put in some more thought to our children's play things."
Want to start an eCommerce website for your online business like Kidstack? Get started for free on Instamojo.
A business that supports local brands
Kidtsack is not just known for its lasting, eco-friendly products. The brand has been able to create an impact on local brands that manufacture toys with good-quality materials. They remain focused on promoting local craftsmanship and made-in-India toys.
View this post on Instagram
Indian craftsmen are lost in the shadow of foreign importers. Almost 90% of toys in India come from China.
"One of Kidstack's goals is to provide better employment opportunities to Indian craftsmen — helping traditional artisans by bringing their unique products to the limelight."
Want to start an online store to sell sustainable products like Kidstack? Get started for free on Instamojo.
Building a toys brand online with an Instamojo eCommerce website
When it comes to creating a brand image online, it's more than just selling your products, especially for a toys business. Parents need to feel connected enough to buy from you and understand the value the toys can bring to their little ones.
As for Kidstack, their eCommerce website and social media page helped them convey the value of their products to their customers. Let's find out how:
1. Customised home page
The home page of your eCommerce website is the first impression your customer gets once they visit your store. So, you have to make it worth their attention. Make sure the home page clearly introduces your product ranges and brand.
With Instamojo, you can easily customise the look and feel of your home page. You can select a theme that suits your business and add as many section as you want to provide your customer a smooth shopping experience.
Kidstack online store uses the Fluorescent theme available on Instamojo platform. They use the first banner of their homepage to convey the important message that all products listed in the store are hand-picked by the founder after ensuring their quality. This creates a sense of trust in customers.
2. An about us page that shares their story
Your brand is more than just your products. Your audience needs to feel connected to you on a human level. That is why your business needs needs to convey how unique you are, your mission and vision, and how the customer can relate to it. Here's a glimpse at Kidstack's About us page which tells their story as a responsible brand that cares about both the kids' health and the environment:
 3. Clear product page
Kidstack has set up product pages with crisp descriptions to avoid any confusion about the finer details of the toys. This includes details like dimensions, weight, material, age suitable, and even care instructions.
Additionally, they have organised all their products into different categories — according to age, occasion, and type of products. They also display related products on each product page which further enhances the shopping experience on the website.
With a host of other Instamojo features Kidstack is growing their online toys store every day, winning hearts across India. Check out their store here.
Ready to take the next step to bring your business online? Selling toys online or any other products is easier than you think! Get started for free with Instamojo!
---