(Last Updated On: June 15, 2021)
Happy Independence Day India! As the country celebrates 73 years of freedom, we at Instamojo, are celebrating a cause that's rooted deep in our country's development – rural business in India.
Here are five magical stories of Instamojo small businesses that are going out of their way to connect the rural farmers, artisans, and villages to an urban market. Following Mahatma Gandhi's wise words – "the future of India, lies in its villages," several entrepreneurs have made it their mission to promote rural business in India. At Instamojo, we have several such small businesses that are powering rural corners with digital and eCommerce tools. Here are 5 such inspiring businesses:
FarmVeda: From the farm to the store
Founder: Dr Trilochan Sastry
Founded by Dr Trilochan Sastry (Professor, Former Dean, IIM Bangalore) in 2016, Farmveda makes traditional, organic, idli/dosa mixes and podis directly from farmers houses, across 3 districts.
The company's main mission is to take farmers further up the value chain and promote rural business in India. Dr, Sastry and his team realised that farmers were not getting the right price for their produce after months of hard work during the agriculture season. To tackle this, Farmveda was born.
Today there are over 25,000 + farmers working with Farmveda across 3 districts. This movement is slowly picking up pace in other states of India. Currently, farmers only rake in the profits that the company makes from selling the products. The company's long term vision includes giving complete ownership to the farmers of India.
Ziveli: Reviving Kauna Art
Founders: Kehaan J Saraiya & Tanvi J Saraiya
The founders of Ziveli went deep into the villages of Manipur to revive a forgotten art. Ziveli is a lifestyle enterprise that makes accessories with Kauna (a reed that grows in the wetlands of Manipur). It employs about 150 Manipuri women artisans who weave the Kauna into beautiful products like bags, accessories, etc. Their wages have increased by 150% since 2016.
Also, the number of artisans working in the Kauna craft community has grown from 50 to 150 artisans. In the beginning, artisans were making ₹2,500 per month. Today, these 150 artisans easily make ₹7,500 per month.
Ziveli's mission is to not just restore the Kauna Art to its former glory but also link the rural artisan community to the urban market.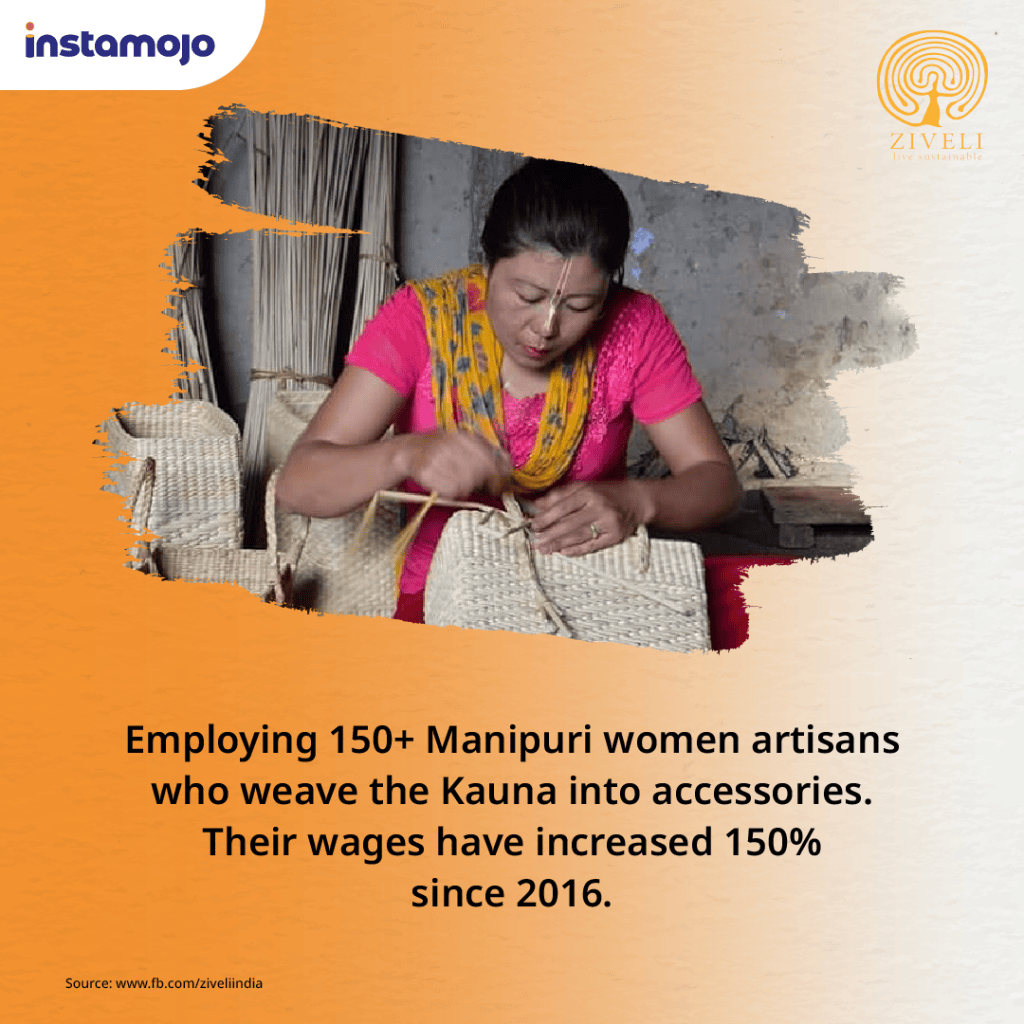 Farmer Junction: 

Connecting rural business in India to urban consumers
Imagine a farmer-customer marketplace with no middlemen and zero platform commission. 
Farmer junction is an online market place where farmers can become vendors, sell agricultural products directly to customers with zero commission. It connects farmers and consumers to urban buyers. Farmer junction was established to rescue Indian agriculture and its farmers and spread the awareness to everyone. 
Farmer junction is not just for selling products online, it also encourages everyone to share their knowledge and help each other. They have a forum where farmers participate in knowledge sharing sessions.
Pure Raw Honey: Unadulterated from the beehive
Founder: Dinkar Patil, No.1 Beekeeper in Maharashtra, Supplier to Indian Honey Board
Good honey is a hard find. Pure Raw Honey produces and serves natural unprocessed honey at affordable prices compared to other commercial brands of honey. How is Pure Raw honey's quality guaranteed? Dinkar Patil and his team help farmers by providing beehives for pollination which yields in higher production of farms. 
Usually, honey-making companies buy honey from beekeepers and sell at a higher rate. Pure Raw Honey sells different types of honey at affordable prices to help others lead a healthy life. The company also employs and trains beekeepers to preserve quality and create employment in the local area of Pune.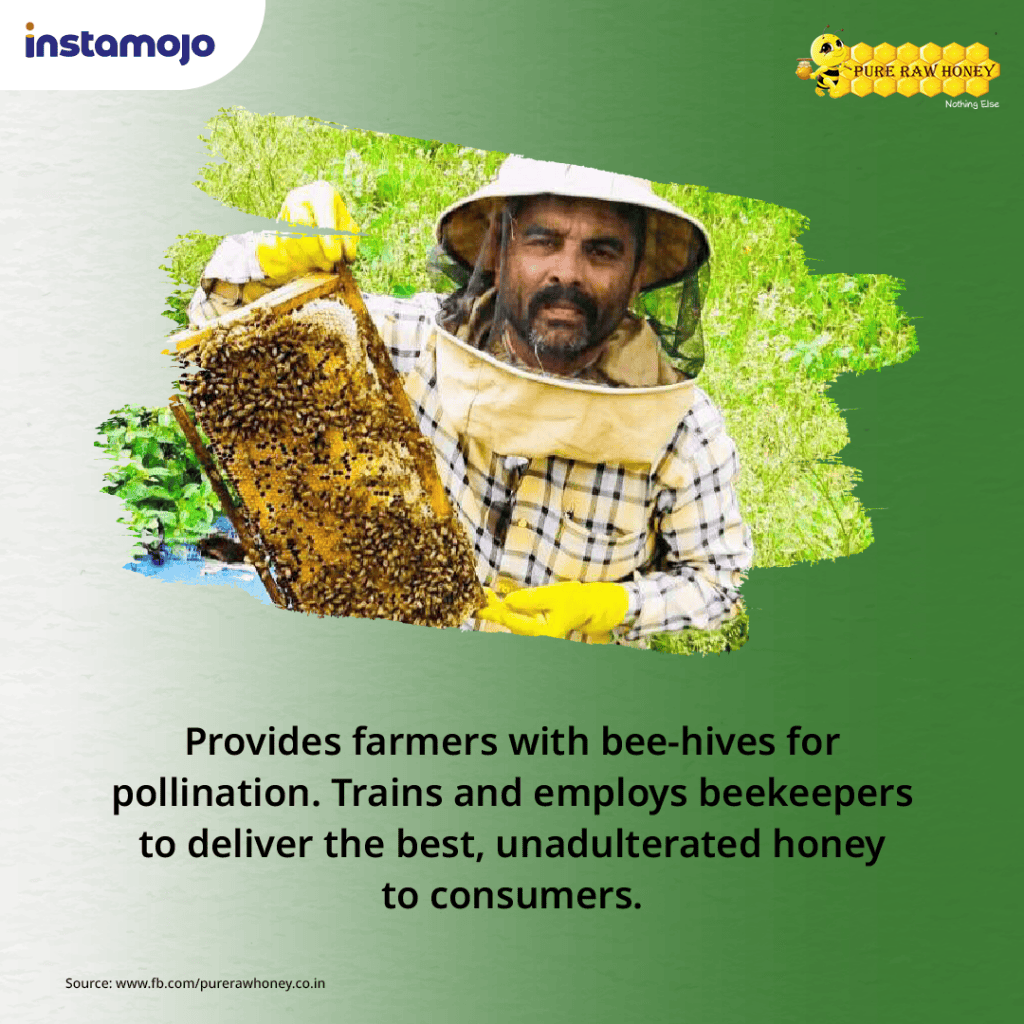 Junaili: 100% Himalayan rural business in India
Founder: Anshuman Sen
Wouldnt you love to buy something made using ingredients from the Himalayas? Junaili is a family-owned apothecary based in the Kumaon Hills of Himalayas. They make restorative personal care products in small batches, from the finest wild apricots and botanicals.
Junaili collects apricot seeds from the local farmers, sometimes buying as less as 6kgs from them. They also employ local village people to help with making oils and scrubs. The brand is committed to sustainable practices, they procure apricot kernels directly from farmers at a fair price. 
Junaili's products have a cult status among its patrons. The products have been featured in prestigious magazines like Architectural Digest, Grazie, and Harper's Bazaar as well. Junaili packages the freshness of a hilly village into beautiful boxes to ship across the country – a perfect rural to urban connect.
These small businesses use Instamojo to collect payments. They also use our platform to create online stores and payment links. You can too! Simply create an account on Instamojo in 2 minutes and start selling.
---