(Last Updated On: March 10, 2022)
A picture says a thousand words – but could a post get you a thousand leads? Instagram ads could be the best way to do that.
Instagram is one of the best platforms to reach out to a specific group of audience, connect and engage with them, and convert them into customers. Over 500 million Indians would agree. 
But how can you boost sales online using Instagram? Experts say- using Instagram ads! 
It is possible to convert those who didn't even know about your product or service to loyal customers using a great Instagram advertising strategy.
A study says that 30% of all Instagram users have made a purchase from an Instagram ad or post so far.
A creative and well-targeted Instagram ad campaign is proven to drive sales and increase traffic to your website.
In this blog, we'll go through everything you need to know about Instagram advertising.
Navigate to your favorite section with the quick links:
What are Instagram ads?
Why should you advertise on Instagram?
Benefits of Instagram advertising
Types of Instagram Ads
How to advertise on Instagram
Conclusion
Let's get started!
What are Instagram ads?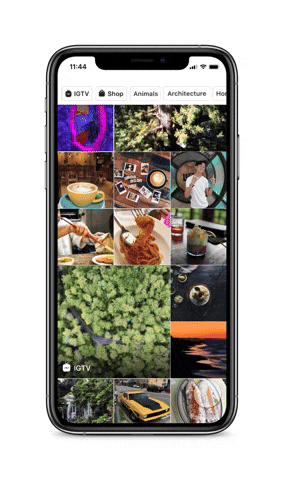 Instagram ads are paid posts or stories that businesses create to promote their brand. You can easily reach the users' Instagram feeds and improve your brand's visibility by advertising on Instagram. It looks just like a regular Instagram post but includes a call-to-action button to drive traffic or conversions. 
According to a study, 50% of users are more interested in a brand when they see ads for it on Instagram. 
Why should you advertise on Instagram?
Your business can benefit from a pool of online shoppers by creating a high-quality Instagram ad.  People come to Instagram to discover things they love, and your business can be one of them. You can reach people who aren't following you and inspire them to become your next customer. 
You should create Instagram ads if your business goals aim to – 
Increase brand exposure

Grow website traffic

Generate new leads

Move current leads down the funnel and convert them to your customers
5 reasons why Instagram ads work for better sales
According to social insider, Instagram has the highest engagement rates out of all social media platforms.
1 billion monthly active users
500 million daily active Instagram Stories users worldwide
1.60% median engagement rate per post on Instagram
68% daily users visit the platform
Ad recall from Instagram ads is 2.8 times higher than others
So what does this mean for your brand? How will your business benefit from this?
Benefits of Instagram advertising
Higher Engagement
Instagram provides the most engagement of any social media platform out there, even more than Facebook. With 1 billion monthly active users, Instagram has about 58 times more engagement than Facebook. In other words, Instagram users are more likely to comment, share, save and tag other people in comments.
Authenticity
Instagram ads look more authentic as they get integrated into the platform seamlessly. Therefore, It becomes very difficult for users to differentiate between organic and paid posts. This helps improve the ad interactions and trust in the brand.
Intent
A study by Instagram found that '60% of Instagram users learn about products and services through Instagram, and 75% of them take actions such as visiting sites, searching, or telling a friend after seeing an Instagram post.' Hence, the purpose of these ads is better achieved on Instagram more than on any other social media platform. 
5 Types of Instagram Ads for your business 
We've curated a list of the best ads to run on Instagram for sales. Let's take a look at the major types of ads on Instagram and what are the best practices.
Photo Ads
Photo ads are the most common type of ad. It consists of a photo, a description, and a call to action button. Examples of call to action buttons are:
Book Now

Get Quote

Apply now

Download

Get Show Times

Get Offer

Contact us

Sign up
Direct the viewers to your Instagram profile, or click on a link in your bio as per your business needs.
Best Practices
Make sure you use high-quality pictures and make them look more organic. 

It is best to have less than 20% of the image as text. If you have to add more, make sure it's branded or value-based.
Video Ads
Make your Instagram ads futuristic by using videos and let them do the talking for you. It is a great way to convey longer content in a very short amount of time. Video ads are an excellent tool for lead generation and brand awareness. It keeps the audience engaged and glued to your page for a longer time. If you want the user's attention, then a video ad is the way forward! 
Best Practices
Make sure your brand is present at the beginning of the video

Have a single and simple goal for the video

Don't forget to add a call to action button
Explore Ads
Explore is the Instagram screen where users discover new content and accounts. More than half of Instagram users search on Explore every month. Explore ads show up on this page. They help to increase reach, traffic, and profile clicks. 
Best Practices
Make sure your offering is relevant and trending

Add a relevant call to action button
Carousel Ads
Carousel ads allow you to display up to 10 pictures or videos in a single ad. Leverage those multi-image posts as carousel ads and show off multiple sides of your product or service. It is best to showcase a new collection and increase engagement rates.
Best Practices
Make sure you tell a story through images or videos.

Display a collection of similar photos or related content

.
Story Ads
They are full-screen-sized images or videos that show up on users' stories. They are vertical and will display up to 15 seconds of videos and up to 5 seconds of single images. According to a study, 300 million Instagram users view Instagram Stories every day.
With a swipe-up call-to-action, you can also take users to your profile, your website, or anywhere else. Many marketers have seen the best results in Instagram stories. 
Best Practices
Make the first half of the story visually appealing

Make sure the brand is present within the first few seconds.

Add music to your story!
How to advertise on Instagram? 
Instagram ads are easy to make. In fact, there are two different ways you can create and manage your Instagram ads:
Within the Instagram app

Facebook Ads Manager
How to advertise on Instagram using the app
Creating ads via the Instagram app is the easiest way to start advertising on Instagram.
 All you have to do is promote an existing post that's performing well and getting lots of engagement on your Instagram profile. Promoting within the app is quick and easy to reach even more users. You'll need a business on Instagram to do this. 
If you don't have an Instagram account yet but want to set one up, here is a complete guide on how to set up social media accounts for businesses. 
How to advertise on Instagram using Facebook Ads Manager
When using Ads Manager make sure to connect your Instagram account to it and prepare the images or videos you'd like to include in your ad.
Step-by-step guide:
Go to Ads Manager

Select Create

Choose an Instagram Ad objective

Select Continue.

Fill in the details for your ad set

In the placements section, you can select Manual Placements and select Instagram to have your ads appear on Instagram. Automatic placements will run your ad across a variety of Facebook Placements, including Instagram

Select Continue

Complete your ad by adding details for your ad's identity, format, and related links

Preview your ad before submitting it

Once your ad has been approved, it will appear on Instagram
And Voila, your ad is ready to go!
Looking to set up campaigns on Facebook? You do not need a landing page!
We are going LIVE with marketing expert Gopal Krishnan to help small businesses understand how to set up a profitable ad campaign on Facebook in less than 4 hours! Join in our discussion across all our social media streaming platforms to understand how effective your ad campaign can be – with minimal spending! Register for the webinar below
Each ad type attracts a different set of customers. To create a truly effective ad, you need to develop creative content that is customised to fit your business, budget, and goals. 
Optimizing your ads is the best way to increase sales with Instagram. Ensure that your ads are reaching users who are most likely to click through to your landing page, website, or signup form.
Want to know more about how to grow your business on Instagram? Sign up for this free Mojoversity course! 
Drive sales with the Instamojo online store
Are you looking to drive sales, leads, or signups for your business? Let us help you. Set up your online business on the Instamojo premium online store and use our in-built features to up your sales game. If you wish to speak with our team before you set up your store, simply opt for the 'Do-it-for-me' plan and a team member will get in touch with you.
---