Diwali 2021 saw brands and agencies create inspiring and innovative content. Brands across the country ramped up their marketing and brought online shoppers a colourful experience.
As predicted by eCommerce experts, this festive season saw a huge rise in online sales as more Indians relied on eCommerce brands for their holiday shopping. So, this Diwali witnessed lots of amazing marketing strategies by DTC brands. 
Here's our pick of DTC brands that nailed marketing this Diwali: 
Phool.co – Reaching more customers with influencer marketing
Phool.co is a sustainable incense brand that recycles the massive floral wastes from temples into incense products. They have established themselves as a brand that stands for a good cause — reducing water pollution in the Ganges. 
Phool ramped up their marketing by selecting Alia Bhat as their brand ambassador. Alia Bhat's post on being an investor in Phool.co received heaps of engagement on Instagram and further increased the customer reach of the brand. This influencer campaign is sure to have brought hem more sales during festive season.
View this post on Instagram
Apart from influencer marketing, Phool also prepared their eCommerce website for Diwali sales. They promoted festival related products on their online store such as Diwali gift boxes, candles, lanterns which attracted online shoppers looking to make their Diwali bright.
Phool.co proves how a brand that stands for a good cause will be memorable, earn the advocacy of their consumers, and get the right support.
Want to start your own online store like phool.co and create a brand loved by your customers? You can start doing that in just a few steps. Sign up for free on Instamojo!
The Messycorner – diwali marketing in full swing
The Messycorner sells customised travel and lifestyle accessories. Being a DTC brand in a highly competitive niche in festive seasons, this brand went full swing in their online marketing campaigns.  Let's take a quick look at their festive marketing strategies:
Messycorner created Diwali related content and promoted it across platforms. Also, they curated their customisable products into Diwali gift hampers. They also posted product images with a festive touch and brought a Diwali theme to their social media page.
View this post on Instagram
Messycorner also focused on content marketing. They posted memes related to Diwali and other relatable posts. Their audience loved the content and brought more engagement. Messycorner proved how a brand that engages with their audience regularly and touches the right chord will stand out from the crowd.
Pepperfry
Another brand that chose to reveal their brand ambassadors this Diwali is Pepperfry. The well-known furniture brand nailed their marketing campaigns with Kareena and Saif Ali Khan. Let's take a look at how Pepperfry made the most out of this festive season:
View this post on Instagram
Pepperfry announced their brand ambassadors in the month of October, when the festive mood is at its peek. They created festive-related content and promoted them across platforms.  Accordingly, their posts garnered lots of engagement from online users.
Pepperfry also prepared their eCommerce website for Diwali season by placing festive sales headers.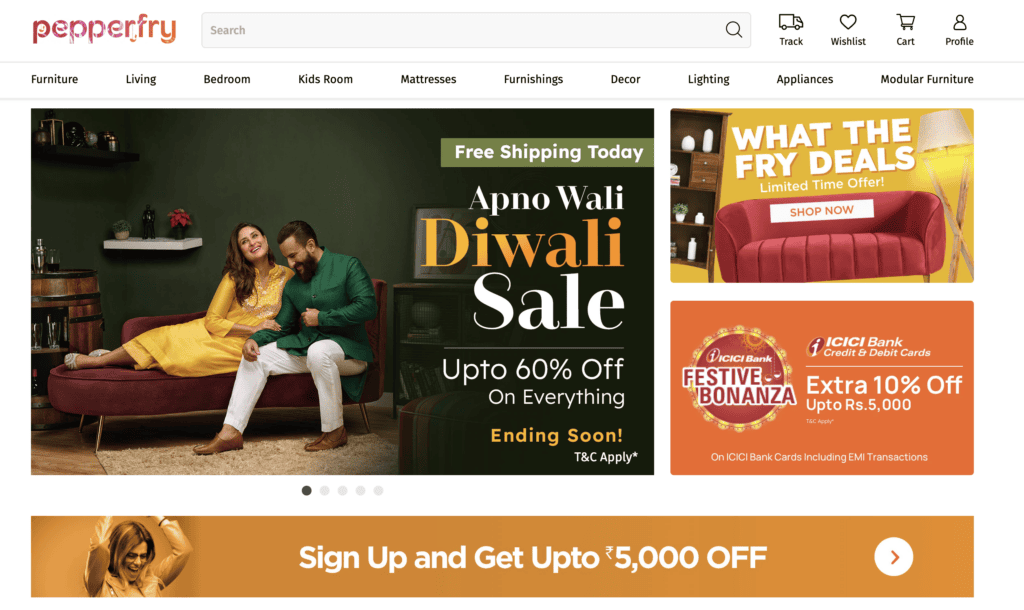 Running festive discount sales is a proven marketing technique for online businesses. And the best way to get more customers with these  discount sales is by running it through your own eCommerce website. Instamojo offers features that enable you to run discount sales easily. Sign up for free on Instamojo and start exploring all the features for your online store.
Jaypore – driving more conversions with paid marketing
Jaypore sells accessories, apparel, and other exceptional artisanal products with unique local craftsmanship across India. Being a brand that focuses on traditional and ethnic products, Jeypore made the most of this Diwali season by running paid ads on social media.
Paid ads on social media can take away a lot of your budget. But if it's done properly, you will see good ROI and increased sales.
Related Read: How to Setup High Conversion Ads for your D2C Brand
Festive sales at Instamojo – 2021
This festive season, Instamojo introduced the Be Your Own Boss (BYOB) sale for the business owner who is ready to take their business online and scale! Businesses who signed up got a flat 50% off on the growth annual plan of Instamojo online store.
Though the sale is now over, you can be your own boss without the sale! You can get your own fully functional eCommerce website at just Rs.10/day! And you can start exploring for free! Sign up on Instamojo now.
---