(Last Updated On: June 7, 2021)
Now, you don't just get to collect payments, you can also create invoices on Instamojo and keep track of all your payments!
It's simple!
The Invoice Generator app from Instamojo is a feature we've heard lots of requests for.
You can now create invoices for your clients right here on your Instamojo dashboard.  No back & forth, no exchanging details – Invoices created on Instamojo are sent with attached payment links –  your clients can pay you right away with the convenience of Instamojo. The Invoicing app is FREE for all Instamojo users. You can access it via the App Store.
How to Create Invoices on Instamojo
Visit the Instamojo App Store – You'll find an Invoice generator under the "Made by Instamojo" category
2. The App Store shows the existing invoices. You can also click "New Invoice" to start creating a new one.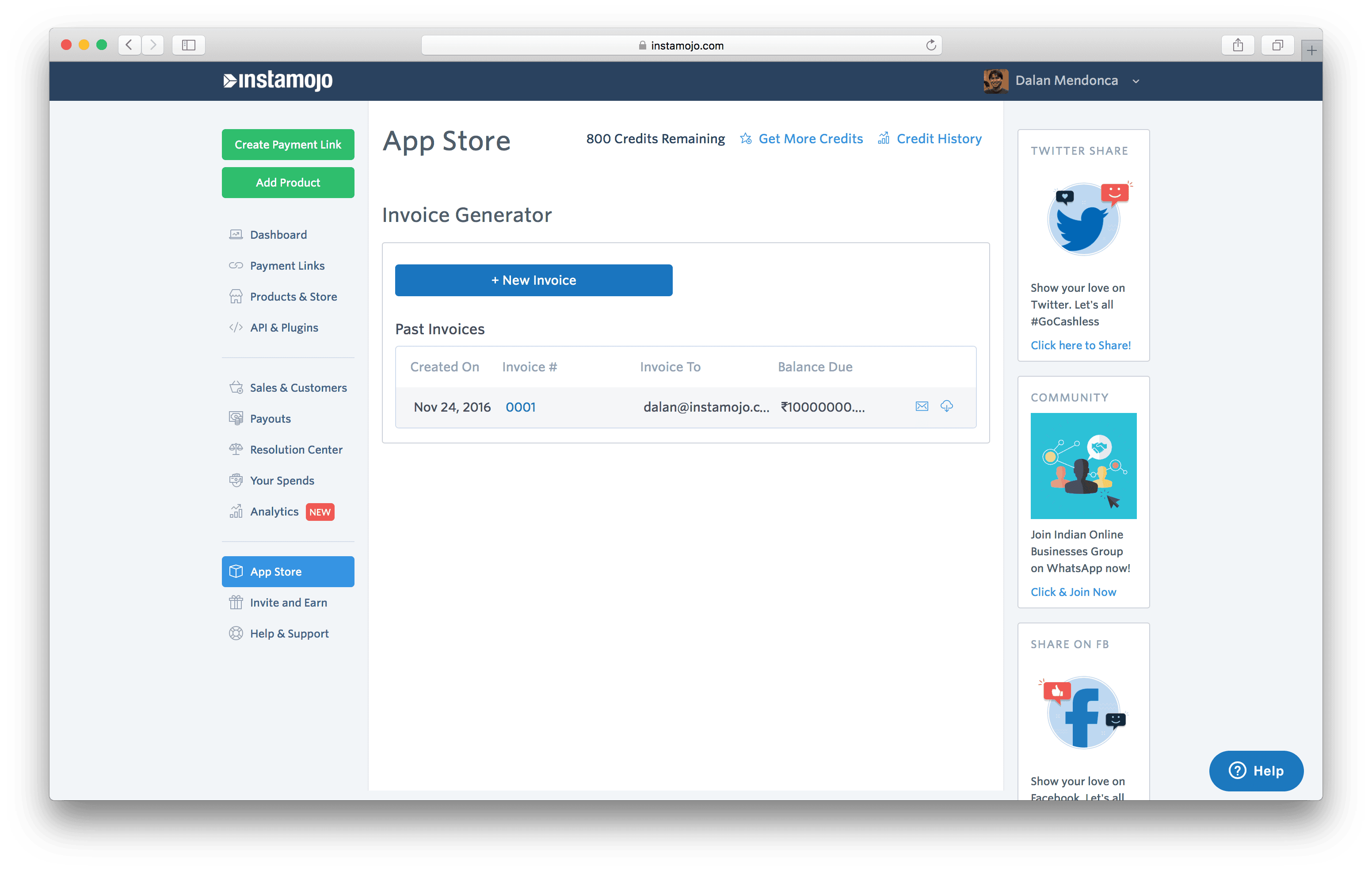 3. Click on "New Invoice" to view an empty invoice template.
 4. Fill in the details in your invoice as per your needs.
5. After filling in the details of your invoice, you can email the invoice to your client directly from Instamojo app store or download the PDF for offline use. We recommend emailing your clients directly.
6. Selecting "Save & Send Invoice via Email" opens up an email composer.
You can enter the address of your recipient and also a message to be sent along with the invoice.
7. The email lands directly in the clients inbox, they can review the invoice details and proceed to pay directly using the "Make Invoice Payment" option.
8. Clicking on "Make Invoice Payment" opens up an Instamojo payment link, your client can proceed to pay with any of the various payment options on Instamojo.
That's it! Payments made against Invoices will show up in your Sales & Customers section as usual.
As always, we're eager to hear your feedback. You can use the "Give Feedback" option in the user dropdown to tell us about your experience with the Invoice generator app.
You can enjoy more Instamojo Features and tools on the Instamojo app store. Scale your business in just 2 minutes by signing up with us.
---