(Last Updated On: April 17, 2023)
D2C eCommerce appears to be a trend that's been catching up for some time and even more so, since it was spearheaded by brands that have gone on to become multi-million dollar companies.
The significant growth of these companies has been instrumental in changing customer behaviour in India.
We have compiled a list of some of the most successful D2C brands in India with unique product positioning.
What is D2C?
Direct-to-consumer or D2C is a business model where the brand sells directly to the end customer without any intermediaries. Other business models usually involve multiple stakeholders like vendors, retailers, and resellers. In a D2C model, businesses have more control over different aspects of business.
A D2C brand develop and distribute products/services directly to their customers without any third parties involved. Most D2C brands utilize eCommerce channels to sell their products including eCommerce websites, online marketplaces, and social media.
There are many long-term benefits of a D2C business model. These include:
Higher profit margin
Access and control over customer data
Enables innovation
Leads to customer loyalty and retention
Over the years, D2C has become an emerging trend in the eCommerce industry. More brands are choosing the D2C eCommerce path and creating a long-term relationships with customers.
D2C market growth in India
The eCommerce D2C industry in India is expected to grow at a rate of 34.5% from 2022 to 2027.
More brands are choosing to go D2C and starting to embrace the eCommerce model. Consumers also prefer a direct to consumer approach as it gives them a more personalized experience and also buy products from the comfort of their homes.
Bella Vita Organic
Bella Vita Organics is a D2C natural beauty and skincare brand. Founded in 2012, this brand is focused on building handcrafted and unadulterated skincare products. Focusing on today's conscious customers, Bella Vita ensures that all their products are cruelty-free, non-toxic, paraben-free, and certified Ayurvedic.
To date, Bella Vita Organics has raised more than $10.1M in funding. They are currently a digital-first D2C brand and are among the leading skincare brands in India.
Mokobara
Mokobara is an Indian travel baggage brand that sells durable and stylish suitcases. With its greater functionality and aesthetics, the Mokobara collection stands out from mainstream travel baggage brands. Founded by Sangeet Agarwal and Navin Parwa in 2019, Mokobara has a total of $6.8 in funding.
Mokobara shares relatable and fun content on their social media channels around travel and also puts out vibrant ads that appeal to travelers.
https://www.instagram.com/reel/CpfJGqVJKBW/?utm_source=ig_web_copy_link
Suta
SuTa, a play on the words of the founder Sujata and Taniya, is a D2C clothing brand that sells designer sarees. The brand combines a traditional style with contemporary patterns to create unique sarees. Being comfortable and easy to drape, SuTa sarees quickly captured the love of modern saree lovers.
As opposed to textile conglomerates, SuTa works closely with the artisanal communities across India ad makes sure that each saree they sell is a piece of art and not just a piece of clothing.
SuTa has made use of influencer marketing on social media to get spread brand awareness.
Heads up for Tails
Heads Up For Tails grew into one of the top D2C brands in India after its establishment in 2008. It sells everything from pet food to accessories, toys, and carriers. Till date, they have raised around $50 M in funding.
Heads Up For Tails has more than 40 stores across different cities in the country. They also have a good eCommerce presence.
Dot & Key
Dot & Key, a natural skincare brand, aims to solve the issues both people and the environment faces because of the production and use of skincare products. With a nature-forward approach, the brand creates formulation that ensures that the ingredients are skin-friendly.
Founded in 2018, Dot & Key currently has close to $3M in funding. They have grown in popularity by leveraging social media and influencer marketing.
Paul & Mike Chocolates
Founded in 2018, Paul & Mike has already emerged as a favourite chocolate brand of Indians. The brand is smashing myths about chocolate, like the myth that pure chocolate has to be bitter. With a farm-to-bar approach, the brand creates uniquely flavoured chocolate products with cocoa grown in their own farms across India, instead of sourcing them from abroad.
Paul & Mike also has a mission to be Carbon Negative by 2023, meaning they woll help remove CO2 from the environment.
Sleepy Cat
SleepyCat is an Indian D2C brand that sells a wide range innovative sleeping solutions including beds, pillows, and bedding essentials. Founded in 2017, the brand currently has funding of more than $5M.
SleepyCat focused on the challenges consumers faced when trying to purchase sleep materials, which include high cost, too many options, and difficulty in transportation. They simplify the choice and brought products at direct-to-consumer prices. Another aspect that stands them apart is that they offer a 100-night free trail to customers!
SleepyCat supports social causes by  donateing bedding to those in need, especially NGOs and orphanages.
The Souled Store
Founded in 2013, The Souled Store is an online-first clothing brand that sells merchandise clothes and accessories. They captured the hearts of young Indians by bringing in a unique curation of casual wears revolving around pop culture.
Mylo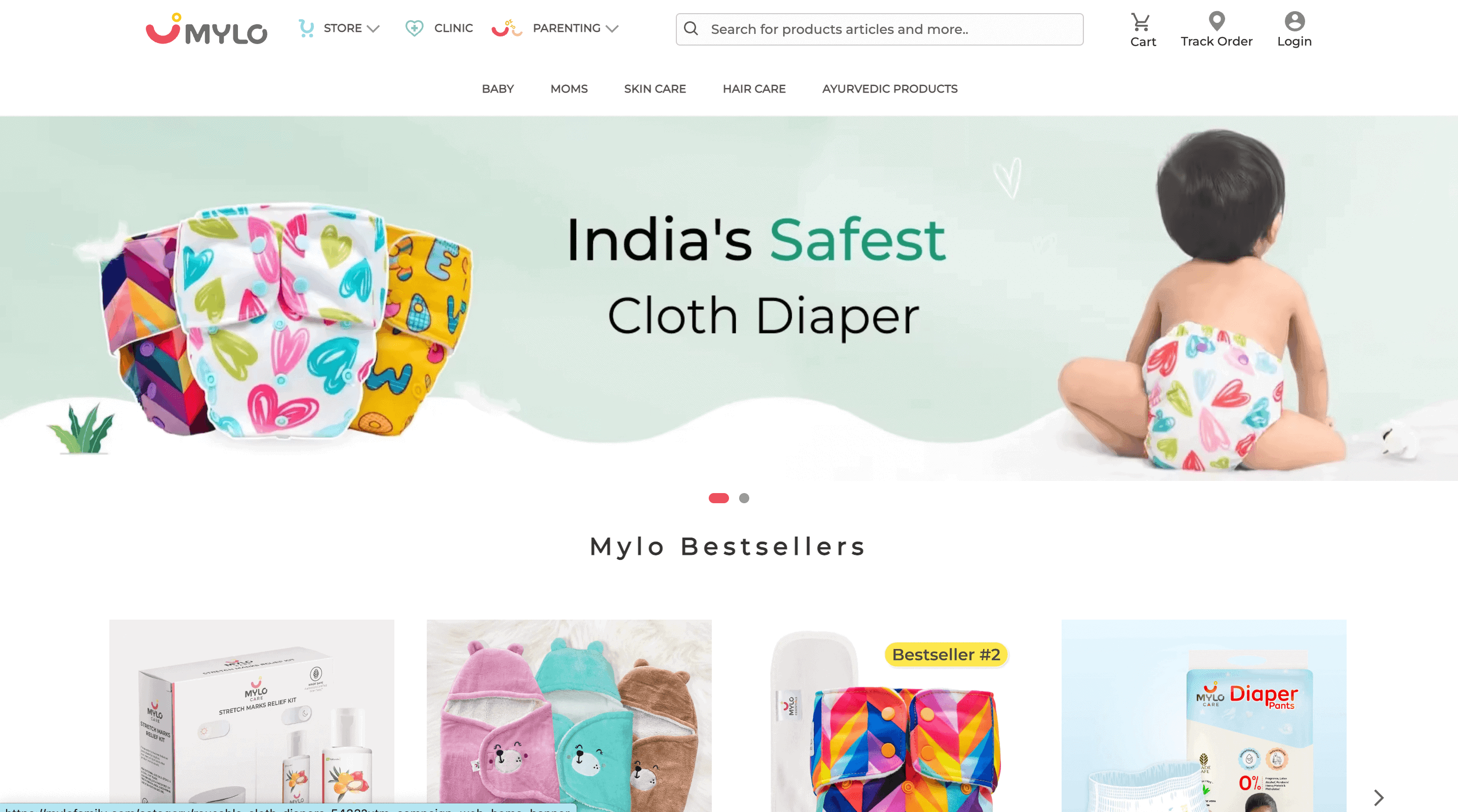 Founded in 2018, Mylo started as a community-based platform for new and expecting mothers. Gradually, they evolved into a D2C brand that offered baby care and mother care products, including sustainable alternatives to mainstream products.
So far, Mylo has raised funding of $24M.
Zouk
Zouk is a 100% vegan accessories brand that is handcrafted and cruelty-free. They combine traditional and modern designs to create lifestyle products that suit modern day needs.  They collaborate with artisanal communities to manufacture their products.
Zouk recently started to ship products outside of India as well, making it a top D2C brand in India. Founded in 2016, Zouk currently has $1.6M in funding.
Rage Coffee
Founded in 2018, Rage Coffee became the world's first plant-based vitamins coffee brand. They handcraft a variety of delicious natural coffe powder in small batches. Unlike other coffe brands, they are fully transparent about their ingredients and ensure its health benefits.
Till date, Rage Coffee has raised $5M in funding and is among the top D2C coffee brands in India.
Flatheads
Flatheads offers a versatile collection of casual wear to office wear footwear. They claim to be lightweight and more comfortable than regular footwear. Currently, they have funding of around $992K and is quickly growing a social media presence.
Join India's largest D2C conference
This April, Instamojo is hosting a value-packed conference for 3 days where we will discuss the building blocks of the D2C experience and the technology needed. If you run a D2C brand, MSME, or are an aspiring entrepreneur, join the D2CTech conference where the best and the brightest brains and top brands in the eCommerce industry will convene.
Register now and confirm your seats! 
Register for D2CTech conference
D2C brands are the future of eCommerce
What do these successful D2C brands have in common? They all have a fully functional eCommerce website to present their brands and collect orders from their online customers.
To stay ahead of your eCommerce game, use technology that complements your business and help accelerate your brand's growth.
---