(Last Updated On: February 19, 2023)
Instamojo has been in the payment gateway business for over 7 years now and has catered to over 1 million businesses. Our secret? Simplifying how to collect payments on Instamojo.
Really, it is simple. You do not just get a lower transaction charge compared to others in the business, you get a whole platform packed with features that will promote your business growth.
So, if you are new to using Instamojo's payment gateway service, rest assured. We have a short guide to help you understand how to collect payments online.
Here's everything you need to know about how to activate your Instamojo account to collect payments instantly.
How to collect payments on Instamojo
If you have been using Instamojo for years now, you might be aware of the core features you can use to collect online payments. But we have news for you too. When you are one of the best payment gateways in India for small businesses, your core focus should be to provide accessibility over affordability. So, we have updated our features.
First things first, sign up on Instamojo.
Instamojo payment experience for buyers
Payment on Instamojo is a 3 step process
The customer chooses an online payment
Customer is handed over to Instamojo and sees various online payment options.
The customer chooses a payment option and completes payment.
Here are our updated top online payment features.
Instamojo Payment Gateway
If your business has a website, you can collect payments with a payment gateway integration on your website.
We have simple payment APIs with detailed documentation and SDKs for all major platforms. With responsive developer support, integrating Instamojo is a butter-smooth experience.
Below is an example of how Vani Kabir, an Instamojo seller integrated our payment gateway to her website using the API kit. This way, customers can directly pay from the sellers' website.
Once setup is complete, receiving payments via Instamojo is a simple 3 step process.
Create a payment request
Show payment link to the buyer in your app/site
Get payment credited into your registered bank account in T+3 Bank working days.
Looking to grab payouts just a little faster? Check out Instamojo's faster payouts feature.
Collect Payments Using Payment Links
You can create your Instamojo account as either a business or a consumer. Create an account using either your Google or Facebook account. Once you sign up, click on the 'Create Payment Link' on the dashboard.
Now, you can instantly collect payments via Quick Links or Smart links.
How to use Quick Links
Quick links allow you to instantly create a payment link by filling in the purpose for payment and the amount payable.
Now, your Quick Link is ready. You can share this link with your customers via WhatsApp, SMS, E-mail, QR code payment and more.
How to collect payments on Instamojo using Smart Links
Smart Links help you collect payments, additional customer details, customize your payment links and more.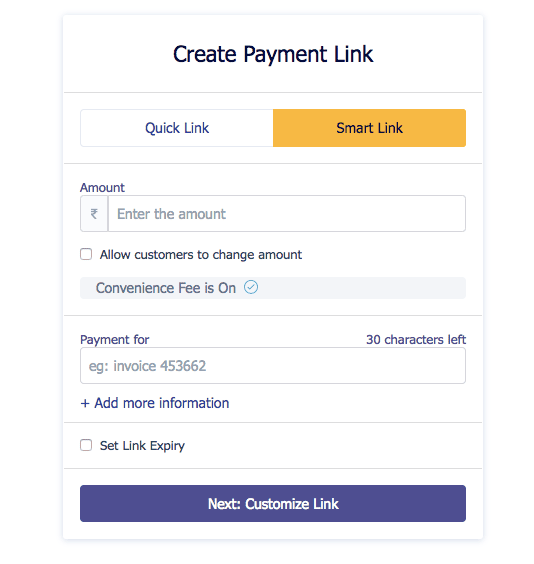 With Instamojo Smart Links, you can also collect additional information for documentation purposes. If you are a business with regular discounts or seasonal sales, you can also set an expiry date for your payment links. Once done, you can further customize your link.
Additionally,  you can customize your links to mirror your brand colours, collect shipping details and GST details.
Now, your payment link is ready! You can also share these payment links via WhatsApp, SMS, E-mail, QR code and more.
Instamojo's payment collection modes include Cards, Net banking, UPI, e-wallets and NEFT/IMPS.
Additionally, you can share your payment links via multiple channels and to numerous customers, in one go. You can also watch this video to understand how smart links work.
To know more about how Payment Links and Smart Links are different and which one is best for your business, check out this landing page: Payment Links vs. Smart Links.
How to collect payments on Instamojo using UPI
UPI Intent
UPI is the most preferred form of online payment for Indians, and thanks to contactless transactions becoming the norm in 2020, it has surpassed over 1Billion in transactions in the past year alone.
If you use Instamojo, you can collect payments via UPI (Unified Payments Interface). With this, your customers enjoy two main features – UPI Intent and Auto-suggest. 
With UPI Intent, your customers –
Chooses UPI as a preferred mode of payment at checkout
See a list of different UPI apps that support the intent flow
Chooses app and opens the app on their device to complete payment
The Instamojo screen shows a successful payment
Auto-suggest
In addition to the UPI intent flow, the auto-suggest feature will show a variety of bank ids that the customer can choose and add even before they type out their UPI ID. Let us explain this better with a GIF combining the two UPI features below –
How to collect payments on Instamojo online store
If you have an online store on Instamojo, you have access to a plethora of features, and one of them is the easy payment feature. Customers can land on your store, add a product to cart and will be immediately redirected to the payment page.
Also Read: Your step-by-step guide to creating an Instamojo online store
Collecting payments via NEFT
Instamojo NEFT / Direct Bank Transfer takes regular NEFT to another level. This allows you to do one thing that your regular NEFT doesn't – Track, Manage and Reconcile Your Payments.
To pay via NEFT, simply generate a Virtual Account Number (VAN) – a 20-digit number that allows you to easily track and reconcile payments at your end.
Simply: 
Create your VAN Number
Share VAN details with customers
The customer makes payment via NEFT/IMPS/RTGS
This video will help you understand it better.
The Instamojo Pay Button
You can also collect payments on Instamojo using the Instamojo Pay button on your website. You can also create pay buttons on your existing payment links. Customers can click on the pay button and will be redirected to the payment page.
You can also check out the short video tutorial to help you create a Pay button:
Over 1 million businesses trust Instamojo's payment services. In just a few steps, your customers will easily pay you using any online payment mode – because we have them all!
With Instamojo, simplify collecting payments and customer details, in just a few clicks.
So, what are you waiting for?
Start now!
---