(Last Updated On: December 1, 2022)
It's a no-brainer that social media is an important tool for small & independent businesses today. An active social media business account is the first step towards success as it helps to turn your business into a brand.
With social channels adding new analytic measurements every week, it can be hard to keep up with it all.
But don't worry – This guide will help you sort through the noise and get focused on the social media metrics that impact your small business directly.
Before you dive into social media analytics, it is important to set your social media goals for your business. Some of the common ones include:

Engagement with customers

Promotion of online store

Brand awareness

Product awareness

Generating sales
In order to grow your social media marketing, you need to put in consistent effort. Here are the various forms of content on social media that you can explore —
1. Images
Images are one of the most commonly used forms of content over social media. You can use social media to show your product pictures, discount & sale announcements, partnerships, and more.  
2. Carousels
Carousels are an interesting way to share engaging content with your followers. It gives the audience the ability to swipe through multiple pictures/videos in a sequence. If your business creates informative content, then carousels can help your social media grow a lot.
View this post on Instagram
3. Reels
Saying reels are the most popular form of Instagram content would be an understatement. Businesses of all kinds have started creating reels as part of their social media strategy. These are short video formats of up to 60-second duration.
Reels can be made engaging and fun using filters, stickers, audios, music, and captions.
Here's a guide to help you get started with Instagram reels for your business.
4. Other video content
Videos are highly consumed over the internet; all social media platforms are promoting them nowadays. In fact, videos can be a great strategy for you to build your business over social media. Youtube is the most popular video platform for growing your business.
4. Polls
Polls can be an incredible way to understand the pulse of your audience. You can use polls to get feedback, discuss new product ideas, and even have a fun engagement with your audience. 
What is the best age to start a business of your own?#businessowners #businessgrowth

— instamojo (@instamojo) July 22, 2021
5. Bite-sized content
Bite-sized content is the newest rage on the Internet. The format usually entails short 15-30 second videos, which engage a user in the form of quick entertainment.
Reels, an Instagram feature, is the most popular bite-sized form of content on the internet.
Once you start putting up content consistently, it becomes important for you to start measuring its success. Analyzing and measuring the numbers of your social media account can help in multiple ways—
It helps you understand your audience

You can plan a content strategy based on it

Understanding of the demographic

Improving customer satisfaction
Also read: How to set up social media for small businesses – A complete guide
Which social media metrics should a small business track?

There are 100+ social media metrics to track on different platforms. It can become increasingly difficult and confusing to understand, especially for independent business owners.
So, what parameters should your business prioritize? We run you through some important numbers depending on your social media goals:
Brand awareness metrics
Impressions
Impressions mean the number of times your content is seen on the platform. Greater impressions drive more brand awareness.
If aesthetics is a priority for your products, then impressions should be an important metric for you. Impressions tell you about your visibility on the platform.
Reach
Reach over social media indicates the number of unique accounts that saw your content. Impressions and reach go hand in hand, as it gives you an idea about how many people are re-visiting your posts.
For example, a post with 20 impressions and 10 reach would indicate that people see your posts twice on average.
Followers
Followers or subscribers is the count of accounts that have decided to continue receiving social media updates from social media account.
You should track followers every month to understand how your account is growing. An increase in follower count is often accompanied by better sales & more customers.

Amplification rate
It is the rate at which your followers take your content and share it through their networks—indicating the quality of your content.
A higher amplification rate indicates a better brand value of your content. It is ideal to track the Amplification rate every month. 

Content success
Likes or reactions
 Likes or reactions are the simplest means of engagement available to your followers. A higher number of reactions indicate more likeability of your content. Posts that get more likes are shown to more people on the platform.
Comments
Comments are a feature via which your audience can share their opinions on your content. If your business is in the online education, newsletters, or reading space, then comments are an important metric. When users comment regularly on your posts, it indicates a loyal following.
Shares
Shares show the number of times people have shared your post with their friends, family, and other networks. Shareable content is an important quality of a social media strategy.
Given that this is one of the most important metrics, businesses in the accessories, gifting, clothing, and fashion space cannot ignore it. It is due to the fact that people tend to discuss their shopping choices with their close ones.
Saves
Saves are perhaps the most important social media metrics when it comes to content. They are a unique Instagram feature—users get an option to save posts into different collections on the platform. It has a similar impact as shares, wherein users save these posts to come back later.
If your posts are getting a lot of saves, then your content is having a long-term impact. You should continue doing more of such posts.
Views
'View' is a Youtube-centric metric. It indicates the number of times a video was played by a user. Indeed, youtube is one of the best platforms to become popular with video content & you can grow your business here too. Better views give you more exposure. Hence, better sales. 
Engagement rate
This is probably the most important metric in terms of social media content. Generally, a higher engagement rate means your followers are loving your content.
The average engagement rate varies based on the platform & type of account. Therefore, It is important to track your engagement rate every month.
Engagement Rate= (Shares+Reactions+Saves+Comments / Total Impressions)*100

Virality rate
Virality rate helps with tracking the virality potential of your social media account. You may track this metric to check how viral your content is.
Virality Rate=  (Total shares/Total impressions)*100
Tracking conversions

Link clicks
If your social media content strategy revolves around leading people to a landing page or website, then you should track link clicks actively. It is a very useful metric if your business deals with events, online ticketing, bookings, or blog.
Website clicks 
This metric tells you the number of people clicking on the website mentioned in your "about" section. It is most important to link your social media to your online store. In fact, having an online store linked to your social media account helps customers shop instantly from you.
Click-through rate(CTR)
The Click-through rate is calculated to understand the effectiveness of your content in getting people to click on your posts. Not to mention, a growing CTR indicates improvement in the design & copy of your content.
Also Read: Top eCommerce metrics to track for business success
Where should you check these metrics?
You can access Insights on all social media websites. With this intention, you can also invest in social media analytics tools to understand your metrics.
We will also take you through various platforms and how you can access their insights + metrics.
Facebook
Facebook provides an in-depth analytics section on their Pages dashboard. Click on "Insights" on the left menu bar, to access this section.
Twitter
Twitter analytics helps you get metrics for each tweet along with overall numbers over any date range. It is available when you click the "More" option on the left-hand side of the website.
Youtube
You can use Youtube Studio to access Analytics for your videos. To illustrate, you can access this section on the left-hand side of your studio panel.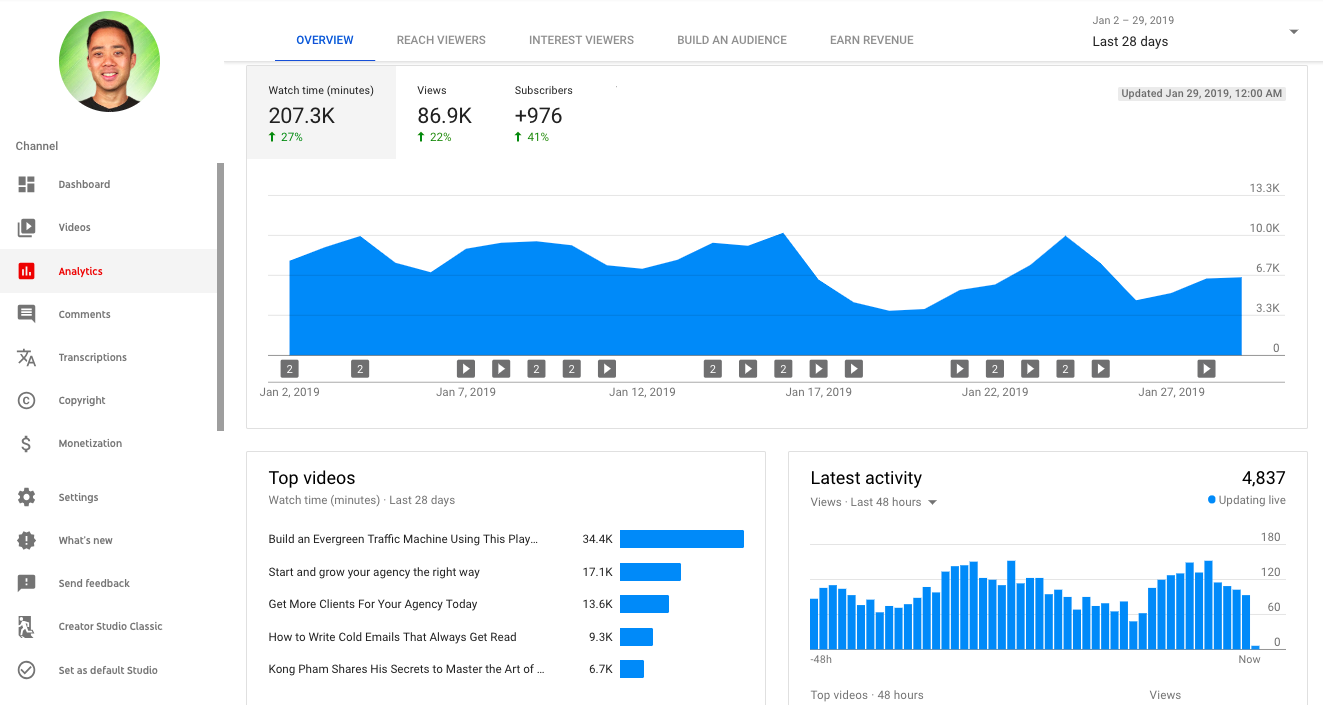 Instagram
Instagram provides insights at both a post & an account level. To understand how Instagram insights work, we put together a post for you here—
View this post on Instagram
Instagram is one of the most important social media platforms for a small business owner. Understanding the metrics of success on Instagram can help you choose the kind of content that works best for that platform.
Learn more about using Instagram to grow an impressive audience as a small business owner! Take our FREE course on mojoversity and gain a competitive edge.
Measuring social media success isn't that simple because there isn't a one-size-fits-all approach to it. This is why we suggest measuring a social media channel's success by the goals you've set for a specific campaign and not by just one metric.
Small online businesses should focus on both their online store and their social media marketing efforts.
If you are an entrepreneur who has a passion but does not know how to see it come to life, Instamojo is here to help.
Set up your own online store for FREE and enjoy all the integrated features that can help take your business from zero to a hundred.
---