(Last Updated On: August 22, 2023)
If you're wondering whether you can monetize the photographs you take, the answer is yes. You can sell photos online and bring in revenue. It's the perfect side hustle if you are well-versed in the technicalities of photography.
There are two ways to sell photos online: either through a platform that sells photos like Shutterstock or on your own eCommerce website. Either ways, there are a few technicalities you need to learn about. Both these options have competition you need to overcome and its own advantages.
In this detailed guide, we'll walk you through the top platforms you can sell photos and how you can start an eCommerce website to sell photos online.
What type of photos can you sell online?
Checkout the answer to what type of photos sell best with this section. Selling photos online is a low-cost business idea which you can start without many resources.
Also read: 10+ profitable part time business ideas: Turn your spare time into cash
Here are the types of photos that you can sell:
Nature and landscape photography

: Stunning landscapes, nature close-ups, wildlife, and scenic views are always in demand. These photos can be used for a range of purposes, from wall art to website backgrounds.

Portrait and lifestyle photography

: Photos of people in everyday life situations, as well as professional portraits, are sought after for marketing, advertising, and editorial purposes.

Food photography

: High-quality images of food and beverages are used by restaurants, food bloggers, cookbooks, and magazines.

Architecture and interiors

: Photos showcasing architecture, interior design, and urban landscapes can be used by real estate agents, architects, and interior designers.

Textures and patterns

: Close-up shots of textures, fabrics, materials, and patterns are useful for graphic designers and artists.

Science and technology photography

: Photos showcasing scientific experiments, laboratory equipment, and technological innovations can be used in educational and scientific contexts.

Pets and animals

: High-quality images of pets, animals, and wildlife are popular for pet-related websites, magazines, and social media.
How to earn money from photos? Earning money from photos can be a rewarding endeavour, whether you're a professional photographer or an enthusiast. Here are several ways to monetize your photos:
Sell Prints Online

Licensing for Commercial Use

Sell Digital Downloads

Photography Workshops and Classes

Event Photography

Portrait Photography

Real Estate Photography

Freelance Photography for Publications
Related read: Part-time business ideas
How to sell photos online: Everything you need to know
If you are looking the answer for ​​what is the best way to sell photographs, then this is the perfect segment for you.
Selling photos online can be a great way to monetize your photography skills and creativity. Here are the steps on how to sell photos online:
1. Create a portfolio
Start by curating a collection of your best photos. Organize them into categories or themes to make it easier for potential buyers to navigate your portfolio.
2. Choose a platform
There are several platforms where you can sell your photos. Some popular options include:
Stock photo websites

: Sites like Shutterstock, Adobe Stock, Getty Images, and iStock allow you to upload your photos and earn royalties when they are purchased.

Print-on-demand services

: Platforms like Redbubble, Society6, and Printful enable you to sell your photos as prints, canvases, clothing, and various other products.

Your own website

: Creating your own photography website gives you more control over branding and pricing. You can use platforms like WordPress, Wix, or Squarespace to set up your site.
3. Research and understand licensing
Depending on the platform, you'll need to understand different licensing models. Common licences include royalty-free (buyers pay once and can use the photo multiple times) and rights-managed (specific terms and usage restrictions).
4. Optimize your photos
Ensure your photos are of high quality and meet the platform's technical requirements. This includes resolution, format, and file size.
5. Write accurate descriptions and tags
When uploading your photos, provide clear and relevant descriptions, titles, and keywords. This will help potential buyers find your photos through search engines on the platform.
6. Set prices
Research the pricing of similar photos on the platform and set your prices competitively. Consider factors like the type of licence, usage, and your own skill level.
7. Market your work
Don't rely solely on the platform's traffic. Promote your photos on social media, your personal website or blog, and photography communities. Building a strong online presence can help attract potential buyers.
8. Engage with the community
Many online platforms have active communities where photographers can connect, learn, and share tips. Participate in discussions, offer feedback, and learn from others' experiences.
9. Be patient and persistent
Selling photos online can take time, especially in the beginning. Stay patient and continue uploading new content regularly to attract a wider audience.
10. Track your performance
Most platforms provide analytics to help you track your sales and understand which types of photos are more popular. Use this data to refine your strategy.
11. Stay legal
Ensure you have the necessary rights to sell the photos you upload. If you're photographing people or private property, be aware of model and property release requirements.
12. Continuous learning and improvement
Keep honing your photography skills and stay up-to-date with industry trends. The more you learn and improve, the more appealing your photos will be to potential buyers.
Online photo selling websites
The easiest way to sell your photos online is by licensing them. You can sell them on a website or platform that sells downloadable stock images. Think how your photos will be useful to others. The most popular stock images are the ones that feature humans, pet animals, and seasons.
Here are the top stock photo websites to sell photos online:
1. Shutterstock
Shutterstock is a leading stock images site where photographers can contribute their images for a commission. The website has millions of visitors every month, making it a great place to gain exposure for your photographs.
You can sign up on Shutterstock for free as a contributor and start adding your photos for sale. Your work can be licensed by a global network of customers. 
Before signing up, go through the basic guidelines and terms and conditions. Once you submit the photos, the reviewing team will evaluate your submission against a number of technical requirements. 
Once your photos are live on the site, customers can discover and download your work for their projects.
As a contributor, you will earn a percentage of the price customers pay for that licence. This amount varies, but usually ranges between 30 and 50 per cent. 
Once you earn at least $35 from your work, Shutterstock will issue your payments on a monthly basis.
2. iStock
Another website where you can sell your photos online is iStock photo. It's a micro-stock offshoot site of Getty Images. 
The major difference between the two is that the photographs you contribute to iStock are non-exclusive. This means that you can sell the same photographs to other agencies or on your own website.
However, the commissions are relatively lower. It ranges from 15% to 45% depending on exclusivity. If your photos are in the Signature collection, you can get a commission of up to 45%.
iStock is a great place to get started as a contributor and understand the technicalities of selling photos online via an agency.
3. Getty Images
Getty Images is a stock photography site that attracts high-end brands and publishers who are looking for high-quality, exclusive images to license. This means that the pay scale will be higher, so will be the barrier to entry.
As a contributor, you earn anywhere between a 15 and 45% commission. Getty Image customers pay premium amounts for photos. So, your commission will be higher here as compared to other low-end sites.
If you have excellent technical and composition skills and the photographs you take are strong conceptual, artistic commercial images, this is the place for you.
4. Adobe Stock
Integrated seamlessly with Adobe Creative Cloud, Adobe Stock provides a streamlined platform for creatives to access and licence an array of high-quality photos, illustrations, and videos directly within their design workflows. 
This platform simplifies the process of finding and utilizing compelling visuals, enhancing the efficiency and convenience of creative projects. Adobe Stock's tight integration with Adobe's suite of tools makes it a valuable asset for designers and artists.
5. Dreamstime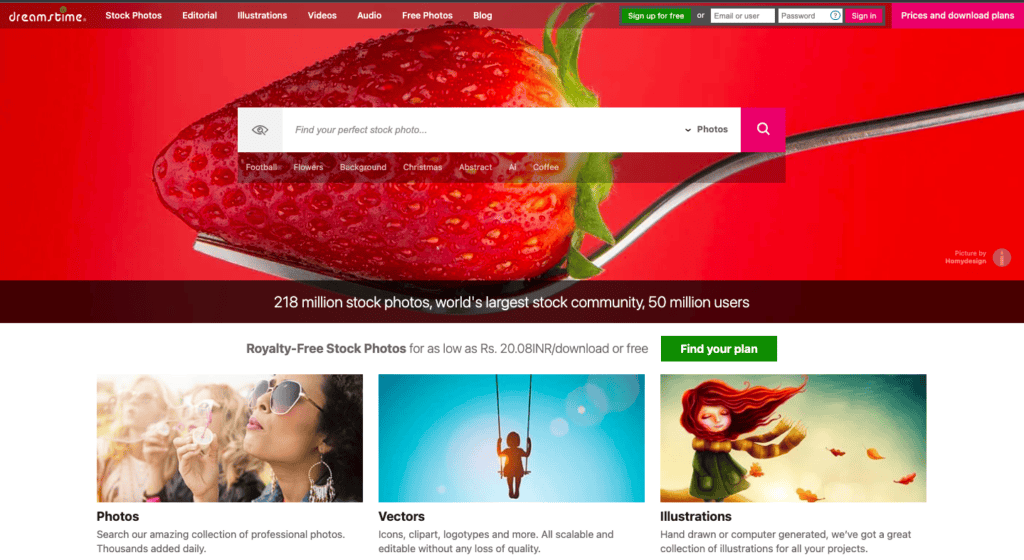 Dreamstime is recognized for its user-centric approach, catering to photographers and designers looking to display and market their creative endeavours. Its intuitive interface makes it easy for contributors to upload and sell their photos, illustrations, and videos. 
As a result, Dreamstime continuously enriches its vast library with compelling visual content, ensuring an ever-growing selection that addresses the diverse needs of its global clientele.
6. Sell photos on your eCommerce site
Once you decide on a niche and know what audience you're targeting, you need to have an online portfolio to start selling.
The easiest way to get customers online to buy your photos is by starting your own eCommerce website with a store builder platform like Instamojo. 
You can start adding your photos on it as digital products, customise the store, and add product descriptions. Here's a video to get you started.
Related read: How to sell digital products in India: The complete guide
This eCommerce website can act as both your portfolio and a shop where interested buyers can make a purchase. You can use social media to promote your store.
You can also sell photography courses on your online store. For example, Creativepadmedia sells workshops and ebooks on photography on their Instamojo free online store:
7. Sell photos: As physical products on online store
Another option is to sell your photos as physical products such as prints, photo albums, and home decor items.
To get your products ready, you can print out your photos with a local photo lab or partner with a print-on-demand service like Printo. You can order samples first to make sure that the quality matches your expectations.
Although you won't get as much profit margin when selling photos digitally, you can adjust your costs and make a good enough profit.
For better understanding, you can also refer to this video talking about the best way to sell physical products online:
8. Sell photography: As a service
Service businesses can be started without much upfront investment. With the skill and technology, you can get clients easily. Are you a professional photographer who wants to get gigs? 
You can easily find your next client online for photography sessions. Whether you're an event photographer or fashion photographer, you can reach your target audience with eCommerce.
The best way to sell your photography services online is to create a landing page where you showcase your services along with your portfolio and let clients book slots. 
Instamojo has a free landing page builder which you can use to create your own one-page website to sell your photography services.
Start selling photos online today
Selling photos can be a niche industry. But there are a lot of opportunities that can give you high returns. Whether it is an online store for your photo prints, landing pages for your photography services or eCommerce website for digital photo assets – Instamojo will be the simplest option for you to start.
Create an account for absolutely zero rupees. You can choose from online stores, landing pages or payment links – all in one dashboard.