(Last Updated On: May 19, 2023)
Heard about revenge travel? Now gear up for revenge shopping! Reports predict a 30% increase in post-pandemic online demand during the festivals.
The Bangalore-based Red-Seer Strategy Consultants are expecting online sales to touch $11.8 billion, whereas the first week of festivities is estimated to reach $5.9 billion. This shows a 3x growth compared to 2018. 
Here are 4 things your eCommerce business should know –  
How to prepare your online store for the festive season 
The months of October, November and December are crucial for offline and online retailers.
Now that shoppers have the option of going to shops and physically checking out the product before buying it online and vice versa, every single retailer needs to be on their toes. 
As an eCommerce business owner, the advantage is you are not limited to seeing an increase in demand from just your own locality. So if you want to take advantage of the rising festive demand, you need to ensure your online store is ready for the rush. 
Rising competition and the need for convenience and speed will mean your customer needs to feel like a priority at every possible moment.
Download this checklist to see higher online festival sales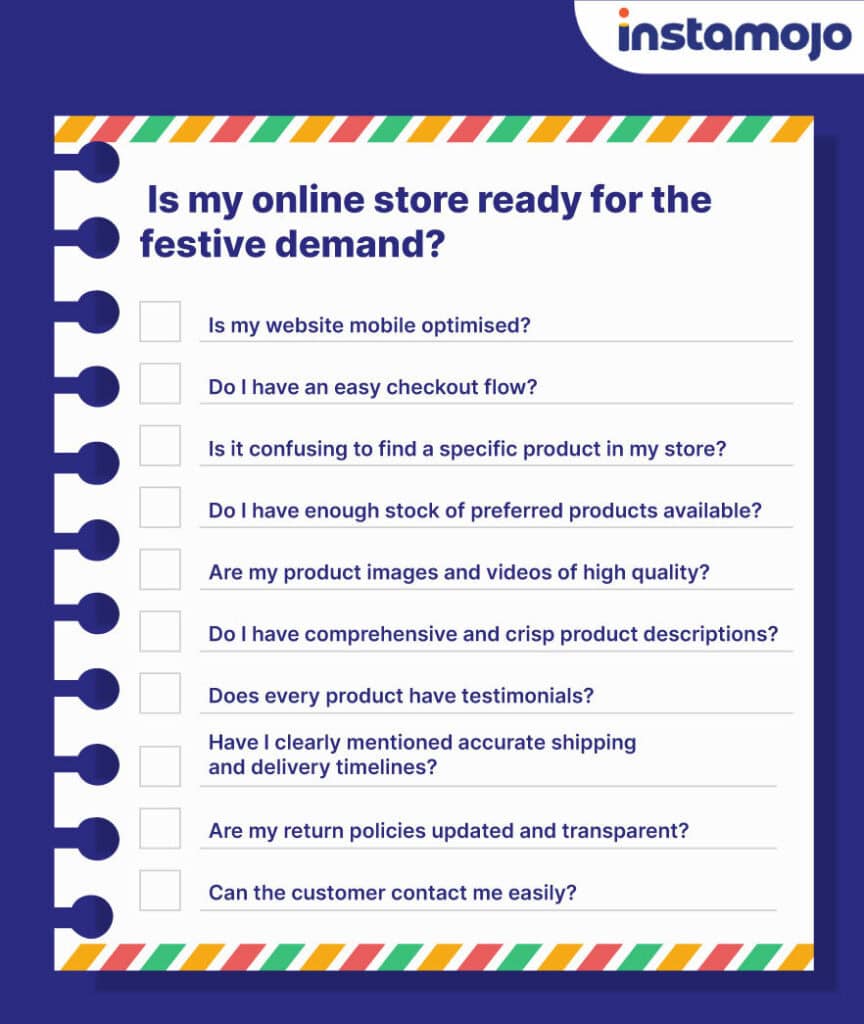 If you have checked out all of these, now is the time to prepare the back end of your business.
Hacks to control the chaos in advance 
Here are 3 ways you can ensure you see profits during the festive season: 
Offer discounts
Customers during this time don't need much convincing to buy. Convert those impulse shoppers by offering lucrative and attractive discounts and deals. Here's our guide on how to offer the best festive discount sales and prepare your online business accordingly. 
Take care of shipping
For online businesses, shorter delivery times are desirable. Ensure you have chosen effective and trustworthy shipping services. Prepare in advance by discussing the necessary details with them.
If necessary, tweak the shipping and delivery timelines on your website to ensure you met the consumer's expectations. 
Am up marketing efforts 
What if you do all of this work, but then the customers don't even know about it?  It's a waste, right? Let's fix that.
Focus at least 60% of your efforts on just marketing your online business this festive season. 
Be more active and consistent on your social media

Send out email marketing campaigns

Try out ads on Facebook and Google

Amp up your referral marketing
If you want to know more about this in-depth, take our FREE marketing course curated by the Udhyam Learning Foundation. 
Know where your customers are coming from
The Red Seer Consultants report also predicted that there will be an increase in online shoppers from Tier 2 cities from 42% to 60%. Other reports also say, demand would be higher from urban Indians in North and Central India and Durga Puja will push up demand in Eastern India. 
"We are forecasting 4x growth in the number of online shoppers from 2018. This growth has been driven by accelerated digital adoption and increasing penetration in Tier 2+ cities. We expect this expanded customer base to reflect in higher sales during the festive sales period as well," Sanjay Kothari, Redseer Strategy Consultants
Taking advantage of analytics can give you more information about your customers. Track your business data with the help of Google analytics.
On Instamojo, your online store comes integrated with analytics to give you a deeper insight into consumer behaviour so that you can make informed choices. 
eCommerce categories that will see higher festive demand
The festive season sees celebrations and gifting in every nook and corner of the country. People wear new clothes, indulge in gifting and participate in acts of worship to devotees.
This is why the following categories see relatively higher traction of consumers during the festive season that will start end of September. We have also given some resources for each.
Fashion 
Home Accessories
Beauty & personal care
Fresh flowers and dry fruits 
Try the Instamojo experience. With an in-built order management system, customer relationship manager, discount, email and SMS campaigns and integrated analytics – handling the festival rush is going to be efffortless.
---