(Last Updated On: May 25, 2023)
Read about the experiences, challenges, and advice on starting a home decor business from the founder of TheUpperRoom.
Sharon Isaiah, a textile designer by profession, had a great love for colours and patterns. Working as a freelance designer, she was determined to do more on her passion. In 2016, Sharon started selling home textile products, which she stocked at the upper room of her home in Ooty. Thus, she named her business TheUpperRoom. Her small shop sold home linen such as curtains, table clothes, and bed sheets.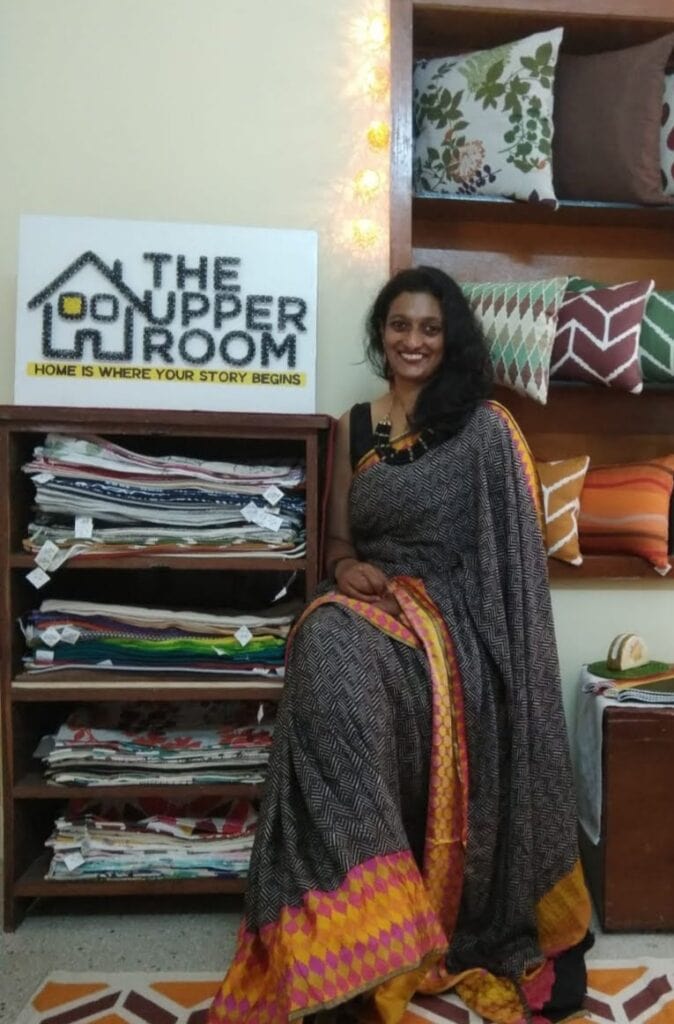 TheUpperRoom home decor brand crossed several milestones over the years — a brick and mortar store in 2017 at Coimbatore and an eCommerce store in 2020.
We got in touch with Sharon to know more about her story and how she built a brand online.
6 business lessons from TheUpperRoom on starting a home decor store online
Starting a home decor business online has many challenges — from sourcing products and setting up a store to shipping and logistics. Here are 6 advices from the founder of TheUpperRoom.
Find a gap in the market before deciding your niche
Choosing a niche is important for starting any kind of business. And the best way to decide on a niche is by analysing the market. The home decor market is filled with mass produced textile products made of synthetic fibres. Sharon discovered that home textile products with unique patterns are scarce. She decided to fill this gap in the market.
"Cotton is the best material for home textiles — in terms of comfort and sustainability. And there are very few brands that sells home linen with gorgeous designs. That's where I decided to focus my business"
TheUpperRoom became a brand that sells cotton home textile items with beautiful patterns and textures.
Set business goals – even small ones
Setting goals is an important part for a business. They should be measurable and scalable. Having solid business goals will ensure that your business grows and you put in the effort to bring it heights.
"After the humble beginning of TheUpperRoom, my next goal was to start a physical store in a city. Once I achieved this, my next goal was to reach more people, which lead me to start my online store."
It's common for your sales and leads to remain stagnant, especially for an online business. That's why it's essential to set goals and work towards it. Setting ambitious business goals can be scary, but once you start working towards them and using your creativity to scale, you'll see wonders happening.
Find a larger cause for your business
If your brand serves a greater cause, it will make your business stronger. Setting goals for a larger purpose and striving for it will make you a more responsible entrepreneur and your customers more proud to buy from you.
Once your brand is able to set a higher vision which tugs at the emotional strings of customers, you're more likely to prosper.
Social media is more important than you think!
Social media can be a game-changer for your business if you use it the right way. It has the power to not just bring you customers, but also people who will admire your brand and advocate for it. You can build a strong relationship with your customers.
View this post on Instagram
"Instagram is the easiest way to find customers. If you're a small business with a physical store, and want to expand your business beyond your home town, social media is the place to start. I would recommend any kind of business to get active on Instagram as soon as they can."
Take the next steps to scale your business
As a small business owner, it's crucial to understand when it's time to take the next steps and scale it. In this decade, the best way to reach a wider customer base, increase sales, and grow your brand is by starting an online store.
"Selling on Instagram was working out well at the beginning. But once orders started pouring in, collecting payments manually and answering customer queries became inefficient. That's when I decided to create an online store. Instamojo offers the chance to have a free store, which I tried out. Later, I upgraded to the premium store version, which gave me a whole bunch of new features."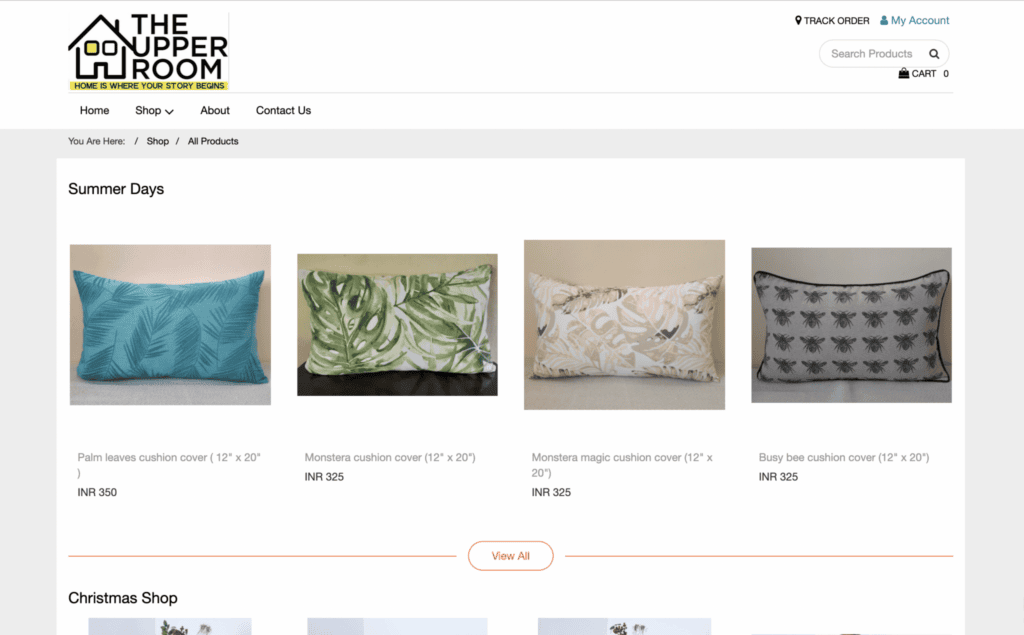 Sharon's small home decor business transformed into a full-fledged eCommerce business once she got her own online store.
Though she started this to solve the problem of collecting payments effectively, it solved a set of other problems as well. Managing customers and answering queries became a lot more easier.
TheUpperRoom eCommerce website displayed all the unique home textile products in a theme that suited her brand.
Learn to manage your time
As an online business owner, you may not have the luxury of weekends or leisure time. Orders may come up late at night and you might spend whatever time you have packing orders and setting up your products. Therefore it's necessary to learn time management and not let your business negatively impact your personal life.
Sharon says that once her business became regular, she found ways to effectively manage her business. One way was hiring her first employee to help out with business tasks.
Also, an online store took away a lot of burden off her hands and made the process smoother. Since all business activities can be managed from a single dashboard, much of the tasks were simplified.
Start your own home decor store
As you may have understood from Sharon's story, setting up a business online has many challenges to overcome. But, the benefits are equally sweet. If you have dreamed of becoming your own boss and creating a steady stream of income, take the first step and sign for your free online store. In just a click, you can see your dream manifesting into reality!
---