(Last Updated On: March 30, 2022)
Times are tough and businesses are filing for bankruptcy more than ever. If your business is going through a difficult time and is unable to pay back debts, then you might need to file for bankruptcy.
However, the Insolvency and Bankruptcy Board of India (IBBI) is working on restructuring the current Insolvency and Bankruptcy Code (IBC) to help MSMEs with COVID related debt and business failure.
What the New Bankruptcy Policy Means for business
Due to the COVID crisis, the IBBI had already eased rules on the Insolvency and Bankruptcy Code in May. The new amendments to the bankruptcy code further focus on:
A pre-package restructuring plan between the company and its creditors. The 'insolvency resolution plan' plans to stop businesses from going bankrupt with stronger regulations.
All debts caused by COVID-19 will be exempted by the Government and the lending institutions for up to 1 year.
The new bankruptcy policy also seeks to prevent companies from being pushed into insolvency proceedings due to their inability to pay back debts.
Bankruptcy in India – an overview
The bankruptcy codes in India are governed by two acts:
The Presidency Towns Insolvency Act, 1909 ( for those living in Chennai, Mumbai or Kolkata)
The Provincial Insolvency Act, 1920.
The New Insolvency and Bankruptcy Code also aims to bring both acts under one roof and amend it.
The Government accepts or rejects your application for insolvency within 180 days.
You can file for bankruptcy only if you are unable to repay a debt greater than ₹500.
The court appoints a 'receiver; who works on seizing property and assets owned by the business. Once your application is accepted, the assets are distributed to creditors based on an arrangement.
The business is officially then, discharged by bankruptcy and you will no longer be hounded by creditors.
The image below explains, in brief, the insolvency process for any business in India under the Provincial Insolvency Act.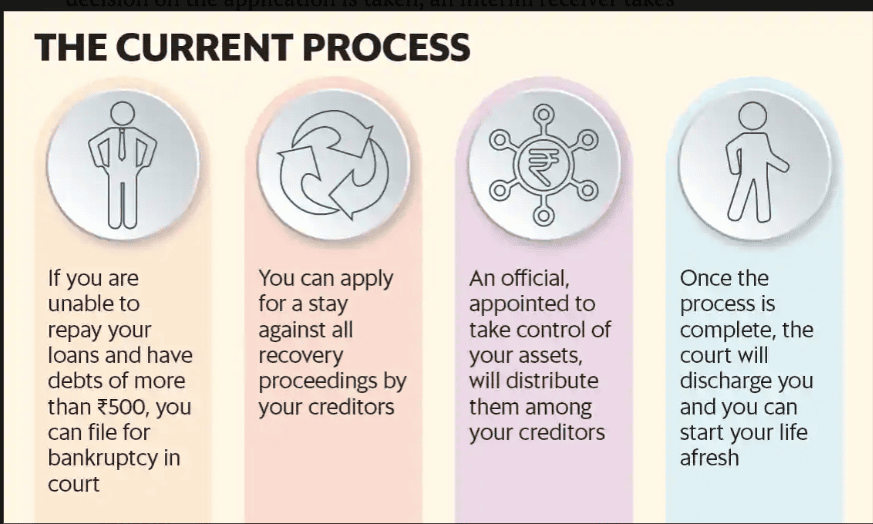 To prevent insolvency proceedings, Finance Minister Nirmala Sitharaman also raised the default threshold from ₹ 1 lakh to ₹1 crore under section 4 of IBC.
3 Things to Do If Your Business is Running Bankrupt
Did you know that over 96% of businesses fail in the first year because they do not pay their creditors on time? If you feel your business is struggling to pay the debt, then you need to cut your losses and make a few tough decisions. Most importantly, do not panic.
Get a lawyer and CA to help you
You must be wondering why must you spend more money on a lawyer or a Chartered Accountant when your business is already suffering! However, this is the right choice. Know what you are up against, and do not cheat your way out.
A lawyer can help you with the legal process before your creditors file a case. Your chartered accountant can help you process your book of accounts to help you plan your next course of action.
Know your assets
Do not invest in too much 'physical assets' like real estate, gold and jewellery. These are the toughest to sell and suffer the most in an economic crisis.
Instead, we recommend you focus on your business cash flow. If there is money coming in and going out steadily, at least there is a balance, and you can continue the business.
If you are looking to know a little more about managing cash flow, this guide can help.
In a worst-case scenario, tough times call for tough decisions. Yes, a vulture capitalist sounds terrible, but they are venture capitalists who look for distressed businesses and revive it.
This way, you can sell your business instead of declaring bankruptcy. You can use the money to start afresh without having to go through an insolvency proceeding.
Tip: This is a high-risk decision too, and must be undertaken only with trusted sources.
Most importantly, take care of your business finances. Look for small short term loans to revive your business quickly. On Instamojo, you can check out mojoCapital. Taking a loan is not a scary affair when you are in debt, all you need to know is how to manage your business, in a crisis.
---