(Last Updated On: May 30, 2023)
If you are looking for new clients at this time, we have one for you – the Government. You can sell on the Government e-marketplace (GeM) as a supplier because the government is looking for businesses to manage their supplies.
What is the Government e-marketplace?
The Government e-Marketplace (GeM) is a one-stop online platform that helps facilitate the online procurement of common-used goods & services. 
The difference? These products are exclusively required by various Government Departments/Organizations/ PSUs.
There are over 40 lakh sellers on the platform now. In April 2022, they achieved a milestone by crossing total product value worth ₹1 Trillion in a single year. 
The financial express has reported that the portal is also near the 1-crore-order mark with 98.97 lakh orders processed as of April 10, 2022.
GeM for MSMEs 
GeM is an ideal platform for small businesses to secure their sales. It also helps enhance transparency, efficiency and speed in public procurement. At a time when logistics services have taken a hit, listing your business on the GeM platform could help you cover your expenses.
This B2B eCommerce platform by the Government has risen to help MSMEs sell directly to the Government. Over 7 lakh are micro and small sellers with a 56% share in order value.
How it works:  It provides tools for e-bidding, reverse e-auctions, and demand aggregation to help state and centre-run departments get the best value for their money.
The purchases through Government e-Marketplace (GeM) are authorised and made mandatory by the Ministry of Finance.
Government e-Marketplace 4.0 – Upgraded in 2021
The government announced the upgraded version of the GeM in 2021 which is the latest version to date.
The latest version – GeM 4.0 has new features that are quite advanced with better functionality.
Introducing the GeM 4.0 edition: 
Buyers can place multiple orders for the same product for different consignees
Buyers can place a single order for quantities delivered over a period of time
This helps with bulk procurement and flexibility of deliveries

 

The new website comes with a better UI/UX design

 

Better payment processing and integration with banks and ERPs

 

Clean and better categorization of products

 
The new GeM portal is now empowering MSMEs to upgrade their businesses on the platform.
Benefits of selling on GeM:
If you sell on the Government e-marketplace, you get:
Direct access to Government Departments and PSUs network
You can sell anywhere in India
Get automated notifications for the bidding participation in your category
Consistent purchase procedures
Here is a breakdown of all the benefits of selling as well as buying from GeM as stated on india.gov.in.

Want quick actionable business insights right in your inbox? Subscribe to our newsletter.
3 Products to Sell on the Government e-marketplace 
Here is a snapshot of all the things that are currently popular on the GeM website.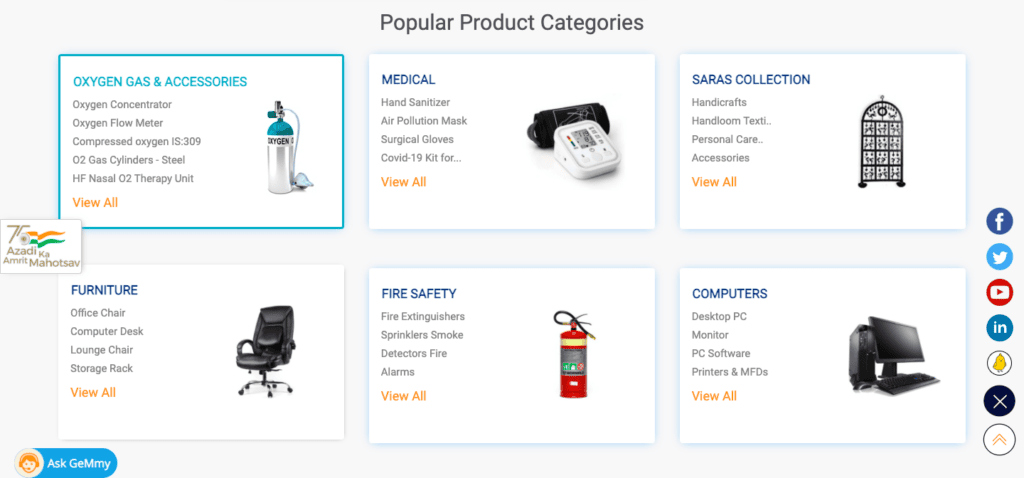 1. Medical Supplies:
Owing to the coronavirus (Covid-19) pandemic, the Ministry of MSMEs reached out to those engaged in making medical supplies such as:
Ventilators
Alcohol-based hand rub
Face Shield (eye, nose and mouth protector)
N95 masks
2. Handmade products:
In an attempt to raise awareness and support rural artisans, the Government of India wants Indian artisans to sell on the GeM. Here are some of the products that are popular on the platform:
Handicrafts
Handloom textiles
Office decor and furnishings
Conference accessories
Event souvenirs
Personal hygiene and care products
Related read: How to sell handmade products online in India: The ultimate guide
3. Furniture:
Whilst the Government is in dire need of medical supplies, you can also sell furniture. These are slow consumption products and are usually priced higher. Not to mention, these are quite high in demand especially in Government offices.
Office Chairs
Computer Desk
Lounge Chair
Storage Rack
Services that are popular on the GeM
If you own a service based business, don't worry there is a place for you on the GeM as well. There are multiple popular categories for service businesses like:
Security manpower
Catering
Human resources
Cloud services
Vehicle hiring
If you have a service business, but don't know how to market it to your audience. Try Instamojo Smart Pages – the simplest landing page builder for your business needs.
Instamojo eCommerce for small businesses
If you do not have the products or services to sell on the Government e-marketplace, you can still sell online! The Instamojo eCommerce website builder allows you to set up your own independent website and integrate payments, shipping, and more.
Start your online business set up with this simple and easy tutorial –
---