(Last Updated On: January 24, 2023)
Are you a small business looking for capital to boost your business or start one? While several private banks offer MSME loans, you could consider taking a look at these small business loans by the Government of India.
Types of small business loans
Broadly, there are three categories of business loans you borrow into. These loans are specific to what your business currently needs. You can also choose based on the stage of business that you're in.
Working capital loan:
Working capital is your business's daily operational cash flow. It is money you need to meet your day-to-day business expenses.
All your operational costs come under working capital and some loans are crafted to suit your working capital needs alone. The loans are offered typically for a 12-month tenure and have an interest rate of 12%-16%. These can be either secured or unsecured.
Read: 5 Working Capital Problems Nobody Told You About
Corporate term loan:
If you want to make investments in specific business areas or have an ongoing need for working capital, you can apply for a corporate term loan.
Therefore, if you are starting up, you may want to look at term loans/funding. These are large sums of money borrowed from banks or financial institutions that are expected to be repaid over a longer time.
These loans are secured (company assets) and have a longer tenure and the interest rate is negotiable. They can be converted into equity options and also have tax benefits. 
Line of credit:
Line of Credit is an ideal small business loan for those who need financial aid at regular intervals.
With a Line of Credit, the business can apply for a loan amount without taking the entire amount in one shot. This loan has credit lines from which the business can draw funds at any time, without going through an application process.
This can be secured or unsecured.
Related read: Where can you apply for a loan of up to INR 50 Lakh? 
5 small business loans by the Government
The Government mentioned accommodating MSMEs as their core priority in Finance Minister Nirmala Sitharamans' MSME budget speech 2020 recently. To facilitate this, the Government partnered with financial institutions and banks to help MSMEs get better credit.
If you are planning on starting something of your own and require money, you can consider one of these small business loans schemes offered by the government of India.
1. The Credit Guarantee Fund Scheme for Micro and Small Enterprises (CGS)
One of the biggest challenges faced by MSMEs is with regard to quick access to credit. The Credit Guarantee Fund Scheme is run by the Government of India, in collaboration with SIDBI (Small Industries Development Bank of India).
The purpose of this loan is served in various aspects but it is mostly focusing on giving loans to unsecured loans to businesses. The scheme permits the loans upto Rs.200 Lakh in either term or working capital loans as per the eligibility criteria given to the businesses.
2. The MUDRA Loan Scheme
MUDRA stands for Micro Units Development and Refinance Agency Ltd. It is an agency launched by the Government of India to facilitate corporate term loans to entrepreneurs. Take a look at the Mudra Loan Scheme features in this table below: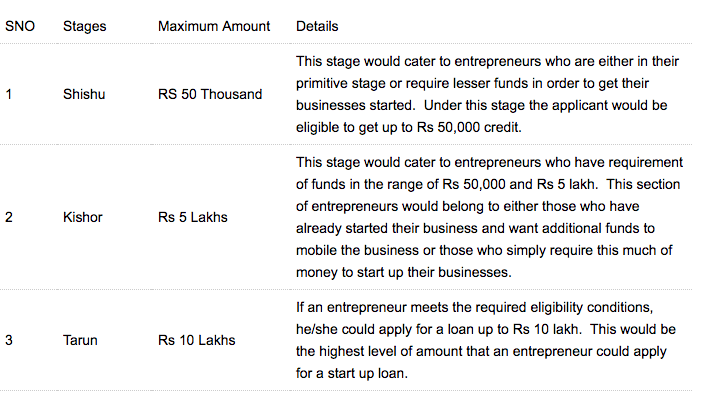 Source; Mudra org/offerings
3. Stand Up India Scheme
The Stand Up India Loan Scheme for Women is a special small business loan scheme started by the Government to financially empower SC/ST and women entrepreneurs. You can borrow between ₹10 lakh and ₹1 cr. to start a manufacturing, trading or service unit, which is to be repaid in 7 years.
85% for the project cost include term loan and working capital.
The interest given on the loan is 3%.
4. National Small Industries Corporation Subsidy
The loan aims Micro, Small and medium entrepreneurs in India by encouraging, assisting and helping to bring in growth to the business catering to various sectors.
This loan for small businesses is a subsidy Government loan that offers two main benefits:
Meeting raw material requirements
Marketing assistance
This govt loan for business provides access to indigenous and imported raw materials as well as funds to improve the market value of products. NSIC is primarily focused on funding small and medium enterprises that wish to work towards their long-term growth.
5. Credit Link Capital Subsidy Scheme
What NSIC provides in terms of raw materials and marketing, the credit link capital subsidy scheme does with technological upgradations.
The benefit is the MSMEs should have UAM number
Under this loan scheme, the Government hopes to help MSMEs reduce production cost. Under this scheme, you can get an upfront 15% capital subsidy for your business. The maximum amount of subsidy is ₹1 cr.
Related read: 7 Best Government schemes for women entrepreneurs in India
Loans are not a bad idea, but you have to pick right! Luckily, we have a free ebook that can help you pick the right funds for your small business.
This ebook answers all your basic questions on small business funding.
1. Why does a small business require a loan?
2. What to consider when taking a small business loan?
3. How are small business loans different?
4. Where to apply for a loan? and more!
Download the free ebook to get all your small business loan queries answered.
---