(Last Updated On: October 27, 2023)
Did you know that WhatsApp marketing is an effective way to get your audience to not just buy, but talk about your business? So why not let's have a look at WhatsApp marketing strategy and tips for better outcomes?
The world has come a long way from using WhatsApp just for texting.  Small businesses are making the smart switch to messenger apps to sell their products.
However, when it comes to marketing products, people still stick to conventional social media apps like Facebook, Twitter, and Instagram.
Let's get started!
Why should small businesses use WhatsApp marketing?
For starters, it is Free.
And, over 175 million people message a business account every day, according to Meta.
WhatsApp is the most popular global mobile messenger app worldwide with more than 2 billion monthly active users, outranking Facebook Messenger.
Secondly, WhatsApp has proven itself to be an efficient survey tool. Small businesses can carry out polls for their products on WhatsApp group chats and get almost immediate feedback.
let's see some reasons that defines why WhatsApp business is great for marketing.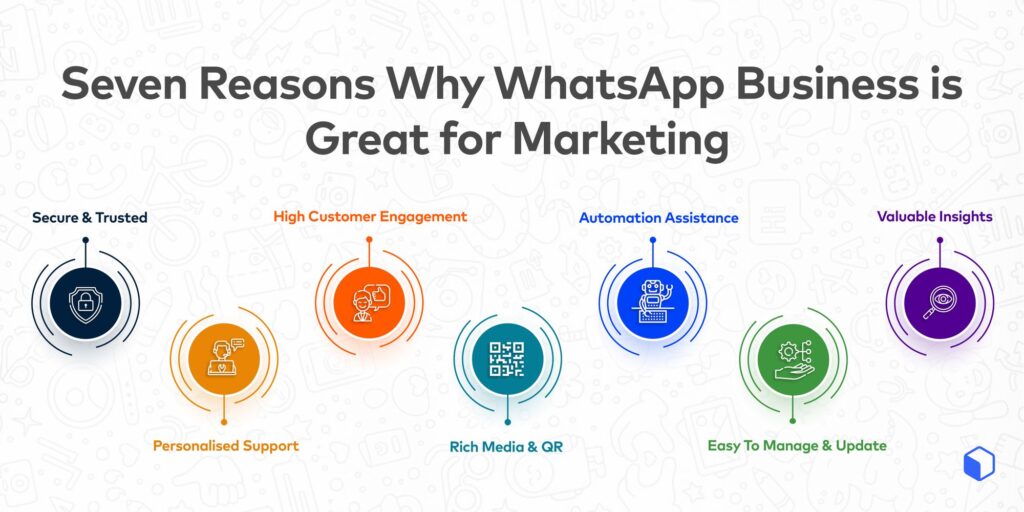 WhatsApp allows businesses to carry out direct consultations and focus group studies. Brands can also send out alerts on WhatsApp using the Broadcast messaging option about new events and sales.
When you have a loyal customer base on WhatsApp, they talk about your upcoming events, sales, and products.
According to Cooby, the majority of small and medium-sized businesses (SMBs) in India see WhatsApp as a valuable marketing channel that can assist them in expanding their operations, with 80% expressing this belief.
WhatsApp has over 70% opening rate, which means, your user base will immediately open WhatsApp to view a message from you and your business. Over 90% of messages get opened within three seconds of being received.
Small businesses with a niche audience should use WhatsApp marketing to chat with their customers.  Over 256 members can be added to your WhatsApp group, so it is a good way to talk to your base.
Also, WhatsApp marketing supports multimedia content so you can share videos, brochures, links, catalogues, audios, and any kind of business-related information by WhatsApp. It also provides real-time direct communications with your customers, employees or audiences.
What is the success rate of WhatsApp marketing?
Here's a cool fact: WhatsApp has a higher conversion rate compared to traditional marketing channels like SMS and email. Messages sent through WhatsApp have a whopping 98% open rate, and people typically respond in just 90 seconds. So, it's a powerful tool when used right!"
When it comes to WhatsApp marketing success, there's no one-size-fits-all formula, but a few things can make a big difference.
Relevance of audience: First off, it's essential to have the right audience. People who've willingly signed up to receive your messages are more likely to engage with them.
Content quality and consistency: The content you send matters a lot. Good stuff, whether it's informative or entertaining, is key. Plus, you've got to be consistent. Regular updates help keep people interested.
Timing: Knowing the best times to send messages can also impact your success. It's all about reaching your audience when they're most active and receptive.
Measurement and optimisation: Don't forget to keep an eye on your performance metrics and tweak your WhatsApp marketing strategy accordingly. Staying compliant with WhatsApp's rules is a must to avoid any issues.
Customer engagement: Engaging with your customers and providing top-notch customer service through WhatsApp can boost satisfaction and your success rate. Always respect your customers' privacy and let them control their subscription.
User base: The size and composition of your WhatsApp user base also play a role. Bigger audiences offer more reach, but they can be a handful to manage.
Marketing strategies for WhatsApp Marketing
WhatsApp marketing strategy is simple. It boils down to just interacting and engaging with your customers.
1. Build a visual brand on WhatsApp
Build a brand persona on WhatsApp. This means getting down to the basics like:
Uploading a profile picture that would draw attention and encourage the audience to engage with your brand.
Announcing your brand USP or new offers and promotions in the About me section of your WhatsApp.
Besides this, you can also run campaigns on WhatsApp within your WhatsApp groups to keep customers engaged. As a small business, you can get your customers to send images of them using your products. In return, you can offer special discount offers and later acquire relevant contacts and grow your business.
Creating an effective brand persona for your small businesses allows your customers to pick you first when they think of buying a product or service.
2. Real-time customer service
Carrying out brand follow-ups on WhatsApp instead of direct phone calls will get you 40% more responses. Get one-on-one with customers about anything new you are going to launch with your brand.
When your small business offers personalized support, your customer will feel more attached to your brand, more so than if you send a formal one.
You are more expected to get consumer engagement if the support you give to customers is prompt and competent. Customers want to feel like their responses are taken seriously, on a preference basis.
3. Don't just sell, advice.
There's more to marketing besides promoting and selling your brand. You also want to show your customers just how well you know the business too. Allow customers to contact you privately to discuss anything about the products you sell.
For example, if your small business sells homemade pickles, you can offer them advice on making pickles based on seasons. Share recipes, tips, and new events happening in the city that are similar to what your product offers.
Also read: Are Whatsapp Payments Safe to Transfer Money? 
4. Leverage your WhatsApp marketing tools wisely
In a bid to boost small businesses to use their app, WhatsApp created WhatsApp for Business, a free-to-download business app that makes it easier for your business to connect with customers.
The app is equipped to help customers build a business profile. You can save time with smart messaging tools that allow you to reply quickly to FAQs, new greetings, and messages for when you are out of office.
Among these, you can also use the WhatsApp business app to analyse Messaging Statistics, wherein you can review simple metrics like the number of messages read to see if your content is reaching.
Also, with the app, customers can know they're talking to a business because you will be listed as a Business Account.
Other tools include the WhatsApp Bulk sender. This sends over 256 messages in one go, comes with a personalised inbox, and supports all kinds of Multimedia formats.
Sounds simple, right? If you have not started selling on WhatsApp yet, do not worry.  Check out how this guide on how to sell on WhatsApp.
You can also sell directly on WhatsApp with Instamojo. You can let anybody pay you on WhatsApp by sharing your payment link.
WhatsApp marketing tips
After looking at the WhatsApp marketing strategy why not let get some knowledge on the whatsapp marketing tips and also learn how to do whatsapp marketing for free. WhatsApp marketing tips to help you effectively promote your business or connect with your audience on the platform
Create a professional profile: First thing is make sure your WhatsApp business profile looks pro. You know, with your logo, contact info, and all that. It's all about trust.
Chat with your customers: Be there for your customers. If they have questions or need help, respond quickly. Good service can make them stick around.
Use WhatsApp status: Don't forget about WhatsApp Status. It's like a mini-advertising board. Use it for special promos or to give a sneak peek behind the scenes. People love that.
Share exclusive deals: Want to make your subscribers feel extra special? Offer them exclusive discounts or promotions. They'll appreciate it, and you'll see more engagement.
Analyse your efforts: Keep an eye on the stats. WhatsApp Business has tools to help you track how your messages are doing. Use that data to make your strategy even better.
WhatsApp marketing and Instamojo online store
Imagine taking your business to the next level with a winning combo: WhatsApp Marketing and an Instamojo online store. It's like having a direct line to your customers where you can chat, share updates, and offer amazing deals—all through WhatsApp. But that's just half the story.
When you team up WhatsApp with Instamojo, it's like giving your business a turbo boost. You can easily set up an online store, showcase your products, and smoothly handle payments. It's all about making your business more accessible and open for business 24/7.
This duo is like having a personal assistant for your business, helping you connect with customers and manage your online store hassle-free. So why wait? Start your WhatsApp marketing and Instamojo journey today to make your business more engaging and profitable!