(Last Updated On: December 8, 2021)
From handmade greeting cards to sustainable jewellery from clothes, MojoStore merchants are killing it with their products! You will find many amazing stores on Instamojo platform that sell handicrafts. And, it's hard to choose just a few out of them.
In this week's spotlight story, we are featuring some of the best handmade products and crafts online store on Instamojo.
Best Art and Crafts Store on Instamojo
Here are 5 eCommerce stores on Instamojo that sell uniquely crafted gift products, jewellery, and other handcrafted goods. So, let's dive in!
ThePaintBrushybyRika – Watercolour art store
Founded by a passionate watercolour artist, this premium online store is full of beautiful paintings — of landscapes, animals, and palaces. The founder, Ritika, loves spreading joy in people's life through art. So, through this eCommerce website, she is now able to reach many more art lovers across India.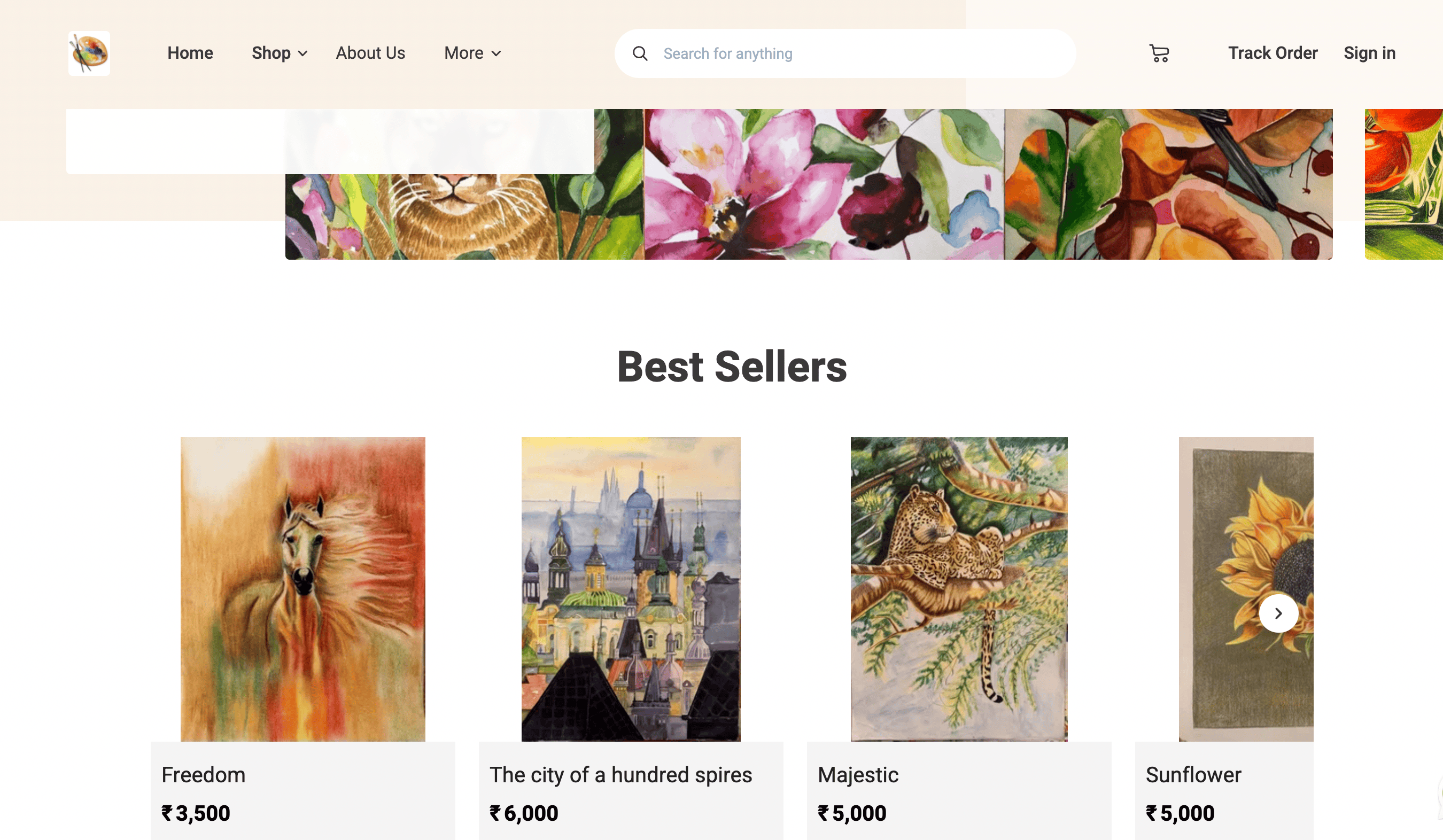 This premium store uses the Phulkari theme available on Instamojo. Check out Ritika's watercolour art store here.
DesignsbyGulmohar – Mandala art
A free store on Instamojo, DesignsbyGulmohar sells exquisite mandala art products, handcrafted with love. And, you will find art prints, customised hampers, frames, bookmarks, and notebooks, all printed with gorgeous Mandala art.
Check out DesignsbyGulmohar store here.
MoodArtbyKalyania – Handmade candles
Do you want fragrant candles that remind you of an autumn morning? This free store on Instamojo sells handmade soy candles of different flavours. Some of them are cinnamon spice, pumpkin latte, and lemongrass.
Check out MoodArtsbyKalyania online store here.
Madraskarri – creative accessories brand
Madraskarri is a premium online store on Instamojo. This creative brand upcycles and repurposes textiles to make beautiful artisanal accessories. Each product in Madraskarri store is part of a limited collection and is uniquely crafted. Some of the products are monochrome earrings, mirror necklaces, and rings.
Madraskkari uses the Runway theme available on the Instamojo platform. Check out their online store here.
Handzoned – customised gifts
There is no special gift than handmade one that are also customisable. Handzoned sells personalised gifts such as explosion boxes, cards, and scrapbooks. These colourful gifts are for any occasion and can be made for anyone!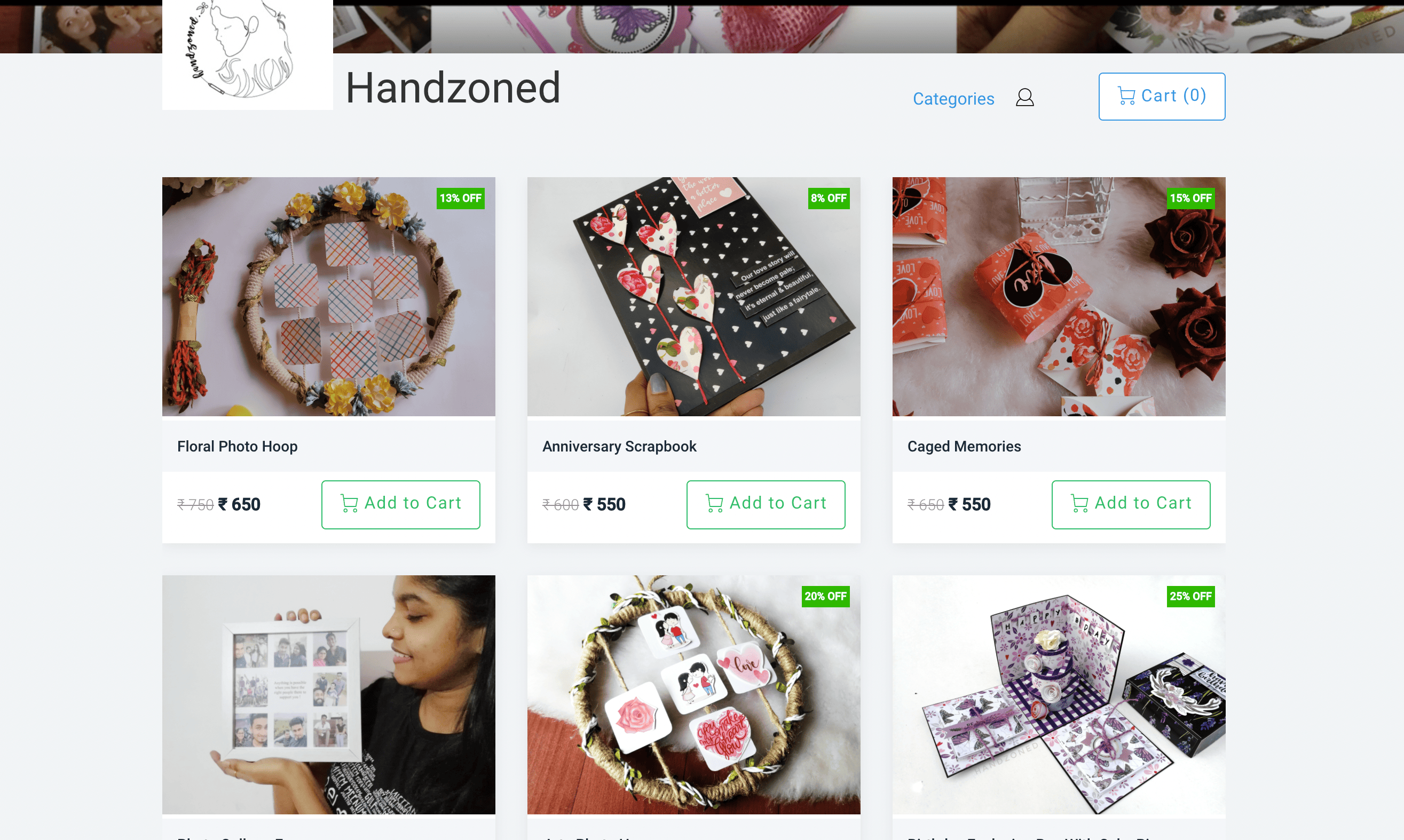 This business uses the free version of Instamojo online store. Check out Handzoned online store here.
Handicrafts are in-demand products, especially in India. And, there are many such stores on Instamojo platform. If you are contemplating on starting an online store to sell handmade products, read this blog on how to sell handmade products in India.
Create your own crafts store on Instamojo
Starting an online business is a hard task in itself. But, don't let that stop you from getting your own eCommerce website. With Instamojo, you can create a store within a few minutes by yourself, even if you don't have any technical knowledge.
Your creative skills have the potential to make money. So, why not start an online business and be financially independent? Get your own online crafts store today!
---