(Last Updated On: October 6, 2021)
"There's nothing quite like the joy of finding a surprise postcard in your mailbox," says Heena, Founder of Heenas.in
On the occasion of World Postcard Day, we decided to bring to you a very special story of a small business owner who sells not just postcards but shares her travel stories through these postcards. 
Heena owns her very own postcard business online and also helps SMEs in improving efficiencies. Not only does she like to collect and write postcards, but she's also a food enthusiast, a blogger, a photographer, and a teacher of many languages. In this blog, we will be talking all about her journey from collecting postcards to setting up a postcard business online.
Tell us how did you get started with selling sustainable postcards online
While I was in Montenegro for an internship, a friend of mine introduced me to this website called Postcrossing and writing postcards. Until 2013, I was just buying postcards for myself, I didn't really know what to do. When she told me about this, I started sending them out to random strangers. 
I enjoy traveling and clicking photos. I even won a photography contest during my engineering days. My roommate helped me in a way where she would only use my photos as her wallpaper. And that meant the world to me!
So I had the photography skills and I was looking to send out postcards, so I thought why not just print my own? And that's how it all started for me. 
What would you say inspired you to go on this journey and what's the process like?
I was inspired to take the sustainable journey because of my life in Japan. Over there, we had to segregate our waste into 5 different categories which would be collected after one week. So I would see the amount of waste that I contributed to. This made me realize how important it is for me and for all of us to check the amount of waste we generate. This whole mentality shift happened while I was in Japan.
My experience in engineering also helps me make this whole process more efficient. I went from double-side printing to single-side print postcards. I wanted the buyer of these postcards to have the complete flexibility of where they wanted to write a message, stick a stamp, or just frame it. 
Also read: A Guick Guide To Writing Postcards
The process
When I receive an order, I first check if I already have the prints. The second check is making sure each card is perfect front and back. I pack it in a handmade cloth bag or reuse the older packaging that I already have at home. 
Related read: How Good Packaging Guarantees Repeat orders For Your Online Store
So I improved my packaging, reduced waste, and moved to 100% recycled paper. I even reuse the packaging that I already have at home to minimize packaging waste. From designing to printing, I have streamlined the entire process and made it as efficient as possible.
What were some of the challenges that are specific to your business and how did you overcome them?
When I came back to India and started looking for good-quality postcards, there were barely any. I'm sure a lot of people in India were facing the same issue. So the first problem I had noticed was this.
Then the challenge for me was the delays in getting the right quality print. Since I'm a perfectionist when it comes to postcards, I need them to be perfect in terms of quality and consistency. So the lead time to get them printed also increased.
I have now learned to plan my orders well in advance so there's enough time for me to check on everything. Over time, I also learned to pick from the best of my pictures and print only those to reduce the stock of unsold inventory.
What you do is so unique, it would not have been easy starting off, right? What kept you going?
It's my love and passion for people, travel, and postcards. 
Postcards are especially popular among travelers. And since I've been traveling from a very early age, I grew fond of them ever since. They have become a great way to send a picture of the place you are visiting. When visiting any destination, I send postcards from there to my friends and family. 
You don't know when the postcard will reach you and that really is the essence of it. The wait, the uncertainty and eagerness that builds up over time is all worth it. And for the next generation, I want them to read real stories through these postcards and not just fairy tales.
The best part about this business is that I get to write and exchange postcards with strangers all around the world. I would run to the door to see if the postman had come with a card addressed to me. My happiness knows no bounds when I receive them. These little random surprises in the mailbox matter to me. 
Why don't you tell us a little about your postcard collection?
I have received over 1000 postcards from more than 100 countries so far. Since I like to try out new food, I have so many recipes and food postcards. I also have embroidery and wooden postcards in my collection.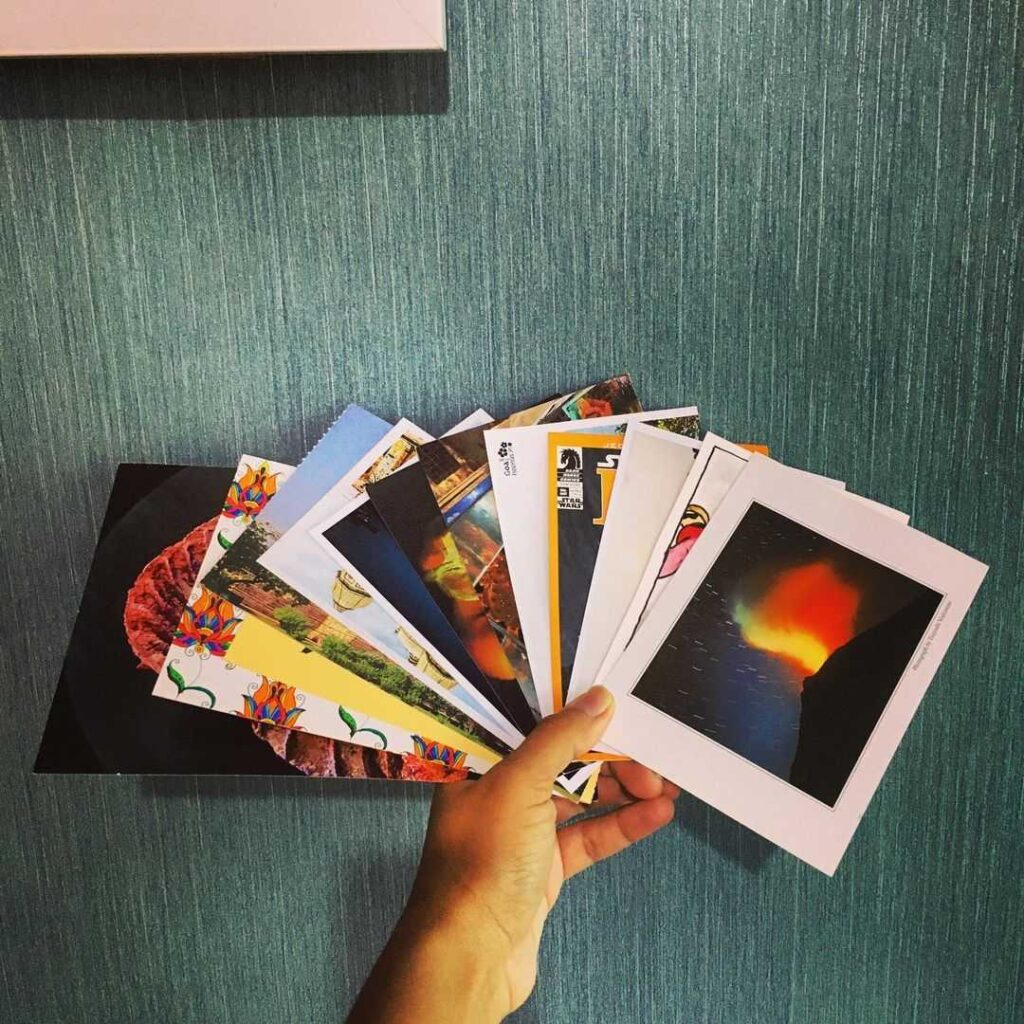 Apart from postcards I also have a lot of stamps collected that are released on special occasions in every country. Through these stamps, you learn a lot about their cultures, festivals, and their significance. 
If you had to pick one favourite postcard from your collection, which one would it be and why?
I once received a postcard from a young woman in Germany. It was handmade and she had written about her life in Germany and her journey being a parent in her early 20's or so. It was an eye-opener for me as I realized how diversified yet connected our cultures are.

There's also one that I received from a person in Russia. Because I'm an engineer, this postcard was sent to me on Mechanical Engineer's Day in Russia. That I think is very special because I love what I do as an Engineer as well. 
How has Instamojo helped you in your wonderful journey so far?
When I asked my audience on social media if they preferred me to sell on Google forms or on Instamojo online store, most people responded in favor of the store. The interface of the online store makes it so easy and convenient for my customers to buy from me.
Even though I have my own website, having an online store was important for me because I am not in a position to take responsibility for online security. Knowing that Instamojo would take care of it, I became stress-free and focused my time on growing my business. 
Most importantly, once I opened my store on Instamojo, new customers or people who didn't know of my business before but want to shop from me, know that my business is legitimate because it is listed on Instamojo. 
Instamojo has made it so much easier for small businesses like mine to conduct our businesses online. I am very happy to have started my business journey here!

Check out Heena's online store here
If you are looking to buy postcards made out of 100% recycled paper but do not know where to find any, then we suggest that you start here!
---