(Last Updated On: May 16, 2021)
It's our birthday week!
This birthday is special. We have successfully helped over 1 million businesses use our platform.
Over 150+ mojoites power the platform.
So this year, we decided to talk to our team members. We asked 7 exceptional mojoites to tell us what they learned from working with Instamojo. As Instamojo turns 7, let's look at what our teammates learned working in the company.
Rapti Gupta – Content Marketing Head
Rapti joined Instamojo in 2016. Since then, she has grown to head the Content Marketing Department in the company and is leading mojoVersity, an online e-learning platform for small businesses.
What did she learn from Instamojo?
Rapti says: It is important that you surround yourself with people who are smarter than you. In life, and at work. Also, once you've hired smart people/ experts, don't tell them what to do.
Let them do what they do – their best.
Vinay Shivashankar – VP, Marketing
Vinay is a busy man to catch hold of. After leading the marketing team at Instamojo for over a year, Vinay keeps his entrepreneurial mantra simple. As Instamojo turns 7, Vinay's entrepreneurial lesson from the company is to never take rejections/failures seriously and simply treat it as one step shorter towards success.
Ankur Sharma – Head: Growth & Analytics
Ankur is your go-to guy for trivia on well, anything! One of the many lessons Ankur learned at Instamojo is to keep a lean team while building and scaling a product. Sometimes, increasing your team size may seem like the easiest solution, but it seldom is, especially early in the entrepreneurial journey."
A popular productivity tip he shared with the team is the ABCD principle. As per Rapti's suggestion, he is sharing it with the world too:
ABCD Principle: Do your work in this order, ALWAYS: A (Apna Kaam) -> B (Boss ka Kaam) -> C (Company ka Kaam) -> D (Doosron ka Kaam). Will serve well for any person working in a fast-paced startup as well as in a corporate environment.
Vipin SJ – Customer Success Manager
Keeping customers happy is not for the faint of heart. The customer success team at Instamojo is always hard at work, making sure our customers are well taken care of!
Vipin, who is a core member of the customer success team, believes his entrepreneurial lessons at Instamojo define his work ethic today.
He says " Persistence is the most effective way to survive and stand out in fast-paced startup and competitive team." He also adds with a smile, " It also helps you deal with setbacks" 
Anurag Devarakonda – Asst. Manager, Customer Support
Anurag's core entrepreneurship mantra from Instamojo is to "stay curious". When he joined Instamojo in 2017, he knew he would have to juggle many roles ( such as life in a startup!). However, this helped him grow and eventually bag a managerial role in the company.
"Stick to what you know" is a strict school of thought in many entrepreneurship circles. Keeping your mind open to new ideas and embracing novelty gives you a chance to make your opportunities.
Expose yourself to a multitude of businesses and products, your scope expands. Take the time to learn about new ideas or even entirely new businesses. By staying open and curious, you'll continue to thrive and grow in today's disruptive era.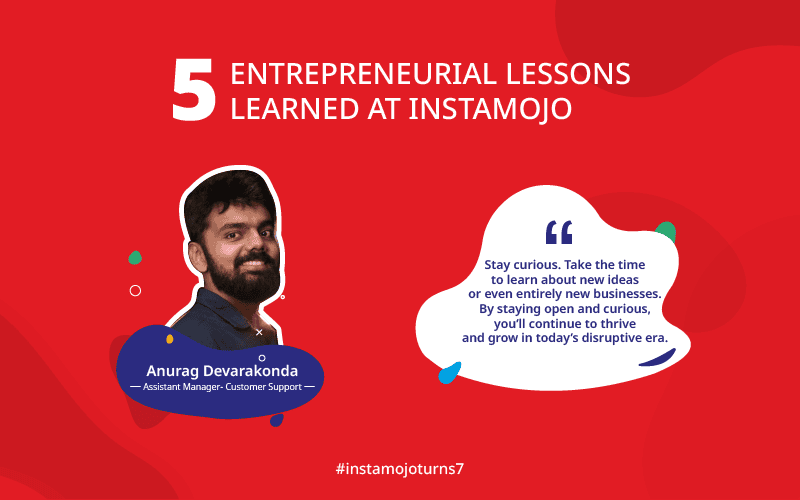 Ayushya Jaiswal – Staff Engineer
What would a startup be without a hands-on engineering team? Ayushya is one among the many enterprising engineers at Instamojo. When we asked what entrepreneurial lesson he imbibed from his 3-year tenure in the company, he took a crowd favorite slogan
Just Do It!
" Within a business, strategizing, planning, and weighing options all play a major role for a successful product. But there will be a point in time when no matter what, you just have to do it."
"Better to do something imperfectly than to do nothing perfectly." – Ayushya
And in true engineer spirit, he also stated: If you do an in-depth "analysis paralysis", it will inhibit your growth, innovation, and progress in any business.
Even if your end result doesn't come for years, successful companies will always get the work done anyway because they know how to delay gratification, and this ability is what separates successful companies from unsuccessful ones.
Devika Nagarkar, Data Analyst
Devika is the enigmatic data analyst working with the Growth and Analytics team at Instamojo. She joined the company in 2016 in the Business Development team.
But she wanted to do something more challenging. Since then, she has worked her way up to be an indispensable asset to the Growth team – mastering analytical tools and developing a growth mindset.
Reflecting on her entrepreneurial lesson with Instamojo, she believes in this mantra – Pivoting doesn't always end up in failure. In fact, knowing when to pivot and to what degree, can separate great success from failure.
7 is indeed a lucky number. This year, we grew and we learned so much more along the way. Today, we celebrate the spirit of Instamojo.
Here's to growing for 7 years. Thanks to our wonderful team and our customers for being a part of our incredible journey.
Cheers!
---