(Last Updated On: May 26, 2021)
Indian National Handloom Day is a day to remember, celebrate and if possible, wear our traditional silks, cotton and woven cloth made by our artisans. This year, let's wear our country's culture
About National Handloom Day 2020
August 7th is chosen as National Handloom Day to celebrate the 'Swadeshi' movement since 1905. The day aims to raise awareness about the handloom industry and its contribution to boosting the Indian economy.
Our hardworking weavers are true artists who have woven the cultural fabric of our vibrant nation through their creativity.
On #NationalHandloomDay,my heartfelt gratitude to their indomitable spirit as they work tirelessly towards building an #AatmaNirbharBharat. #Vocal4Handmade pic.twitter.com/UilcwMivcu

— Amitabh Kant (@amitabhk87) August 7, 2020
The handlooms industry generate jobs for over 70% of women workforce in the MSME sector.
Since COVID struck the country, India's Government has implored its citizens to go 'vocal for local' and buy India-made products.
In fact, the Union Ministry of Textiles is hosting a virtual exhibition to showcase different handlooms and apparel from across the country, with over 150 weavers participating.
To celebrate this day, along with the rest of India, we chose our favourite handloom mojoStores for the month of August, along with their unique traditional textiles.
Indian handlooms are known to be unique and a work of craftsmanship. Let's lend our support to the weavers and artisans of the textile industry.#NationalHandloomDay#Vocal4Handmade@smritiirani @TexMinIndia @MadhuryaGallery pic.twitter.com/A1bvbVEXKx

— PRIYANKA (@priyankachopra) August 7, 2020
Zenaqo's Jamdani gems
A Bengali origin handwoven muslin fabric, Jamdani is a commonly worn type of spree worn by Bengali women. The comfortable and aesthetic texture of the spree makes it easy for daily wear.
Zenaqo's weavers create intricate patterns on this delicate textile and sell the completed product online for everyone to buy.
Check out their online store here.
Mulberry Street's Modern Attire
Who says tradition always needs to be in the form of a saree? Mulberry Street sells handloom cotton in the form of modern daily wear. Their comfortable casual attire is a must-see for every Indian woman.
Check out their online store here
Chikan Artisan Welfare Association's Chikan Prints
Chikan Artisan Welfare Association (CAWA) is a Lucknow based firm that is reviving quality chikankari handicrafts. These pieces come from authentic 'karigars' that live in the villages in and around Lucknow.
The organisation aims to improve the living conditions and welfare of the skilled but very underpaid artisans by selling their beautiful work online.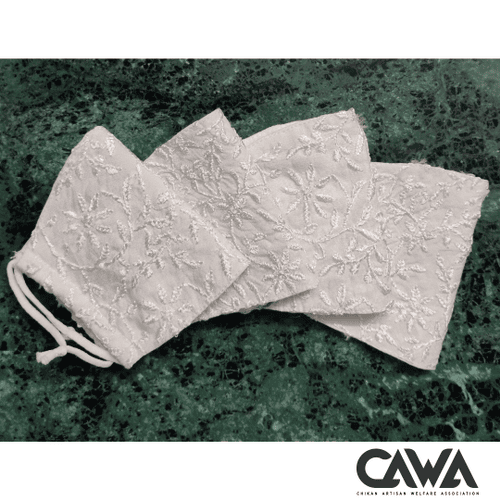 Check out their online store here 
Loomeria's Sambalpuri prints
Sambalpuri textiles are the pride of Odisha. True to their culture, Loomeria promotes this beautiful textile by selling sarees of this material online. We sell handwoven, designer handloom
As per the Wikipedia definition, A Sambalpuri sari is a traditional handwoven ikat, wherein the warp and the weft are tie-dyed before weaving.
Check out their lovely online store here
Panagia's Kanchipuram Sarees
As we travel down south, we venture into the beautiful and lush textures of the evergreen Kancheevaram sarees from the plains of Tamil Nadu.
Kancheevram sarees, once worn by the royal families of the South, is now an exemplary symbol of celebration and tradition for many occasions. Women drape the nine-yard sarees with its different colours and designs for events, award functions and even weddings!
Panagia, along with many other textile brands, is looking to bring back the originality and sheer gory of this beautiful textile.
Check out their online store here 
Setting up your Instamojo Online Store Takes 2 minutes!
Did you know the new Instamojo premium online store lets you set up SEO campaigns, send SMSes and add themes? It also:
A wider range of themes and templates
Setting up marketing campaigns for better and improved SEO
Enable additional SMS and Email Marketing Campaigns for your store when the default options run out
Get access to 

Instamojo domains and mailbox

 for your online store marketing.
Link a domain purchased from another vendor to your Instamojo online store
Manage your online store back end – run page scripts
This video will guide you to set up your online store on Instamojo !
---