(Last Updated On: April 10, 2023)
Running a small business online is definitely not a small thing. In fact, it's something that has a lot of hurdles to overcome and lots of problems to solve. Though you started it out of passion, there are times inspiration may run out. And it's perfectly normal! A few inspirational quotes especially for entrepreneurs can help you out!
That's why we curated a list of inspirational quotes for entrepreneurs like you who want to keep the fire burning! And, they're not just random motivational quotes — they're handpicked for passionate business owners who want to reach great heights.
Ready to hear some great advice from great business owners and thinkers? Let's dive in!
Here are 99 inspirational quotes for small business owners and entrepreneurs:
On ambition, idea, and innovation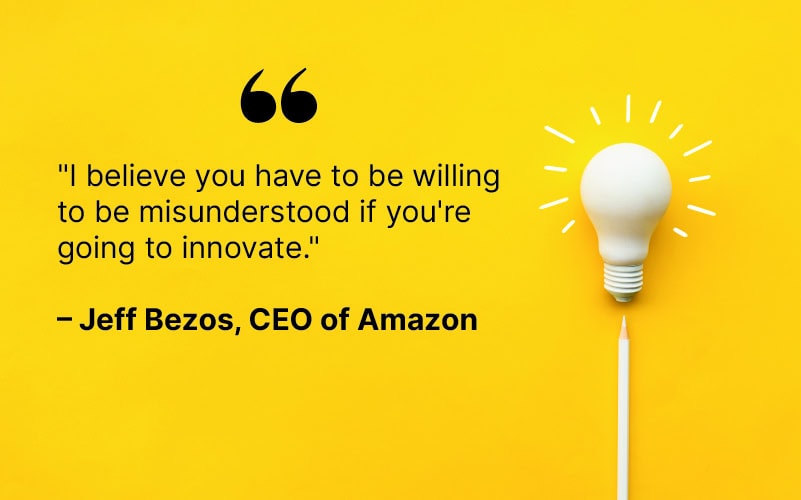 Quotes that will help you when you feel doubtful about your actions, ideas, or ambitions:
1. "Whether you think you can, or think you can't — you're right."
– Henry Ford, Founder Ford Motor Company
2. "I knew that if I failed I wouldn't regret that, but I knew the one thing I might regret is not trying."
-Jeff Bezos, founder and CEO Amazon
3. "It's not about ideas. It's about making ideas happen."
– Scott Belsky, co-founder Behance
4. "I don't look to jump over 7-foot bars — I look for 1-foot bars that I can step over."
– Warren Buffett, chairman and CEO Berkshire Hathaway
5. "Don't be afraid to assert yourself, have confidence in your abilities and don't let the bastards get you down."
– Michael Bloomberg, founder Bloomberg L.P.
6. "Ambition is the first step to success; the second step is action."
– Unknown
7. "All our dreams will come true if we have the courage to pursue them." let the bastards get you down."
– Walt Disney
8. Risk more than others think is safe; dream more than others think is practical."
– Howard Schultz, CEO of Starbucks.
9. "Great companies start because the founders want to change the world, not make fast buck"
– Guy Kawasaki
10. "Innovation distinguishes between a leader and a follower."
– Steve Jobs
11. "Innovation is where imagination meets ambition."
– Unknown
12. "Starting and running a business is as much about the innovation, drive, and determination of the people who do it, as it is about the product that they sell."
– Elon Musk
13. "I believe you have to be willing to be misunderstood if you're going to innovate."
– Jeff Bezos, CEO of Amazon
14. "If we tried to think of a good idea, we wouldn't have been able to think of a good idea. You just have to find the solution for a problem in your own life." 
– Brian Chesky, Co-founder of Airbnbk
Related read: Qualities and traits of entrepreneurs
On success and failure:
15. "Show me a person who never made a mistake, and I will show you a person who never did anything."
– William Rosenberg, founder Dunkin' Donuts
16. "Most great people have attained their greatest success just one step beyond their greatest failure."
– Napoleon Hill
17. "Your most unhappy customers are your greatest source of learning."
– Bill Gates, founder and CEO Microsoft
18. "We are really competing against ourselves, we have no control over how other people perform."
– Pete Cashmore, founder and CEO Mashable
19. "Your positive actions combined with positive thinking results in success."
– Shiv Khera
20. "Whenever you see a successful decision, someone once made a courageous decision."
– Peter Drucker
21. "I'm convinced that about half of what separates successful entrepreneurs from unsuccessful ones is perseverance."
– Steve Jobs
22. "Success is not final; failure is not fatal. It is the courage to continue that counts."
– Winston Churchill
23. ""The most valuable thing you can make is a mistake – you can't learn anything from being perfect"
– Adam Osborne
24. "Most great people have attained their greatest success just one step beyond their greatest failure."
-Napoleon Hill
25. "The greatest mistake a person can ever make is to be afraid of making one."
-Unknown
26. "Your best teacher is your last mistake."
-Ralph Nader
27. "I've learned that mistakes can often be as good a teacher as success."
– Jack Welch, chairman and CEO General Electric
28. "Failure is not an option here. If things are not failing, you're not innovating."
– Elon Musk, CEO of Tesla
29. "Never let success get to your head and never let failure get to your heart."
– Drake
30. "I'd rather regret the things I've done than regret the things I haven't done."
– Lucie Ball
31. "You can never leave footprints that last if you are always walking on tiptoe."
– Leymah Gbowee
32. "More is lost by indecision than wrong decision."
– Markus Cicero
On determination and courage:
33. "Victory is always possible for the person who refuses to stop fighting."
– Naepolean Hill
34. "When something is important enough, do it. Even if the odds are not in your favour." "
– Elon Musk, CEO of Tesla
35. "I believe success is achieved by ordinary people by extraordinary determination."
– Unknown
36. "If it makes you nervous, you're doing it right."
– Unknown
37. "I think it is possible for ordinary people to choose to be extraordinary."
– Elon Musk, CEO of Tesla
38. "You can't be that kid standing at the top of the waterslide, overthinking it. You have to go down the chute."
– Tina Fey
39. "Keep your eyes on the stars, and your feet on the ground."
– Theodore Roosevelt
40. "Optimism is the faith that leads to achievement. Nothing can be done without hope and confidence."
– Hellen Keller
41. "Do not stop thinking of life as an adventure. You have no security unless you can live bravely, excitingly, imaginatively; unless you can choose a challenge instead of competence." ―Eleanor Roosevelt
42. "If you are really determined to do something, you'll find a way. If you don't, you'll find an excuse."
– Unknown
43. ""Live out of your imagination, not your history."
– Stephen Covey
44. "Obstacles are those frightful objects you see when you take your eyes off the goal."
– Henry Ford
45. Courage doesn't always roar. Sometimes courage is a quiet voice at the end of the day saying, "I will try again tomorrow."
– Mary Anne Radmacher
46. "Resilience is when you address uncertainty with flexibility."
– Unknown
47. "The only one who can tell you "you can't win" is you and you don't have to listen."
– Jessica Ennis
To help you start the day:
48. "Show up, show up, show up, and after a while the muse shows up, too." you can't win" is you and you don't have to listen."
– Isabelle Alande
49. "Now that your eyes are open, make the sun jealous by your burning passion to start your day."
– Unkown
50. "This is not just another day; this is another chance to make your dreams come true."
– Unknown
51. "isn't it funny how day-by-day nothing changes but when you look back, everything is different?"
– C.S Lewis
52. "You've never lived this day before, and you never will again. So make the most out of it."
– Unkown
53. "Either you run the day, or the day runs you."
– Jim Rohn
54. "To know even one life has breathed easier because you have lived. This is to have succeeded."
– Emerson
On entrepreneurship:
55. "Passion, creativity, and resilience are the most crucial skills in business. If you've got those, you're ready to embark on the journey."
– Jo Malone, Founder of Jo Malone
56. "My advice is to focus on the importance of forging a long-term relationship, whether with colleagues, partners, or customers. It is often easy to get caught up in short-term decisions."
– Sheila Lirio Marcelo, Founder of Care.com
57. "Being a woman in business doesn't come without challenges. My advice? Surround yourself with other supportive women that encourage you, share ideas, and get you motivated."
– Jessica Alba, Founder of The Honest Company
58. "Don't try to do everything by yourself, but try to connect with people and resources. Having that discipline and perseverance is really important." 
– Chieu Cao, Co-founder of Perkbox
59. "Do not focus on numbers. Focus on doing what you do best. It's about building a community who want to visit your site every day because you create value and offer expertise." 
– Cassey Ho, Founder of Blogilates.com
60. "Don't assume that borrowing lots of money can make your business fly. There are many things to the business other than investors, and it's possible to succeed with your business without breaking the bank."
– Barnaby Lashbrooke, Founder of Time Etc.
61. "Be nicer to your customers than your competitors."
– Co-Founder of Innocent Drinks
62. "Only the paranoid survive." 
– Andy Grove, former CEO of Intel
63. "Don't let anyone convince you that your dream, your vision to be an entrepreneur, is something that you shouldn't do. What often happens is that people who are well meaning, who really care for us, are afraid for us and talk us out of it."
– Cathy Hughes
64. "The greater the difficulty, the more the glory in surmounting it.
―Epicurus
65. You have to learn to keep your eyes on an ultimate goal. If you lose sight of that goal, you have to get out."
― Hamdi Ulukaya, founder and CEO of Chobani
66. "Don't take too much advice. Most people who have a lot of advice to give — with a few exceptions — generalize whatever they did. Don't over-analyze everything.  I myself have been guilty of over-thinking problems. Just build things and find out if they work."
– Ben Silbermann, founder Pinterest
67. "An entrepreneur tends to bite off a little more than he can chew hoping he'll quickly learn how to chew it."
– Roy Ash, co-founder Litton Industries
68. "All humans are entrepreneurs not because they should start companies but because the will to create is encoded in human DNA."
– Reid Hoffman, co-founder LinkedIn
69. "Chase the vision, not the money; the money will end up following you."
– Tony Hsieh, CEO Zappos
70. "If you want to be an entrepreneur, it's not a job, it's a lifestyle. It defines you. Forget about vacations, about going home at 6 pm – last thing at night you'll send emails, first thing in the morning you'll read emails, and you'' wake up in the middle of the night. But it's hugely rewarding as you're fulfilling something for yourself."
– Niklas Zennstrom, founder Skype and Kazaa
71. "The entrepreneur always searches for change, responds to it, and exploits it as an opportunity."
– Unknown
72. "You've got to get your team to not only understand your company brand but also to understand their personal brand." 
– Amber Hurdle
73. "Great things in business are never done by one person; they're done by a team of people." 
– Unknown
74. ""Nothing can stop the power of a committed and determined people to make a difference in our society. Why? Because human beings are the most dynamic link to the divine on this planet."
-John Lewis
On ethics and values:
75. "It takes 20 years to build a reputation and five minutes to ruin it. If you think about that, you'll do things differently."
– Warren Buffett, chairman and CEO Berkshire Hathaway
76. "A business that makes nothing but money is a poor business."
– Henry ford
77. "The real threat of business is from within; from poor ethical standards to lack of integrity."
– Azim Premji
78. "If you set a good example you don't need to worry about setting rules."
79. "Try not to become a man of success. Rather become a man of value."
– Albert Einstein
On strength, persistence, and optimism:
80. "Tough times never last, but tough people do."
– Robert Schuller
81. "Don't worry about being successful but work toward being significant and the success will naturally follow."
– Oprah Winfrey
82. "Because, you know, resilience – if you think of it in terms of the Gold Rush, then you'd be pretty depressed right now because the last nugget of gold would be gone. But the good thing is, with innovation, there isn't a last nugget. Every new thing creates two new questions and two new opportunities."
– Jeff Bezos, CEO of Amazon
83. "In carrying out e-commerce, the most important thing is to keep doing what you are doing right now with passion, to keep it up."
– Jack Ma, CEO of Alibaba
84. "Never give up on a dream just because of the time it will take to accomplish it."
– Unknown
85. "Success is a lousy teacher. It seduces smart people into thinking they can't lose."
– Bill Gates
86. "Don't be afraid to give up the good to go for the great."
– John D. Rockefeller
87. "There's nothing wrong with staying small. You can do big things with a small team."
– Jason Fried, founder of 37signals
88. "When you find an idea that you just can't stop thinking about, that's probably a good one to pursue."
– Josh James, CEO of Omniture
89. "Energy and persistence conquer all things."
– Benjamin Franklin
90. "Optimism is the foundation of courage."
91. "What you lack in talent can be made up with desire, hustle, and giving 110% all the time. – Don Zimmer
92. "Believe you can and you are halfway there."
– Benjamin Franklin
93. "It does not matter how slowly you go as long as you don't stop."
– Confucious
94. "Fearlessness is not the absence of fear, it's the mastery of fear. It's about getting up one more time when we fall down."
– Arianna Huffington
95. "A business absolutely devoted to service will have one worry about profits. They will be embarrassingly large."
– Henry Ford
96. "You will get all you want in life if you help enough other people get what they want."
– Unknown
97. "I find that the harder I work, the more luck I seem to have."
– Thomas Jefferson
98. "Be undeniably good. No marketing or social media buzzword will be a substitute for that."
– Anthony Volodkin
99. "Instead of freaking out about the constraints, embrace them. let them guide you."
– Unknown
losing inspiration occasionally is normal. And, as business owners, you need to keep yourself motivated regularly. Such inspirational quotes for entrepreneurs will help you get motivated.
Got inspired by this blog post? We have many other blog posts on business advice, latest eCommerce trends, and inspiring stories on our blog. And, we share them every week through our newsletter. Subscribe to our free weekly blog digest and get valuable info straight into your inbox!
---