(Last Updated On: January 7, 2023)
Have you been looking to create and sell online courses in India and wondering where to start?
This is a great time to get into the e-learning industry as more people switch to online methods of learning. In this complete guide, we will show you how to sell online courses in India with live examples of some great homegrown platforms. Let's get started.
Why sell online courses in India
Is selling online courses worth it?
If you are wondering whether you should start teaching online or selling online courses we can answer your questions. Is teaching online profitable? Hell yeah! Here is some data that will get you really excited about teaching online.
According to Statista, the revenue of online learning platforms in India is expected to grow by 11.39%, resulting in a projected market volume of US$7.28bn by 2027. Experts are attributing this massive growth in online learning to the number of smartphone and internet users in India!
That's just the market size. But how much money can you make by teaching online or selling online courses? You can earn an average of ₹15000/- by selling an online course, according to a report by KPMG.
What courses to sell online in India?
Your income will greatly depend on the type and details of the course. To give you an overview of what the market looks like for different types of courses, we gathered this data from the Economic Times:
While the above graph shows the general categories of courses, you can practically teach anything online. It depends on your skills and how much you can customise and gamify the content of your course.
List top online courses:
Digital marketing courses
Baking and cooking courses
Skill development courses
Public speaking courses
IAS coaching courses
CA/CPT coaching courses
IELTS coaching
Photography courses
Soft Skills courses
Data science courses
Mental health courses
Career coaching courses
Writing and blogging courses
Given how the number of people looking to upskill/reskill – these are some of the most popular subjects that people generally search for when looking to learn something online. Here are the top 25 online courses in India list.
How to decide what to sell online in India
You can sell online courses depending on how skilled you are at a topic. The first step would be to identify if your course will be based on your knowledge/ hobby/ a personal transformation/things you are simply good at
Jot down at least 10-15 topic ideas and start your research on what's already there in the market on those topics. This will help you make your course unique
Once you have narrowed down your topics, float the idea to potential students/course takers on social media or forums where people can discuss it. You can create a form to take a survey from interested users
Finalize the course topic depending on user research
Some points to keep in mind when creating your online course:
💡  Once you have decided on the topic, it would be a great time to decide on the format of your course – video, text, audio, etc.
💡  People like to take courses that are actionable, give maximum value for their time and money, and are easy to understand. Craft your course in such a way that it becomes irresistible for the person taking it.
💡  Gamify your content: add quizzes, gifs, videos and reward the person at the end of the course or chapter to egg them on to taking other courses and build stickiness for your online courses.
Which platforms to use to sell online courses
Once you are ready with your course material, it's time to look for a way to host the course content online and let your students/users consume your course.
There are several paid platforms that are built to support online teaching but there are some free unconventional ways that you can teach on without paying for software.
Before we start, there are a few things you'd want to consider before choosing an online course selling platform:

What format is your course in?
Do you want to track students/users data?
Want to collect payments for online course?
Are you offering a mix of free and premium courses?
Giving a certificate of completion after the course?
Do you want to run marketing campaigns for your users?
Jot down the answers to each of these questions and jump to this list.
We will cover 5 platforms that you can sell online courses in India along with some LIVE examples from the platform. We want to keep the list as diverse as possible so we are covering one of each type.
1. Create your own landing page
A landing page is a one-page website that is designed to convert visitors into paying customers. Creating a landing page and selling your online course through it is a great way to start, especially if you want to stay independent from third-party course platforms.
You can create a landing page to sell online courses with a landing page builder like Instamojo Smart Page. To get started, sign up for free and start adding your page content. Write attractive headlines, add details of the course, and insert images.
With Instamojo Smart Pages, you can create and publish a page for your online course within minutes. You can then promote it across social channels or run ads.
Here's an example of a Smart Page page for a web development course:
To launch your course with a landing page, get started with Smart Pages.
2. Teachable
This platform is a paid tool. It is built for anyone that wants to create customized courses and offers flexible customization plans. It allows you to:
Host audio, video, and text files.
It helps you collect students data, gives you in-depth insights on active students, course completions
Allows you to send emails directly from the dashboard to users that take your course
Has webhook abilities
Allows you to collect payments on the platform while also giving the flexibility to offer free courses
Basic plans start from ₹2000/- per month! Check the teachable full pricing here.
There are other similar platforms like ThinkFic that offer similar product features at a similar price.
mojoVersity is a one-of-a-kind platform that hosts FREE online courses on all business aspects. We partnered with subject-matter experts to design courses on topics like GST, Email Marketing, Funding and more. Today, mojoVersity has 8000+ unique businesses enrolled in the platform.
Anyone can easily take a course on mojoVersity. Just enter email id, create a password and the user gets lifetime access to all courses and even a dashboard of their own. They can also access the courses on any device, on any browser, and learn about any business concept in under 1 hour.
3. WordPress LMS
If you want greater customization and flexibility for your online school – there is nothing better than having your own website. WordPress is the king of customizable websites and has specific learning management system plugins that can get you started with selling online courses in India easily.
Before choosing a WordPress LMS plugin, be sure to check out all the features it allows you to customize. We found a great WordPress LMS plugins list that can help you start teaching online. Some of our personal favorites are:
Most of them come at a small price. The larger the list of features the plugin supports, the more expensive it is. The good plugins start from around ₹1800. Some have free versions too.
Collect payments for your online course hosted on LMS like Teachable or ThinkFic with Instamojo
While LMSes like teachable and Thinkfic already have their own payment gateway integrations, you can easily collect payments with Instamojo by just using Zapier webhooks with your LMS.
The Instamojo Zapier app allows you to get customer data, customer dropoffs, and more data. Try adding filters on Zapier along with teachable and Instamojo zaps to get your desired results.
This way you can manage all your payments and users' data on one single dashboard!
4. YouTube or Zoom/Google Hangouts
Now, this is one of the unconventional ways that you can easily sell your online courses on. If you want to teach a LIVE class, Zoom, Google Meets, or any other meeting tool can easily allow you to gate the number of students.
YouTube too, has a private link option that allows your users to see your content specifically.
Combine this with Instamojo and you are all set to go! You can manage all your course and student details on the Instamojo dashboard. You can also host your course files – like ebooks, videos, etc on the Instamojo online store and start selling courses online easily.
Just place the Instamojo registration link on your YouTube description or in the calendar invite of your online class meeting and you're good to go.
You can also create a landing page for your courses on Instamojo and manage student purchases directly.
LIVE Example: SeemaYoga teaches yoga online on Zoom and uses Instamojo to manage registrations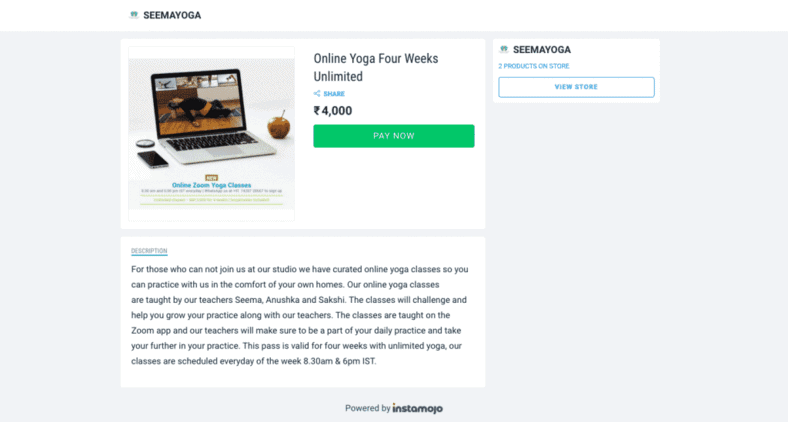 How to make money selling online courses
Adding a price tag to your online course may seem easy but there is a science to it. As mentioned in an earlier pointer, people want to take courses that offer great value for their money and that's why pricing your course in an optimum way is very important.
You want your users to become repeat users and keep adding value for them. We found this easy online course price calculator from teachable that can help you easily determine the price of your course.
Once you're done with determining the price of the course, here are some cool ways to collect payments for your online course:
How to collect payments for your online course using Instamojo payment links/Smartlinks
You can collect payments for your course by just copy-pasting an Instamojo payment or smart link. It allows your user to pay you with any mode of payment including UPI, Google Pay, and NEFT.
Collect payments for your online course using Instamojo Embed payment button or Instamojo APIs and Plugins
If you're using WordPress or your own website to sell your course online, you can either just embed a payment button on your website by copy+pasting some code or use our vast library of APIs and plugins for greater customization.
More than 10,000 online tutors, coaches, and teachers are selling courses online in India with Instamojo. It's just as easy as 1-2-3.
You can too!
---