(Last Updated On: May 30, 2023)
India is the hub of handmade products. Our massive pool of cultural reserves is kept intact in the hands of artisans whose families have been practising these art forms for centuries.
The extreme popularity of these products is not just within India but globally. The renewed vigour that Indians show for "Atmanirbhar Bharat" has exponentially improved the market for these handmade traditional Indian products today.
If you are wondering what products you should be selling online, we would want to say – go #VocalForLocal. Here are some of India's most traditional and unique products that you can start selling online with your own eCommerce website.
Brass Items 
Brass has been historically been central to India's culture. The metal's malleability and resistance to water make it perfect for a wide range of decorative to functional items. Ancient artisans in India were known for their beautiful handicrafts and intricate craftsmanship.
These four states have a global reputation for the production of brass handicrafts in India: 
Andhra Pradesh (Warangal)
Uttar Pradesh (Varanasi, Mirzapur, Moradabad)
West Bengal (Especially known for the Dokra method)
Kashmir (Known for its decorative brass stoves)
If you are from these states, you can start selling these special handicraft brass products online.
Related read: How to sell handmade products online in India: The ultimate guide
Bamboo Items
Bamboo was a sturdy material that was easily available all over the South Asian subcontinent. This meant that bamboo was used for everyday utility products and Indian craftsmen had developed unique skills to build tough and rugged bamboo products.
These are the states in India where bamboo and cane crafts range from modern to traditional outputs: 
Manipur – Famous for the baskets created by the tribal people of the area
Tripura – Baboo is used to making furniture items like lamp shades, baskets, door screens, shopping bags etc.
Tamil Nadu, Karnataka, Andhra Pradesh – The abundance of bamboo and the skill of the craftsmen here mean that bamboo plays an important role in their everyday life
Selling bamboo products online is a great idea since bamboo is a resistant product, it is easy to transport and lasts longer. For example, Shilpkaari, an Instamojo online store has beautiful bamboo products like this particular bamboo handmade lamp.

Indian Silk 
The beauty and vivid bright colours of Indian silk have a reputation worldwide. Not just for the wedding season, but Indians love adorning silk for any special occasion.
This is an easy-to-procure textile and is a great product to sell online with a very high-profit margin.
However, it would be rude to club all the different kinds of silk manufactured in India into one category. Different parts of India have different specialities. Each type of silk manufactured has unique qualities, with unique embroidery.
A beautiful visual depiction of the beautiful textiles found in different parts of India by the Bawree Fashion House.
Here are the 3 most popular types of silk that Indians love: 
Muga Silk is a type of wild silk that you can find in the Indian state of Assam. This durable yellowish-golden tint Assamese product has a geographical indicator tag that gives it its popular demand. Assam is the largest producer of golden Muga silk in the world.
Kanjeevaram silk originates from Kancheepuram in Tamil Nadu. Made from pure mulberry silk threads, these sarees are extremely popular all over the world. Their rich hues, broad borders and beautiful designs make these a wedding favourite in South India.
Benarasi Silk, the northern counterpart of the Kanjeevaram silk, is also a must-have for Indian brides and bridesmaids. Weaved primarily in Benaras (Uttar Pradesh) these silk textiles have brocade work done with gold and silver threads that look exquisite when adorned.
There are other extremely famous silk production centres all over India, for example – Bhagalpuri silk, Mysore silk, Ikat silk etc. You can read more about these silk textiles here.
Madhubani Paintings 
Madhubani paintings are one of the most famous Indian art forms. Practised in India and Nepal, this artwork originates from Mithila in Bihar. These paintings have special characteristics of complex geometrical patterns and usually represent Indian traditions and rituals.
Did you know, it is also called Mithila art? Historians say that during the Ramayana era, Raja Janaka, the father of Sita, wanted to decorate the whole kingdom (Mithila) with these forms of artwork during Sita's wedding.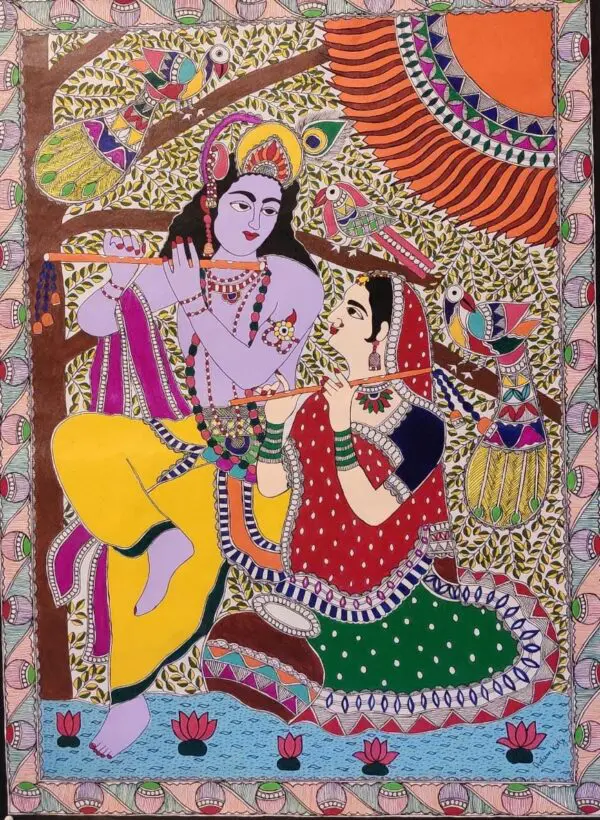 This art form is still alive in these regions to this day and sees demand from all over the world!
Related read: How to sell art online in India and make money easily: With LIVE examples and tips
Terracotta Products
Terracotta clay has been a central part of Indian construction and culture since the Indus Vallery Civilization! This sustainable and earthy material is used for making religious artefacts, household items and toys.
Different regions have their own different customs and techniques of making Terracotta products, with each cluster of these tribal artisans having learnt how to make these handcrafted products from their forefathers.
States that are famous for terracotta crockery, decorations etc.: 
Gujarat and Rajasthan (They have a distinct reputation for their hand-painted exotic white terracotta jars)
Madhya Pradesh
West Bengal
Check out Terracotta by Sachii, an online store that has been helping bring the products of traditional artisans to the world! Read their story here.
Traditional unique tea flavours 
Is it even a surprise that tea is on this list? tea is an INTEGRAL part of India's social fabric. Not only is India the world's largest tea consumer, but it is also the second-largest exporter of tea!
Well, hop on the bandwagon and start selling tea online like Oh Cha here does. Listen to this 100-year-old business's story on the Instamojo podcast – mojoMakers!
Here are some of the most unique Indian varie-tea's (see what we did there?) that you should know about:
Assam tea: This black tea is native to Assam and is known for its strong malty flavour.
Butter tea: Popular in Sikkim and Ladakh, this is made with tea leaves,s yak milk butter, water and salt.
Kashmiri Kahwa: Famous worldwide, this tea originates from the valleys of Kashmir. This tea is made with cinnamon, saffron, cardamom and dried rose petals topped with honey and almond slivers.
Nilgiri tea: The Nilgiri tea, known as the blue mountain tea originates from parts of the western ghats. Extremely aromatic, flavourful and a dark tint best describes this tea.
Darjeeling tea: Grown in the plantations northeast, this type of tea can have many varieties – green, black, white and oolong. This subtle and soothing tea has die-hard followers all over the globe.
If you own or have access to tea plantations, this commodity is perfect to sell online.
Related read: How to sell food online in India: A complete guide to starting an online food business
Ayurvedic oils 
Ayurveda is considered one of the oldest and most recognized indigenous systems of medicine in India. The demand for ayurveda has especially gone up in the last few years (thanks to the pandemic) where people are more conscious of what they put in their bodies.
The popularity of Ayurveda spans countries due to its intense therapeutic efficiency. It has been known to show results when modern medicines have failed. Ayurvedic oils have minimal side effects and help heal your body holistically purely using ingredients found in nature.
Here are some common uses for Ayurvedic oils: 
Pain relief
Hair growth
Breathlessness
Scalp dryness and sores
Anxiety relief
Do note: To sell Ayurvedic products you need to obtain a licence from the AYUSH ministry in India. Here is a detailed explainer.
Kama Ayurveda is a D2C brand that has been selling Ayurvedic products since 2002.
Related read: How to sell organic products online: the complete guide
Pattachitra paintings
Patta – cloth | Chitra – Picture
These paintings, as the name suggests, are done on a piece of cloth. Believed to have originated in 12th-century Odisha. it is one of the oldest art forms in India. The small community of Chitrakar in Puri, Odisha is known for practising this artwork.
These paintings depict popular themes of religious art like deities, rituals and other traditional practices. The 'Chitrakars' have also started painting on palm leaves, Tussar silk, cotton sarees etc.
These traditional forms of paintings are an Indian treasure that many buy to decorate their homes.
Related read: How to sell clothes online in India: With LIVE examples
Traditional Indian embroidery designs 
In a country as diverse as India, with deep cultural and heritage roots, it's impossible to only have one or two types of textiles.
Our tropical climate allows the growth and manufacture of beautiful textiles like Muga silk, Kerala cotton, Ikat, Kashmiri wool etc.
What makes these traditional textiles even more unique is the intricate and delicate handiwork done on these textiles in different parts of India.
Here are some of the most famous Indian embroideries: 
Phulkari Designs: Phulkari or floral work is the motifs or geometrical designs embroidered by hand on heavy cotton fabrics. You can find these embroideries in Punjab. Though today, you can order them online!
Mirror work: Mirror work or 'Abla' embroidered cloth originates in Gujarat and Rajasthan and reflects the festive culture that thrives in this part of India. This ancient traditional handicraft involves attaching small pieces of mirrors onto ethnic designs.
Chikankari: This white-work floral embroidery is famous in Lucknow.
Here is a comprehensive list of all the traditional embroidery styles around the nation.
Shilpkriti, an Instamojo online store that sells handicrafts online that have been made by tribal artisans. Here are some phulkari products on display in their online store.
Bonus: Cow urine (Gomutra) 
As we all know, cows are sacred to the Hindu religion in India. In co-relation, cow urine has also taken on sacred elements for Hindu devotees. Ayurvedic texts have talked about the various benefits of Cow urine or Gomutra which range from health benefits to killing bacteria and germs when sprinkled around the house.
This extremely unique traditional business has seen quite a popular demand in North India with many online sellers selling bottles of this liquid online. (Disclaimer: Instamojo does not endorse the health benefits of this product. This is merely a source of information for readers.) 
Start selling online with Instamojo
Indian D2C brands are flourishing because they can sell their products from anywhere. Sellers want to highlight and bring the country's attention to products that are painstakingly made within India.
If you want to sell any of these traditional Indian products anywhere in India, the first step will be to – set up your own eCommerce website.
Here is a short video that shows you just how easy selling online can be. Best part? You can start at absolutely zero cost!
---