(Last Updated On: May 16, 2023)
Choosing what to sell online is the easy part. Understanding HOW to sell is everything that comes after.
You might not have signed up for this when you decided to be an entrepreneur. With Instamojo, make selling easier. Why connect to a hundred different apps for your marketing needs? You just need – The Instamojo dashboard.
Here are the 10 most popular and powerful marketing tools that you get at your disposal when you have your own Instamojo account. Let's look at what they are
With social commerce as the bedrock of eCommerce, you cannot think of surviving without a robust presence on social media. For that Instamojo allows you to easily integrate your store with your social media. 
You can place social icons on your storefront to give people easy access to stay connected to you. What can be better for brand recall? 
Subscribe to Facebook For Instamojo
Run ads and update your product catalogue on Facebook with the click of a button. Read more about Facebook for Instamojo integration here. 
Track and improve performance with integrated analytics 
How do you know what products are working and what aren't? Analytics are important to understand the overall growth trajectory and performance of your business.
It also helps you identify weaknesses and the areas that need improvement. The Instamojo online store comes integrated with analytics that show you important data on: 
Growth in sales
Growth in products
Increase in customers
Sales by product

Store visits 

Store revenue 

Smart page insights
Related read: Using Google Analytics on Your Instamojo Account
Retargetting marketing campaigns
A mere 1.84%-2.75% of your online visitors come to your store and ACTUALLY buy something. On Instamojo, you have visibility over your online visitors, or had things added to their cart but did not complete the purchase.
Create email campaigns and retarget these prospects with special offers and discounts. This also helps you lower your cart abandonment rates and increase your conversion rates.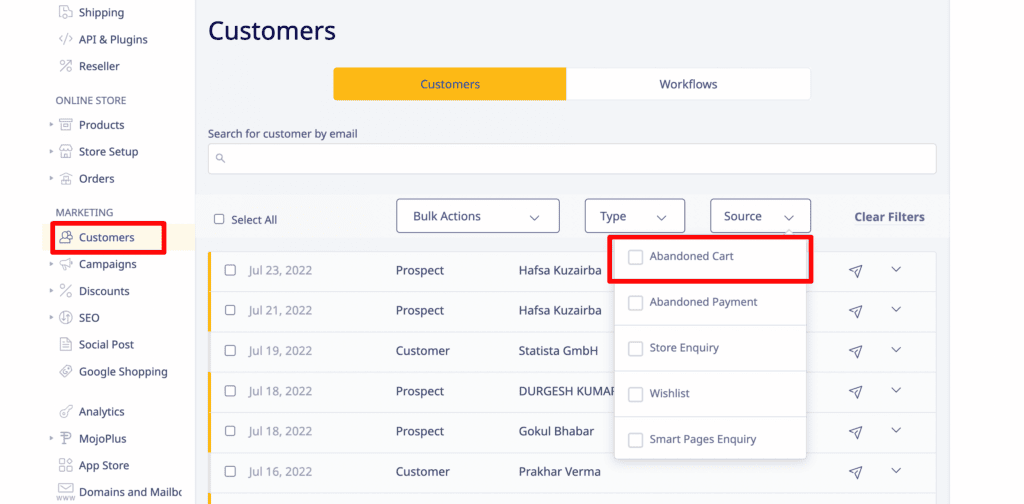 Related read: 5 strategies to recover abandoned carts
Enable automated WhatsApp & email notifications
Turn your customers into repeat customers by giving them a seamless shopping experience.
On the Instamojo dashboard, you can enable customer workflows that automate communication with your customers via email and WhatsApp. Push notifications for transactions or reminders help keep the customer informed. 
Related read: How to use customer workflows on your Instamojo premium online store
Offer Discounts
Discounts are a great way to attract first-time buyers, and also retarget consumers. Apply discounts to specific products, or set store-wide sales. You have full control over the amount that you want to offer as a discount, it can be a percentage off or a flat of. 
Offering discounts has multiple benefits: 
Strengthen customer retention 

Expand customers during the festive season 

Clear out old stock from your inventory 
Related read: How to Use Discount Pricing Strategies to Make More Sales
Optimise your store's organic growth with SEO & Google Shopping 
Use basic SEO features like meta title, and meta tags to ensure your online store is showing up on Google more. Using relevant keywords that your consumers are using gives you a higher chance of discovery. 
Advanced SEO features on Instamojo help you integrate your store with Google Webmaster. This improves your store ranking on google and allows you to track your performance on the search engine.
You can now also integrate with Google Shopping to display your products on the Google Shopping bar.  Here's a short video that explains it more. 
​​
Related read: 3 SEO trends DTC brands should be following in 2022
Subscribe to different tools in the app store to boost sales
We have over 40+ brands whose tools and services are pre-built into Instamojo. Just subscribe to the apps of your choice and use them to improve your online store's performance.  
The app also has divided sections to help you navigate better. Need eCommerce shipping, marketing, legal or productivity tools? Check out the app store section. 
Related read: Launching Mojo Developers Program (MDP)
Get your own domain & mailbox
For more people to trust you and buy from you, they have to first see you as a professional seller. For that, you need your own domain. 
Instamojo offers custom domains at 70% cheaper rates than market prices. 
You can also get your own professional mailbox that gives you that unique edge of having your identity.
Reseller Program
Participate in the Reseller Program of Instamojo and see your brand get exposed to newer audiences. Every time your product is sold by a reseller you get a commission. Accelerate your passive earnings in the process. 
Related read: Make Money with the Reseller Network on Instamojo
You asked for simplicity. We provided. Build your own small business your way. Sign up for free and then upgrade to our premium plans at the cost of a masala chai combo.
---