(Last Updated On: November 17, 2023)
Quick summary:
If you're eager to turn your passion for timepieces into a successful online venture, you're in the right place. In this guide, we'll discuss how to sell watches online and navigate the digital landscape together, uncovering the secrets to building a strong brand, understanding your target audience, and utilizing effective strategies to make your watches stand out in the vast online market. 
Let's start on this journey, where every tick of the clock brings you closer to online selling success!
Market trends in the Indian watch industry
You might have noticed that buying watches has become a whole new ball game in recent years. It's like the watch industry has had a makeover, and a big part of that is because more and more people are now shopping for watches online. 
Why the change? Watches that were considered a luxury in the 90s, now are household items. Earlier, going to a shop to select a watch after careful deliberation was normal. Today, you can order high-quality watches at with a simple 'click'! More on this: 
1. People are going digital!
This is a new generation of consumers who are super comfortable with shopping online. They've grown up with smartphones and love doing everything from their screens. 
And you know what? They want watches that fit into their digital lives seamlessly. So, online shopping is like a perfect match for them.
2. Shopping from your couch? Yes, please!
Who doesn't love the idea of picking out a cool watch without leaving the cosy spot on their couch? Online shopping is all about that – making it easy for you to check out lots of different watches and find the one you really want. It's like having a whole store at your fingertips.
3. The watch industry has seen incredible profits 
According to Statista,  in 2023, the watch business is making a whopping ₹150.50bn. And get this, it's supposed to grow by about 6.14% every year until 2026 – that's some steady growth!
Now, when we look at the global scene, China is really rocking it in the watch game, making a massive ₹1,454bn in 2023. That's a whole lot of watches!
Breaking it down a bit more, for every person around the world, about ₹106.00 is being spent on watches in 2023. Imagine that, each person chipping in a bit for the love of watches!
And here's a cool stat: by 2023, more than half of all the watches sold (55% to be exact) will be the non-fancy kind. So, it's not just about luxury watches; people are loving the everyday ones too. Fun, right?
Here are the key players of India in the Watch Industry (stat recently updated in 2023):
Future trends in the watch industry
LinkedIn gives us the scoop on the global watch market, revealing that the COVID-19 shake-up has given it a financial makeover. 
In 2022, it was about USD 103,030 million and is expected to grow to USD 114,330 million by 2028, a modest 1.8% rise. 
Now, the cool types: Quartz Watches rocked the scene in 2021 and are set to hit a solid USD million by 2028 with a fresh post-COVID boost. 
Changing lanes to where watches hang out, Shopping Malls took the crown in 2021, holding over a big chunk of the market. Brace yourself – they're expected to keep the throne with steady growth throughout this forecast period. The best opportunity lies in having an offline and online presence for your brand! 
Related read: 5 reasons to sell online in India
The watch industry is setting itself on fire as the future arises because it has become the fashion statement for every generation.
Ever heard of Helios – The Watch Store? It's like the big deal in India for awesome watches, brought to you by TITAN Company Limited.
They've got 40+ fancy international brands and some cool Indian ones too. The watches at Helios are not just cool; they're like style experts.
You can find all sorts of watches there, from classic to super-futuristic smart-watches. They've got brands like Armani Exchange, Fossil, Michael Kors, and a whole bunch more.
It's basically your go-to place for Swiss, analogue, digital, and smartwatches. And get this, these watches are from brands like Seiko, Titan, Tommy Hilfiger, and even TAG Heuer!
This is the perfect example of an online D2C showroom for different kinds of watches! Browse at your leisure and then add to your cart when you are sure.
Type of watches you can sell online
Did you know, there are numerous styles or types of watches that you can sell online? It includes chronograph watches, smart watches, luxury watches and so on. But, what are the specialities of such watches?
To know that, let's take a quick look at the infographic to see the different types of watches you can sell online. Ideally, you can choose a specific niche to grow your brand in by selecting a certain type of watch. If you want to succeed as a general player, you can choose multiple categories. 
How to sell watches online in India?
After all the basic understating, are you ready to make a splash in the Indian watch market? We're about to spill the beans on selling watches online in India, from building a solid online vibe to navigating the unique twists of the market.
Here is a basic step-by-step guide to selling watches online in India: 
Research to see if you have enough market demand
Understand legal and regulatory considerations
Set pricing strategies according to the type of watching being sold
Choose an eCommerce platform like Instamojo to host your online store for watches
Create consistent content to build and promote your online brand
1. Market research and analysis
To sell watches online successfully, it's crucial to know what people want. By checking out trends, understanding who's buying, and keeping an eye on the competition, you can create an awesome online store. 
Figure out what makes your customers tick, use easy-to-navigate websites, and stay updated on what's cool in online shopping. Doing this homework helps you stand out and make a mark in the digital market for watches.
Ever heard about this Indian online watch brand: JUST IN TIME? It's pretty cool! Curious what makes it stand out? Let's dig in and find out!
JUST IN TIME: India's top watch retailer
Leading retailer of global watch brands in India.
Offers a wide range of watches, from classic to the latest designs.
Authorized retailer of 45+ international brands
Ensures authenticity with warranties for all products.
Features renowned brands like Rado, Longines, Ferragamo, Versace, Movado, Roamer, Armani Exchange, Boss, Tissot, Seiko, Citizen, and more.
Amazing collection of timeless design and innovation
Showcases a diverse collection reflecting both timeless elegance and innovative designs.
Committed to providing the best timepieces to customers.
Personalised service for every brand
Offers a unique and personalised service experience for each brand.
Beyond authentic watches, JUST IN TIME ensures a customer-centric approach.
2. Legal and regulatory considerations
Legal and regulatory considerations are your business's rule book, ensuring fair play in the watch world. Think of it as a guide to navigate through dos and don'ts, just like traffic rules keep things smooth. 
Understanding eCommerce, consumer rights, and data protection laws ensures a hassle-free watch journey, acting like a watchful guardian for the right path. Keeping an eye on these rules isn't just good practice; it's like having a trustworthy compass for your watch business journey.
Related read: 5 legal mistakes to avoid when starting your business
Here comes 5 legal tips that will help protect your business.
View this post on Instagram
Is a license required for selling watches online?
In India, the sale of watches online generally doesn't necessitate a specific license; however, online watch retailers must comply with general business regulations and tax requirements. 
Ensuring adherence to the legal framework, including obtaining the pre-requisite GST registration and abiding by consumer protection laws, is paramount. 
It's noteworthy, though, that manufacturers of smartwatches in India are obligated to secure a Manufacturer License from the relevant State Legal Metrology Department where their manufacturing premises are situated. 
Staying well-informed about and adhering to both specific and broader regulatory requirements is vital for the lawful and seamless operation of an online watch retail business.
3. Look out for perfect pricing strategies
Setting prices for your watches is like finding a deal that makes everyone happy. It's not just about picking any number; it's about thinking, "What's a good price for these awesome watches?" 
For watches, pricing can often be tricky.  Here's why:
For watch enthusiasts and collectors, the right price indicates the high value of the watch
For everyday consumers who want a watch for daily wear, they are looking for affordability
Premium and luxury watches have a separate pricing point that would be determined by the brand and the intricacies of the inner mechanism of the watch
Here is an example of how different brands can price their watches at completely different ranges. 
You have to decide who is your ideal buyer persona for the type of watches you are selling online. Then you can set prices accordingly.
A very good tip for increasing online sales of watches is creating "limited editions".
How do limited edition releases create urgency and exclusivity online?
Ever wondered why limited edition watches seem to disappear in the blink of an eye online? Well, it's all about creating that buzz and exclusivity. When a watch is labelled "limited edition," it's like a virtual velvet rope—it says, "Hey, this is special, and you don't want to miss out."
The trick is that there's only a handful available, adding a dash of scarcity that nudges buyers to hit that "purchase" button before it's too late. It's not just a watch; it's a rare experience. 
The rush to catch one becomes an event, making the whole process a bit like a digital treasure hunt. 
And if you're one of the lucky few who score one? Well, it's not just a watch; it's a piece of exclusivity you get to rock on your wrist.
Related read: How to use discount pricing strategies to make more sales
4. What are the platforms to sell watches online?
Selling watches online opens up a world of possibilities, and there are various platforms to choose from.
Instagram and Facebook:

Leverage the visual appeal of your watch collection on these social media platforms for broad audience reach.

Your own website:

Take full control of your brand and customer experience by setting up your eCommerce site using platforms like Instamojo.
5. Establishing a strong brand presence
Build a strong brand by crafting a unique personality for your watches. Beyond just a logo, it's about telling a compelling story that makes people say, "Wow, I love these watches!" Treat your brand like a character with its own style and values. 
Design a memorable logo, that will help a friend from afar to recognize. Utilize social media to showcase not only your watches but also the captivating stories and dedication behind them. 
Joker & Witch is a D2C brand that is known for their affordable prices for watches. Their sleek designs look luxurious but are easy on the pockets! They also go a step beyond to establish their strong brand presence. Their watches also come in sets with other accessories that give the customer additional value!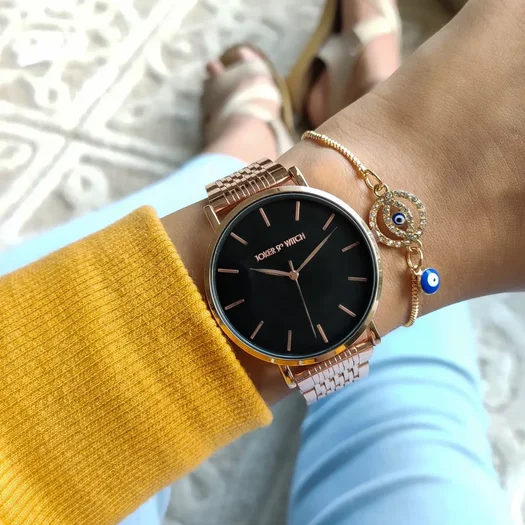 A consistent brand is an invitation for watch lovers to immerse themselves in a world where each tick tells a story of quality, style, and authenticity.
Related read: How to build a brand for your small business: Tips and practical examples
Building an eCommerce online store
Launching an eCommerce platform is the best way to show off your collection to customers. Picture it as a welcoming online storefront where enthusiasts effortlessly browse and find their ideal timepiece. 
1. Create your eCommerce website
Ready to dive into the world of selling watches online? Let's make it happen!
Get a cool name:

Choose a catchy name for your online watch store that people will remember.

Go mobile with Instamojo:

Use a simple website tool like Instamojo that works well on phones and computers.

Create your space: Make your online store look great. Build an optimised homepage, an 'About Us' page, a 'Contact Us' page, and easy ways to find watches.
Add your style:

Put your logo and favourite colours on your site. Make it uniquely yours and let's make your watch shop stand out online!
Do not forget to optimize for mobile users making watch shopping a breeze on any device. 
Related read: How To Sell Online In India: Website vs Marketplace
2. Product descriptions and visuals
Craft compelling product descriptions and visuals to showcase your watches. Use words as a friendly guide, highlighting sleek design, precision craftsmanship, and unique features. 
Pair these descriptions with eye-catching visuals for a virtual experience, enticing customers to envision wearing your watch story.
Here is an example of a good product image as well as a description. The image highlights everything that a customer would want to know. It details "wear resistant, scratch resistant and water resistant" and highlights the design aspects that give this watch its luxurious vibe.
Here are more tips on clicking the perfect picture for your product.
View this post on Instagram
3. Be vigilant with the payment and security
Handling payments securely is like having a trusted bouncer at your watch party's entrance. You want customers to feel safe getting your watches. Reliable payment gateway integration options are like offering VIP passes. 
With top-notch security measures, like encryption and secure checkout, customers' payment details are guarded like treasures. So, when they hit "Buy Now," they know their payment info is safe, making shopping for watches worry-free on your site.
4. Packaging for watches
When it comes to watch packaging, it's not just about keeping the watch safe – it's a whole experience. 
So, when someone opens your watch, it's not just about the timepiece; it's about the whole vibe and the brand saying, "Hey, we care about how you feel when you get this cool watch!"
Chumbak is a D2C brand that has carved out a niche for itself selling watches online! Their watches have unique and eye-catching fusion designs. All their products have that special visual signature which immediately reminds you of the brand! Their careful tin boxes encasing the watches also reflect their visual appeal.
Tips to consider to create an 'unboxing experience' for your watches
So, you're probably thinking about what makes watch packaging cool, right? Well, we have a few options lined up to help you find the perfect packaging for your watch business.
Quality materials: Good watch packaging uses nice stuff like fancy leather, wood, or metal. It's not just for looks but also to keep the watch safe and make it feel special.
Pay attention to details: Awesome watch packaging has tiny details that show someone thought about it. Like how the foam fits perfectly or the stitching looks neat.
Brand style: The box shows off the brand's logo, colours, and style. It's like the brand's signature, making it easy to recognise.
Exciting presentation: When you open the box, it should make you excited. Maybe the watch sits in a cool way or there are layers to uncover. It's like a little show when you open it.
Make it yours: Some brands let you make the packaging your own. Like putting your initials on it or choosing the colours. It's a bit like having your special version.
Here is a basic guide on the psychology of packaging: How colours, shapes, and materials influence consumer choices
How does customisation boost the perceived value of watches online?
Customisation isn't just about picking the colour of your watch strap; it's a game-changer that elevates the entire online watch-buying experience. 
When customers have the power to tailor their timepieces to match their style, it adds a personal touch that goes beyond a one-size-fits-all approach. This uniqueness inherently boosts the perceived value of the watch. 
It's not just a watch; it's their watch, crafted to their preferences. This sense of ownership and individuality turns a simple purchase into a meaningful investment, as customers feel a deeper connection with a watch that reflects their personality. 
In the world of online watch sales, customisation isn't just a feature; it's the key that transforms a watch into a personal statement of style and identity.
Setting up your online watch empire with Instamojo for timepiece success
Let's talk about kick-starting your online watch store with Instamojo. It's like having a super handy tool that makes everything easy for your timepiece business. 
With safe payments and a user-friendly setup, Instamojo helps you build and expand your watch store hassle-free. 
It's all about making your online watch store dreams come true, and Instamojo is here to make it happen – for you and your customers. Ready to dive into the world of successful timepieces? 
Let's do it!
---